The new E10 fuel may now be available at a petrol pump near you. Great news for the environment, but is it good for your motor?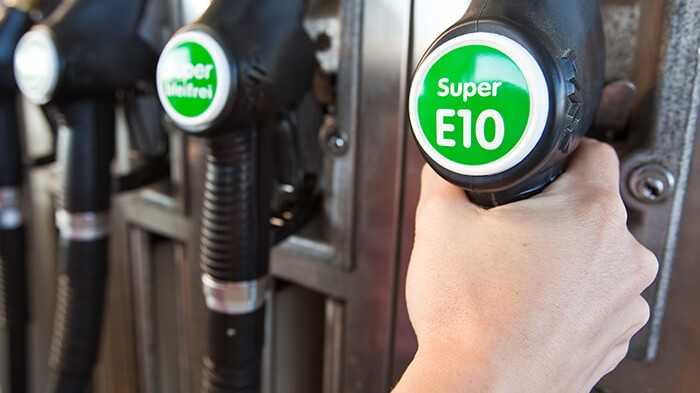 The new fuel – known as E10 – aims to cut CO2 emissions by over 750,000 tonnes per year. This is equal to taking 350,000 cars off the road.
The cleaner petrol is part of the plan to reach the carbon neutral goal by 2050.
But the new fuel may not be compatible with older models and could potentially cause damage.
So what is E10? And is it compatible with your car?
What is E10?
E10 uses a higher amount of ethanol than regular petrol.
Now, petrol contains up to 5% ethanol – known as E5. This will increase to 10%, hence the name E10.
The higher ethanol content means E10 is cleaner than regular petrol. It should have a big impact on bringing down carbon emissions.
The UK is late to the E10 party though. Countries such as Belgium, Finland, France and Germany are already using this fuel.
What is Ethanol?
Ethanol is an alcohol-based fuel. It's made by the fermentation of different plants, like sugarcane and grains.
Ethanol is classed as "Partially atmospherically carbon-neutral". This means that the carbon produced by using the fuel is balanced out in some way.
In this case, the plants that make ethanol absorb carbon dioxide. This balances the carbon dioxide produced by cars when they use it.
Why are we switching to E10?
Transport represents 24% of emissions, so the pressure is on for the government to find clean alternatives.
Grant Shapps believes that the new fuel will play a part in reducing carbon emissions. He comments:
"We're going further and faster than ever to cut emissions from our roads, cleaning up our air as we accelerate towards a zero-emission transport future.

"Although more and more motorists are driving electric vehicles, there are steps we can take to reduce emissions from the millions of vehicles already on our roads.
"The small switch to E10 petrol will help drivers across the country reduce the environmental impact of every journey, as we build back greener."
Will E10 affect my car?
The path to a carbon neutral UK never did run smooth. It's thought that a number of vehicles, like cars made in the early 2000s and classic cars, may not be compatible with E10.
These vehicles will continue using E5, which will still be used in premium or 'super' grade fuel.
If you put E10 in a non-compatible car it should still run. But problems with the seals, plastics, and metals could develop over time.
It's unclear as to whether you'd be able to claim on your car insurance for this, so it's worth speaking to your insurer about what you're covered for.
Some have also said they have had trouble starting their vehicle when using E10. People think this is because it's less stable.
You can check if your vehicle is compatible with E10 fuel using the E10 compatibility checker.
Compare car insurance quotes
Will E10 be more expensive than normal petrol?
Early forecasts in 2019 suggested that the cost of E10 wouldn't exceed the current price of fuel by more than 1p per litre.
Motorists with cars that aren't compatible will be able to use premium fuel brands – but at premium prices.
In 2019, Financial Secretary to the Treasury Jesse Norman commented:
"This government is ambitiously seeking to reduce the UK's reliance on imported fossil fuels and cut carbon emissions from transport. But drivers of older vehicles should not be hit hard in the pocket as a result."
The government has suggested a reduction in vehicle excise duty to compensate for older models having to use premium fuel.
For more information on the introduction of E10, visit GOV.UK.