For some, a caravan holiday is the perfect getaway. For others, towing is just part of their job. But in either case it pays to be clued up about towing laws, and to know what are the best cars for towing caravans. Not knowing what the laws are is no defence if you're caught breaking them.
Here's everything you need to know about towing a caravan and using a tow trailer.
This guide looks at UK towing laws, and how to find out your car's towing capacity.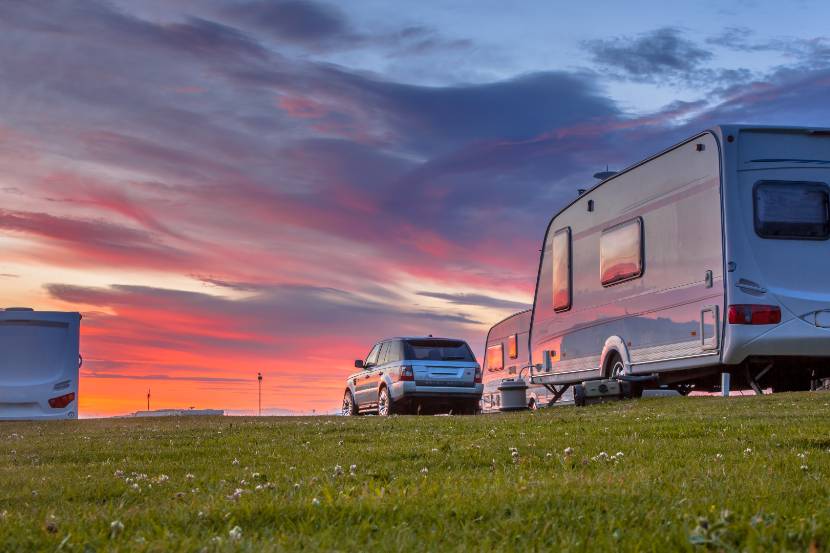 What can I tow and do I need a trailer licence?
There's no such thing as a 'trailer licence', but you may need to take an additional driving test if the trailer or caravan you're towing exceeds a certain weight.
Car towing laws vary and depend on when you passed your driving test and got your licence, and what you're towing.
You can check your driving licence online to see what vehicles you're permitted to drive and what you're legally allowed to tow. Or you can call the DVLA on 0300 790 6801.
For more information on driving licence rules, see our guide on driving licence categories and codes.
How much you can tow is measured in maximum authorised mass (MAM).
MAM is the total weight of a vehicle when it's loaded and represents the absolute limit a car can safely tow.
It's also sometimes referred to as gross vehicle weight (GVW). Just like MAM, it shows the maximum weight that you can carry safely.
What are the new towing laws?
Since December 2021, if you passed your test on or after 1 January 1997 you don't have to take an additional test to tow trailers up to 3,500kg MAM.
You get the 'BE' driving licence code on your driving record. The DVLA should automatically add this category to your licence.
The government claims that by relaxing the towing rules, roughly 30,000 more HGV driving tests can happen every year.
If you passed your test before 1 January 1997, the new rules don't affect you. This means:
You can drive a car or van and a trailer or caravan up to a combined 8,250kg MAM
You can drive a minibus while towing a trailer up to a combined 12,000kg MAM.
If you need to tow even heavier vehicles, you have to:
Apply for a provisional licence for a medium-size lorry and trailer
Pass the lorry theory test
Pass the actual driving test, also known as the C1+3 driving test
This allows you to tow a combined weight of up to 12,000kg MAM.
You can find more information on the rule changes on the government's website.
How much can my car tow?
If you don't have your manual at hand, your vehicle's 'gross train weight' or VIN might be on the driver's door or under the bonnet.
If not, there's an easy way to work out how much your car can tow. The caravan, or trailer, needs to weigh (including cargo) less than 85% of your car's kerb weight.
If what you're trying to tow is heavier than your car, then you shouldn't attempt it as it isn't safe.
When packing, ensure the weight is evenly spread and avoid overloading a particular side. This way the car and the caravan/trailer should remain more stable when in motion.
Best cars for towing caravans
If you're looking for the best cars for towing caravans, you need to look at the weight a car can tow as this depends on the make and model.
It also depends on the weight of your caravan. They vary depending on who makes them and how old they are, but broadly speaking smaller 2 and 4-berth caravans weigh between 800kg and 1,300kg. Larger caravans weigh roughly between 1,300kg and 1,800kg.
Here's how much weight some of UK's most popular cars can cope with:
| Car | Weight |
| --- | --- |
| Ford Fiesta | Up to 900kg |
| Nissan Qashqai | Up to 1,200kg |
| Volvo XC90 | Up to 2,700kg |
| Kia Sportage | Up to 2,200kg |
Meanwhile, Practical Caravan has drawn up a guide to some of the best cars in 2022 for towing a caravan.
They include:
| Car | Weight |
| --- | --- |
| Skoda Octavia Estate 2.0 TDI | Up to 1,600kg |
| Seat Leon 1.0 ETSI SE Dynamic | Up to 1,300kg |
| Suzuki Vitara Hybrid Allgrip | Up to 1,200kg |
| Volvo V60 Recharge T6 AWD Inscription | Up to 2,000kg |
| Kia Sorento 2.2 CRDi | Up to 2,500kg |
| Seat Ateca 2.0 TDI | Up to 2,100kg |
| Volkswagen Tiguan | Up to 2,500kg |
| Land Rover Discovery D300 AWD Auto | Up to 3,500kg |
| BMW X5 45e | Up to 2,700kg |
| Mercedes-Benz E-Class Estate | Up to 2,100kg |
| Volkswagen Arteon Shooting Brake | Up to 1,600kg |
| Ford Kuga 2.0 EcoBlue 150PS MHEV ST-Line X FWD | Up to 1,900kg |
UK towing and trailer regulations
Your trailer and caravan needs to comply with towing law before you set off.
Trailer width
The government says that the maximum width for a caravan or any towing vehicle is 2.55 metres.
Trailer length
Your caravan or trailer shouldn't exceed 7 metres if you're towing it with a vehicle weighing up to 3,500 kg.
Towing bars
The tow bar you use for your car needs to be 'type approved'. This means it meets EU regulation and is designed for your car.
If your tow bar is type approved, it should have:
An approval number
Details of the vehicle it's approved for
Your tow bar doesn't need to be type approved if your car was first used before 1 August 1998.
Towing mirrors
You must be able to see the road behind you, so fitting suitable towing mirrors to your trailer or caravan is essential.
If you don't you could end up with a fine of £1,000 and 3 penalty points.
You should look for towing mirrors if the caravan or trailer is wider than the rear of your car.
Number plates
Your trailer or caravan should have the same number plate as your car.
Trailer lights
You should make sure all the lights are working on your caravan or trailer. It should have:
2 red side lights
2 red break lights
Amber indicators
A pair of triangular red reflectors at the rear of the trailer.
If your trailer is over 1.3 metres wide you should have a fog lamp.
Trailers made after 1990 need to have white reflectors at the front unless they're over 1.6m. If it's over 1.6 metres you need front position lamps.
How to weigh a caravan or trailer
The easiest way is to use a public weighbridge. You can search for a nearby weighbridge on the government's website. They're usually privately owned, and it costs around £20 to weigh your vehicle.
It's worth weighing your caravan or trailer before you load it. That's if you're unsure of the exact weight and there isn't another way of finding that information.
Then, you can use a weighbridge again after you've loaded it. You can then calculate the MAM and see if your car is able to cope and if it's safe to drive.
Am I insured to tow a caravan?
Most insurers should still cover your car when you're towing a caravan. It's best to get in touch with them and let them know you plan on using your car for towing.
That way they can let you know of any exclusions to your policy. Although the policy should still cover your car, it's less likely that your caravan is also covered.
If you own a campervan, it might be worth looking into a campervan insurance policy to make sure it's properly protected.
Essential towing checks before setting off
There are some essential checks you should carry out before you set off on your journey, including:
Making sure all the lights and electrical equipment in the caravan are turned off and the mains supply is disconnected
Emptying all water tanks
Securing any items that are loose
Putting heavy items as near the floor as possible
Checking all the lights on the back of the caravan
Ensuring the licence plate is visible and isn't hidden by bicycles, for example
Some of these measures simply make the job of towing easier, but some of them are a legal requirement, and it's important that you follow towing laws at all times.
How do I tow a horsebox?
Since autumn 2021, you don't need a specific licence to transport your horse in a trailer.
But the British Horse Society (BHS) strongly advises that people seek out training before they take their horsebox out on the road. Particularly if it's their first time towing or driving a horse box.
You need to know how much your horse weighs before you hook up your trailer. Remember: a small pony can weigh 200kg all the way up to 1,000kg for heavy horses such as Shires.
Make sure you have an MOT for the vehicle you're towing with, or if you transport horses in a lorry.
You may not need to get an MOT for a trailer that attaches to your vehicle, but you should make sure it's safe and roadworthy. It's worth getting it serviced regularly, too.
Having the correct horsebox insurance policy is also important so you know you're covered against damage or theft.
All of the towing and trailer regulations apply to horseboxes, but you should take extra care when you're driving as you have your horse in the trailer.
You can find out more information on horseboxes on the BHS website.
Do I need trailer insurance or caravan cover?
It makes sense to think about getting covered, even though caravan insurance isn't mandatory.
You can check if your current car insurance policy covers you. And – if it does – make sure you know exactly what's included in it.
For example, many insurers tend to include third-party cover for trailers, but they might not cover caravans.
Additional cover might be available as an extra that can be added to your existing policy or it may be worth approaching a specialist insurer.
Always check the level of cover for theft, or damage caused by floods, storms or vandalism.
Also, some home insurance policies may include 'away from home' cover. This might allow you to claim if something gets stolen from your caravan.
Compare car insurance quotes
What's the speed limit for towing a caravan or trailer?
You can't go at the same speed as other cars if you're towing a caravan or a trailer as it's not safe.
There are specific speed limits for towing:
30 mph in built-up areas
50 mph on single carriageways
60 mph on dual carriageways and motorways
Improve your towing skills and experience
It can be daunting getting out on the open road with your caravan or trailer for the first time. Luckily, there are courses available that can help you build experience.
The Caravan Club offers 2 types of caravan courses in 14 locations across the country.
The first course is a practical caravanning course. You cover topics like:
Hitching up
Manoeuvring
The caravan's 'load' and how it affects towing
Safety checks
The second course is about manoeuvring specifically, including straight line reversing, curved reversing and levelling.
For more information on these courses as well as cost visit the Caravan Club website.
Our quick tips for safe and legal towing
Here are some other tips and things to consider when towing:
If you're fitting a tow bar, it needs to meet 'type approved' EU regulations.
Your number plate needs to show your car's registration and be lit up at night.
If you're towing a trailer, you must display the same number plate as the car you're towing it with.
The maximum dimensions for a caravan in the UK are 2.3m in width and 7m in length.
Caravans or trailers that weigh over 750kg need their own braking system.
Always allow extra space around you and take more time for manoeuvres.
The extra weight your car is pulling might result in a longer stopping distance, so brake earlier than you usually would.
Pack heavier items near to the axel and try to pack as lightly as possible.
Before you set off, always check the lights panel at the back for any faults.
Never have passengers in a trailer or caravan if you're towing it.