Towing insurance and rules explained

Making sense of caravan and trailer towing.
For some, a caravan holiday is the perfect getaway. For others, towing is just part of their job. But in either case it pays to be clued up.
Here's everything you need to know about the law, your car's towing capacity and how to get covered.
READ MORE: Car insurance policy types
What can I tow?
Towing rules vary, and depend on when you passed your driving test and got your licence. You can check your driving licence online to see what vehicles you're permitted to drive and what you're legally allowed to tow.
How much you can tow is measured in maximum authorised mass (MAM). In other words, MAM is the total weight of a vehicle when it's loaded, and represents the absolute limit a car can safety tow.
It's also sometimes referred to as gross vehicle weight (GVW), which – just like MAM – shows the maximum weight that be carried safely.
Rules for drivers with licences issued on or after 1 January 1997:
You can drive a car or van of up to 3,500kg MAM while towing a trailer of up to 750kg MAM, with a combined total weight of 4,250gb.

You can tow a trailer of over 750kg MAM as long as the combined MAM of the trailer and towing vehicle is no more than 3,500kg.
If you need to tow anything heavier than the above, you'll have to pass the B+E category test.
Rules for drivers with licences issued before 1 January 1997:
Drive a car or van and a trailer or caravan of up 8,250kg MAM.

You can drive a minibus while towing a trailer of over 750kg MAM.
If you need to tow even heavier vehicles, you'll have to pass the C1+3 driving test. This'll allow you to tow a combined weight of up to 12,000kg MAM.
READ MORE: Driving other cars on your car insurance
How much can my car tow?
If you don't have your manual at hand, there's an easy way to work out how much your car can tow. The caravan, or trailer, needs to weigh (including cargo) less than 85% of your car's kerb weight.
If what you're trying to tow is heavier than your car, then you shouldn't attempt driving at all as it won't be safe.
Cars have an official maximum weight they can tow safely. Here's how much weight some of UK's most popular cars can cope with:
Ford Fiesta – up to 900kg

Nissan Qashqai – up to 1,000kg

Volvo XC90 – up to 2,700kg

Kia Sportage - up to 2,200kg

BMW X5 – up to 3,500kg
When packing, ensure the weight is evenly spread and avoid overloading a particular side. This way the car and the caravan/trailer will remain more stable when in motion.
How to weigh a caravan or trailer?
The easiest way is to use a public weighbridge. You can search for a weighbridge near you on GOV.UK. They're usually privately owned, and it'll cost around £20 to weigh your vehicle.
It's worth weighing your caravan or trailer before you load it. That's if you're unsure of the exact weight and there isn't another way of finding that information.
Then, you can use a weighbridge again after you've loaded it so you can calculate the MAM and see if your car will be able to cope and if it'll be safe to drive.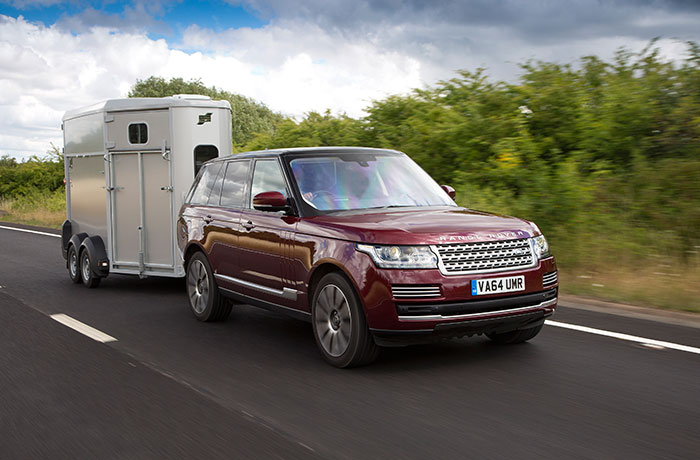 Do I need insurance to tow a caravan or trailer?
It makes sense to think about getting covered, even though insuring a caravan isn't mandatory.
You can check if your current car insurance policy covers you. And – if it does – make sure you know exactly what's included in it.
For example, most insurers include third-party cover for trailers, but they may not cover caravans. Additional cover might be available as an extra which can be added to your existing policy.
Always check the level of cover for theft, or damage caused by floods, storms or vandalism.
Also, some home insurance policies may include 'away from home' cover which might allow you to claim if something gets stolen from your caravan.
READ MORE: What happens if I don't get car insurance
Whistle-stop tips for painless towing
Here are some other tips and things to consider when towing:
Speed limits are slightly different for cars towing caravans or trailers – 30mph in built-up areas, 50mph on single carriageways, and 60mph on dual carriageways and motorways.

If you're fitting a tow bar, it needs to meet 'type approved' EU regulations.

If you're towing a trailer, you must display the same number plate as the car you're towing it with.

The maximum dimension for a caravan in the UK are 2.55m in width and 7m in length.

Caravans or trailers that weigh over 750kg need to be fitted with their own braking system.

Always allow extra space around you and take more time for manoeuvres.

The extra weight your car will be pulling. This will result in a longer stopping distance, so brake earlier than you usually would.

Before you set off, always check the lights panel at the back for any faults