Keyless theft skyrockets as lockdown eases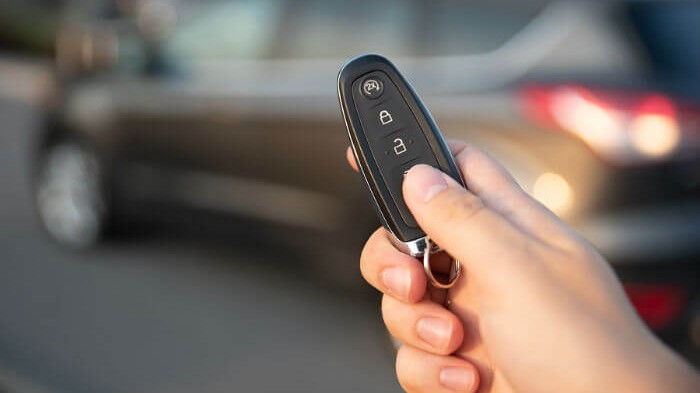 "Locking a car is not enough to protect it against experienced, professional criminals," says Head of Police Liaison at Tracker, Clive Wain.
This article contains affiliate links. If you buy any products via these links, we may earn a small commission at no cost to you.
Keyless theft is back on the rise, according to research by stolen vehicle recovery service Tracker.
With this type of theft, criminals manipulate the continuous signal from a keyless-entry fob to gain entry to a car.
Vehicle thefts dropped during the first lockdown. But cases soared in July 2020, up by 50% compared to spring, coinciding with restrictions easing.
And with lockdown easing again, Tracker is warning people in theft hot spots to take extra precautions.
London has been the hardest hit for vehicle thefts, with the West Midlands following closely behind.
So how do you protect yourself from keyless car theft? We look at how you can block your key fob's signal, and other security measures you can take.
What is keyless theft?
Keyless theft is now up by a record 93% compared to previous years, according to Tracker.
The handy system allows you to access your car without having to remove your keys from your pocket.
Some fobs will permanently transmit the 'unlock' signal to the car. And as handy as this is, it can be easy for criminals to hack.
Using a tool known as a 'relay device', criminals can manipulate the constantly transmitting signal, open the car, start it and drive away – even when the fob is inside the house. This is known as a relay attack.
Read more: Eight types of vehicle theft and how to prevent them
How do I block the car key fob's signal?
Luckily, it's relatively easy to block the signal from the car fob.
A faraday pouch is a worthwhile investment. You store the fob inside the pouch, and it blocks the signal to the car.
Check prices for faraday pouches on Amazon
You could also try speaking to your manufacturer about your key fob. Sometimes they come with a 'sleep mode' or automatically shut down when they're not in use.
You could even ask if you can turn the keyless entry system off entirely.
Which counties in the UK are most at risk of theft?
According to Tracker, the theft hot spots in the UK are:
London

West Midlands

Greater Manchester

Essex

Kent

South Yorkshire

Surrey

Lancashire

Hertfordshire

West Yorkshire
Clive Wain, Head of Police Liaison at Tracker, says:
"While all motorists across the UK are at risk, our stolen and recovered theft data for last year reported that London had the highest number of thefts, followed by the West Midlands, Greater Manchester and Essex.
"Car owners living in these areas particularly need to be on their guard as we move out of lockdown in the coming months."
What vehicles are most at risk of theft?
Range Rover Sport

Range Rover Vogue

Range Rover Autobiography

BMW X5

Land Rover Discovery and BMW 3 Series

Mercedes-Benz C-Class

Range Rover Evoque

Mercedes-Benz C-Class AMG

BMW M3 and Mercedes-Benz S-Class

Land Rover Defender, Mercedes-Benz E-Class and BMW 6 Series
Range Rover models dominate the most stolen vehicles list. With a further spike in thefts in March, Tracker is warning owners of Range Rovers to ramp up their security.
According to them, £1.5 million-worth of Range Rovers were stolen by organised crime groups.
It's thought the gang used the relay attack method to steal over 70 Range Rover models. These were then sold on to unsuspecting customers.
It's not just high-value models either – low-value cars and vans are also targeted for valuable parts.
Wain goes on to say:
"Range Rover and other Land Rover models have always featured in our top ten most stolen and recovered league table in the last 10 years, but figures are rising sharply.
"Car thieves are largely stealing to order, often shipping them abroad or stripping them for parts in a chop shop to meet the growing demand for spare parts."
Read more: The 10 most stolen cars revealed
Are there any other ways to protect my car from theft?
For every car, keyless entry or not, you should invest in extra security.
Clive Wain recommends using a combination of security measures to keep your car safe.
"Vehicle security should be multi-layered and shouldn't just rely on the keyless security system."
Steering wheel locks and wheel clamps are highly recommended. As well as a physical barrier, this type of security acts as a visible deterrent to thieves.
These are particularly useful if you don't have access to secure parking or a garage.
Browse car security gadgets on Amazon
A Tracker system, although it won't stop the vehicle being stolen, tracks the vehicle's movements so there's a better chance of it being recovered and returned.
It's important to remain vigilant in your local area too. Look out for anyone acting strangely on your street as they could be looking for an opportunity to steal a vehicle.
Read more: How engine immobilisers, alarms and trackers affect your car insurance