Criminals are using 'relay technology' to access keyless cars and drive them away. But if you've got a keyless access car, don't panic.
Our guide explains why they could be vulnerable and some top tips to prevent keyless car theft. for staying safe.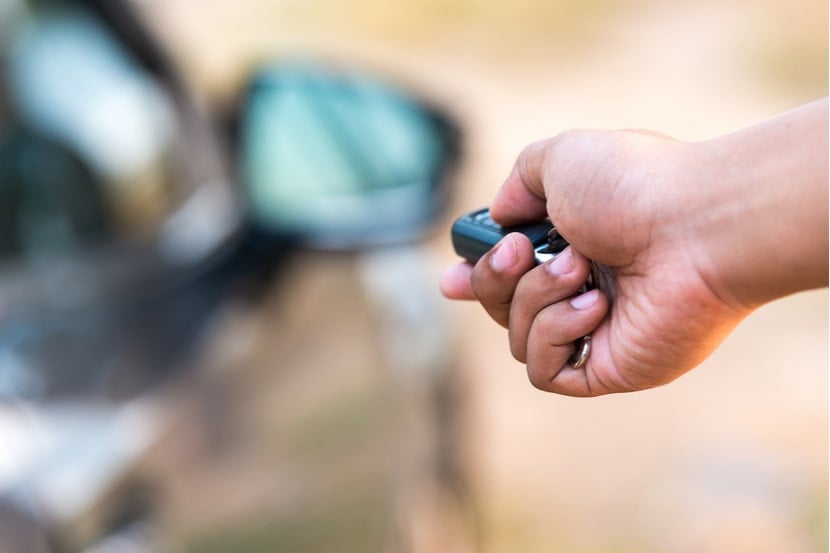 What is keyless entry?
Keyless entry cars have a clever fob that 'talks to' your vehicle when you're in range.
The fob contains an identity chip, which emits a code, or series of codes, that are picked up by the car. These signals work over short ranges, usually less than 5 metres.
You don't have to physically put your key in the ignition to start driving. Instead, you just need to have it somewhere on your person to get into your car and drive away
This is much easier than rooting around in your bag, or trying to remember which pocket you put your key in. But it could put you at risk of keyless entry car theft.
Clever criminals have found new ways to target this technology and steal your car. This means it's critical you take the right precautions to keep your car 'key' safe and prevent keyless car theft.
What is keyless car theft?
Keyless car theft is where thieves use so-called 'relay attacks' to steal your car without gaining access to your keys.
How does keyless car theft work?
Keyless entry car theft involves thieves working in pairs to steal cars that are parked close to their owner's home. One stands outside with a special device that remotely receives a signal from the key fob. The other stands next to the vehicle with a second device that receives a signal and unlocks your car.
The thieves are then able to quickly get into your car and drive away while you remain totally oblivious to what's been going on.
In some cases thieves can steal your car in less than 60 seconds.
Are keyless entry cars safe?
While relay attacks are becoming increasingly common, not every keyless entry car is at risk, and some might be more secure than others.
When choosing a car, consider ones with better security measures. This includes upgrades like motion sensors, which are used by Audi, BMW, Ford and Mercedes-Benz.
Land Rover has fitted some of its cars with ultra-wide-band radio technology. This is designed to transmit over a wide range of frequency channels so that thieves can't trace the code.
If you have the kind of fob where you have to press a button to unlock your car, then you're not at risk from relay theft at all.
Keyless entry car theft prevention
If your car is one of the more vulnerable makes and models then don't worry. There are a lot of steps you can take to prevent keyless entry car theft.
If you want to protect yourself from keyless entry car theft and save yourself a car insurance claim, there are sensible precautions you can take.
Storing your electronic keyless car fob in a faraday pouch
Faraday pouches work by blocking your car key signal, which prevents would-be thieves from stealing your car while you sleep. You can usually pick a decent one up for as little as £5. You might also see them called signal blockers.
Make sure you test to see if your pouch works. You can do this by putting the key in it and walking up to your car and checking if it unlocks.
Faraday pouches have a metal lining to block the signal. So, you could try keeping your keys in a metal car key box - a biscuit tin should do.But again, check it works before you rely on it.
Check your owner's manual to see if it can be switched off completely
If it can, make sure the fob is switched off every night when your car is most vulnerable to keyless entry car theft.
According to the Office for National Statistics, 66% of keyless cars are stolen between 6pm and 6am. It might also be worth switching the fob off in the day for extra peace of mind.
Keep fobs, including spares, away from doors and windows
Think about the safest place to keep car keys at home. The further away the fob is, the less likely the thieves are able to pick up the signal. This includes keeping your keys away from the front door, back door or windows.
Park in a well-lit area and make sure there are no valuables on display
You don't want to make your car even more attractive to criminals. Always park in a garage if you have one. Failing that, consider lights and motion sensors outside your property to deter thieves.
You might also want to park defensively - as close to your house possible - to make access to the car difficult.
When buying a new car, ask if you can get a fob with a motion sensor
The motion sensor detects when the fob has been stationary for a while, which triggers sleep mode. During sleep mode the fob no longer responds to the relay signals, protecting the vehicle from relay attack. Full functionality is restored when the owner moves the key.
Some manufacturers, such as Ford, offer a software update that installs the sleep mode onto a new key.
If you've got an older car it's worth checking whether you can update your fob with a motion sensor.
The National Police Chiefs' Council Lead for vehicle crime, Deputy Assistant Commissioner Graham McNulty says:
"Part of the reason for the recent increase in vehicle theft is the rapid development in technology.
"The significant reductions in vehicle crime in the 1990s were achieved by police working with manufacturers to 'design out' crime with innovations like immobilisers, alarms and central locking. This approach is as valid today as it was then."
Immobilisers are electronic devices that prevent the car from being started unless the proper key is used. Although it won't stop criminals trying to break into your vehicle, they should prevent your car from being stolen.
Although seemingly obvious, it's worth taking an extra 30 seconds to double-check your car is locked. Even if you're only leaving it for 2 minutes while you fill up at the petrol station.
Traditional methods like steering, gearstick and handbrake locks also act as a visual deterrent for thieves, as well as adding an extra layer of security.
Most vulnerable keyless cars
If you're on the hunt for the safest keyless entry cars, then it's worth shopping around and doing your research. One of the key things to look out for include motion sensors, which could significantly reduce the risk of your car being stolen.
To help, car security experts Thatcham conducted extensive research around keyless car entry theft.
It highlighted the following models as recent examples of new cars that are vulnerable to relay attacks and offer poor security:
Mazda CX-30
MG HS Excite T-GDI
Subaru Forester e-Boxer XE Premium
Vauxhall Corsa Ultimate Turbo 100
| Vehicle | Rating* |
| --- | --- |
| BMW X6 M50d | SUPERIOR |
| BMW 218i Gran Coupe M Sport | SUPERIOR |
| Hyundai i10 Premium MPi | BASIC |
| Land Rover Discovery Sport D150 | SUPERIOR |
| Mazda CX-30 | POOR |
| Mini EV | SUPERIOR |
| MG HS Excite T-GDI | POOR |
| Porsche Taycan Turbo | SUPERIOR |
| Škoda Superb | SUPERIOR |
| Subaru Forester e-Boxer XE Premium | POOR |
| Tesla Model 3 | BASIC |
| Toyota Supra | SUPERIOR |
| Vauxhall Corsa Ultimate Turbo 100 | POOR |
What? Car has also tested 7 popular keyless entry car models to see whether they could be easily stolen.
It found that cars with motion sensors could not be stolen as long as the motion sensor technology was working. The cars tested that had this option included:
Audi TT RS Roadster
BMW X3 xDrive20i M Sport (2018 model)
Ford Fiesta 1.0 Ecoboost 140 ST-Line X
Mercedes A-Class A220 AMG Line
The consumer group also found that the Land Rover Discovery SD6 306 HSE's ultra-wide-band radio technology was effective in preventing thieves from accessing the car.
Cars that didn't have motion sensor technology were found to be more easily stolen in the What? Car testing. These included:
DS 3 Crossback Puretech 155 Ultra Prestige
Land Rover Discovery Sport TD4 180 HSE (2018 model)
Which counties in the UK are most at risk of keyless entry car theft?
According to Tracker, stolen vehicle recovery specialists, the theft hot spots in the UK are:
London
West Midlands
Greater Manchester
Essex
Kent
South Yorkshire
Surrey
Lancashire
Hertfordshire
West Yorkshire
Will my car insurance cover keyless car theft?
Yes, you should be able to claim on your car insurance if you're a victim of keyless theft. But you might find that your car insurance costs increase the following year.
Your car insurance policy might also require that you have all of your key fobs to be able to make a claim. Check with your insurer to find out the exact terms of your policy.
Compare car insurance quotes
Are car manufacturers doing anything to prevent keyless car theft?
Some manufacturers are taking steps to prevent keyless car theft.
Kia, for example, is giving car buyers a Faraday pouch, while Ford Focus, Fiesta, BMW, Audi and Mercedes all now use key fobs with motion sensors. This makes them inactive after 40 seconds, preventing car thieves from getting a signal from it.
*Thatcham Research tested one model with keyless entry and start fitted. This may be an optional feature on some or all models.