Fuel cost calculator
Find out how much your journeys are costing you with our fuel calculator.
How much do you really spend on fuel?
The price of petrol and diesel is always changing, so it helps to save money on fuel where you can. Knowing how much your car is costing you to run is the first step to shaving a few pounds off your bill.

Just put in your car reg and we'll give you an estimate of its fuel efficiency (mpg). Then tell us your annual mileage and how much fuel costs per litre near you. You can get an idea of the current fuel price using our petrol prices tool.

The fuel cost calculator will then work out just how much you're spending on petrol or diesel each week, month and year.

It's as easy as that!
Ready to get a quote?
Compare quotes from up to 150 car insurance providers to find the best deal.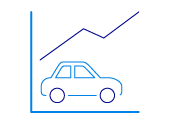 Car insurance price index
Check out the latest price trends for drivers, and find out who's saving the most.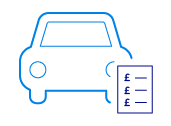 Car insurance calculator
Our car insurance calculator can help you find out the average cost of a comprehensive policy based on our recent price index results.