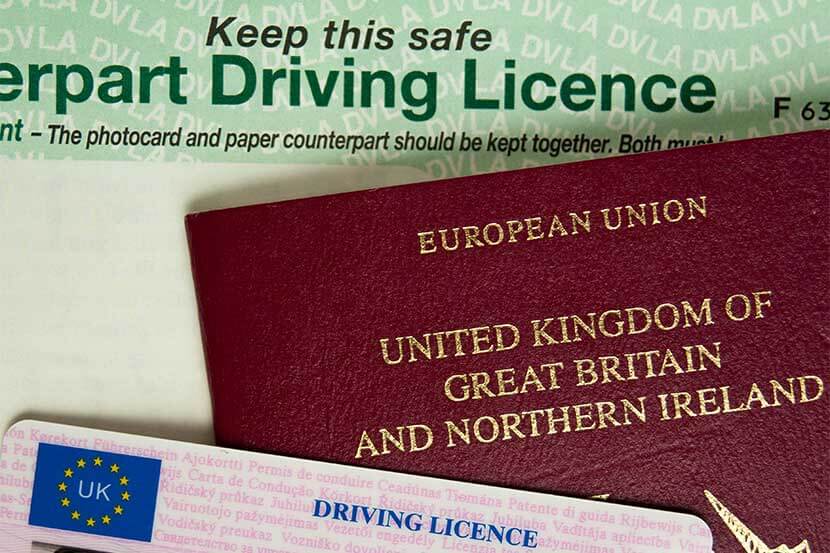 In this guide we explain what all the codes and categories that feature on your driving licence mean.
Why does my driving licence have codes and categories on it?
For a small bit of plastic no bigger than a credit card, your driving licence packs quite a punch. With it you can open all sorts of doors, so to speak, from getting job to buying a pint. But there is, of course, much more to a driving licence than that.
If you look at your driving licence, you'll see some personal information next to a mugshot. Below this is a row of numbers and letters. Flip the card and there are more letters and numbers.
They're presented in this form because if you wrote out what each letter and number meant in full, your driving licence would be a book, not a card.
You certainly couldn't tuck it in your wallet. But how do you decipher the categories and codes?
What are driving licence categories?
Alongside number 9, right at the bottom of your driving licence is a row of capital letters and numbers, each separated by a slash.
These are the categories that relate to you. They show what vehicles you can legally drive on public roads, and any relevant vehicle weight restrictions.
For example, Category A allows you to ride:
Motorbikes with a power output of more than 35kW or a power-to-weight ratio of more than 0.2kW per kg

Motor tricycles with a power output of more than 15kW.
Driving licence categories: What can I drive on a normal car licence?
You have an entitlement to drive certain vehicles as soon as you get a full driving licence. These are:
Category A – Light motorcycles with an engine of up to 125cc.
Category AM – two-wheeled or 3-wheeled vehicles with a maximum speed of more than 15.5mph, but not more than 28mph.
This category also includes light quad bikes with an unladen mass of not more than 350kg, not including batteries. They also have a maximum speed of over 15.5mph, but not more than 28mph.
Category B – There are two definitions of B, depending on when you passed your test.
You can drive a four-wheel vehicle and trailer combination with a maximum authorised mass (MAM) of 8,250kg if you passed before 1 January 1997. You can also drive a minibus with a trailer over 750kg MAM.
If you passed your driving test on or after t January 1997 you can drive vehicles up to 3,500kg MAM, with up to eight passenger seats, plus a trailer up to 750kg.
You can also tow heavier trailers if the vehicle and trailer MAM is not more than 3.500kg.
With a B licence you're allowed to ride motor tricycles with a power output higher than 15kW, providing you're over 21 years old.
If you have a physical disability with provisional category B entitlement, you also have provisional entitlement to ride Category A1 or A motor tricycles.
Other vehicles you can drive with a standard licence
Your licence will feature a few italic lower-case letters after the big bold ones mentioned above. These indicate further entitlements. Typically, you might see:
f – You're qualified to drive a tractor
k – You can drive a pedestrian-controlled vehicle or a mowing machine
q – You can drive two- and three-wheeled vehicles without pedals with an engine size of no more than 50cc. The top speed can't be more than 15.5mph.
This isn't the full list, especially if you passed your test before 1997. If your licence includes other category entitlements check out the government's driving licence website.
Compare car insurance quotes
Other driving licence categories
Once you've got a full driving licence, you might want to upgrade your entitlement so you can drive other vehicles for work or leisure.
For example, if you want to drive a bus, coach or lorry for a living, you'll need a Certificate of Professional Competence (CPC) to get a Category C entitlement.
Here are a few of the more common other categories you might need to take extra tests on to secure an additional entitlement:
Category A1 – A light motorbike with an engine size of up to 125cc and a power output of 11kW.
Category B auto – Any automatic transmission vehicle in Category B, which covers four-wheeled vehicles up to 400kg unladen or 550kg if designed for carrying goods.
Category C – You can drive vehicles over 3,500kg, with a trailer up to 750kg MAM.
Category CE – You can drive category C vehicles with a trailer over 750kg
Category D1 – Category D covers minibuses. with D1 entitling you to drive vehicles up to eight metres long, no more than 16 passenger seats, plus a trailer of up to 750kg. D1E allows you to haul a trailer of more than 750kg.
Other categories requiring additional driving tests
h – tracked vehicles.
l – electrically-propelled vehicle.
m – trolley vehicles.
What are driving licence codes?
The categories establish what vehicles you're entitled to drive after passing your test. Driving licence codes, on the other hand, stipulate what conditions you must meet before you can get behind the wheel.
There are over 50 driving licence codes – too many to run through here. However, some of the more common ones include:
01 – eyesight correction, for example glasses or contact lenses.
02 – hearing/communication aid.
43 – modified driving seats.
101 – not for hire or reward (that is, not to make a profit).
115 – organ donor.
If your driving licence includes a code that isn't covered here, visit the government's driving licence website.
Driving licence penalty codes
If you've committed a driving-related offence you could be given an endorsement, or penalty points.
These are added to your driving licence and remain there until they expire. This could be for either four or 11 years, during which time you must declare them when buying car insurance.
Here's a selection of motoring conviction codes:
AC10 – Failing to stop after an accident: 5 to 10 penalty points.
BA10 – Driving while disqualified by order for court: 6 penalty points.
CD10 – Driving without due care and attention: 3 to 9 penalty points.
DD10 – Causing serious injury by dangerous driving: 3 to 11 penalty points.
For more on this, visit our guide on motoring conviction codes.