Windscreen cover explained

A cracked windscreen is a common car maintenance issue. Including car windscreen cover on your car insurance could help guard against any unwanted costs.
This article contains affiliate links. If you buy any products via these links, we may earn a small commission at no cost to you.
Many of us have been there: you're driving along minding your own business when a vehicle coming the opposite way kicks up grit from the road, which hits your windscreen.

While it may only cause a small chip, this can soon turn into a more serious crack if left untreated.

As it's such a common issue, many car insurance companies offer windscreen cover as part of their policies.

We take a look at what this means, and whether it could be worth including on your car insurance.
Looking for an actual cover for your windscreen instead? Look no further.
Check prices for windscreen covers on Amazon
What is windscreen cover?
Windscreen cover allows you to recoup the cost of any windscreen repairs, or even a full windscreen replacement if necessary.

And, despite being called "windscreen" cover, it'll also often cover all other windows and possibly sunroofs too.

Fully comprehensive car insurance policies tend to include windscreen cover as standard.

You can view the average cost of a comprehensive car insurance policy by looking at the latest Confused.com car insurance price index.

Meanwhile, on third-party, fire & theft policies, windscreen cover can usually be added as an optional extra for around £30.
Will my cracked windscreen be repaired or replaced?
Whether your windscreen will need to be repaired or replaced will largely depend on two factors: how big the chip is and where it is on the glass.

Windscreen replacement companies tend to divide the windscreen into different zones, ranging from A to D.

For example, in zone A, the area of the glass directly in front of the driver, only chips of up to 10mm can be repaired.

Anything larger will mean you'll need a windscreen replacement.

In zone D, however, which sits around the very edges of the glass, damage of up to 45mm can be repaired.
If I make a claim, will I have to pay any excess?
If you make a claim for a damaged windscreen on your car insurance, the amount of excess – that is the contribution you need to pay towards that claim – will vary from policy to policy.

Typically though, the excess for a windscreen replacement could be anything between £10 and £150.

Meanwhile, the excess for a repair job will be much less – up to £50, or even free.

The differences mean it's worth taking the time to compare car insurance quotes before you decide which one's right for you.

And bearing in mind the average windscreen replacement could exceed a few hundred pounds, it's something worth considering, especially if you're a regular driver.
Can I drive with a cracked windscreen?
Driving with a cracked windscreen can be dangerous, as there's always the potential for even the smallest of chips to turn more serious.

Therefore from a safety point of view it's recommended you get any knocks seen to as soon as is practical.

When it comes to the law, if you choose to drive with a cracked windscreen you could fall foul of section 40 of the Road Traffic Act.

This relates to the use of a motor vehicle in a dangerous condition.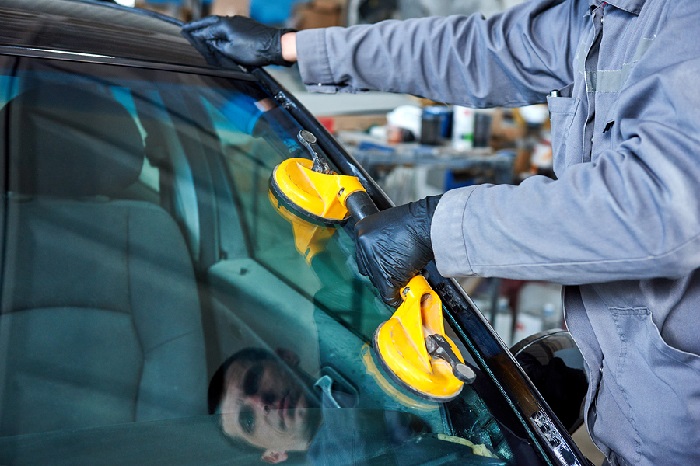 What's more, rule 97 of the Highway Code states you must "ensure your vehicle is legal and roadworthy".

And rule 89, which relates to vehicle condition, states "you must ensure your vehicle and trailer comply with the full requirements of the Road Vehicles (Construction and Use) Regulations".

Essentially, a driver should have a full view of the road and traffic ahead.

This means your windscreen and other glass, namely the windows, should be kept in a condition that doesn't obscure your vision.