How much you pay for motorcycle insurance depends on the model you're looking to cover and your personal circumstances. Several factors go into calculating your motorbike insurance costs, and any one of these could mean you pay more than you should.
The good news is that you could save money with our top tips for cheaper motorbike insurance.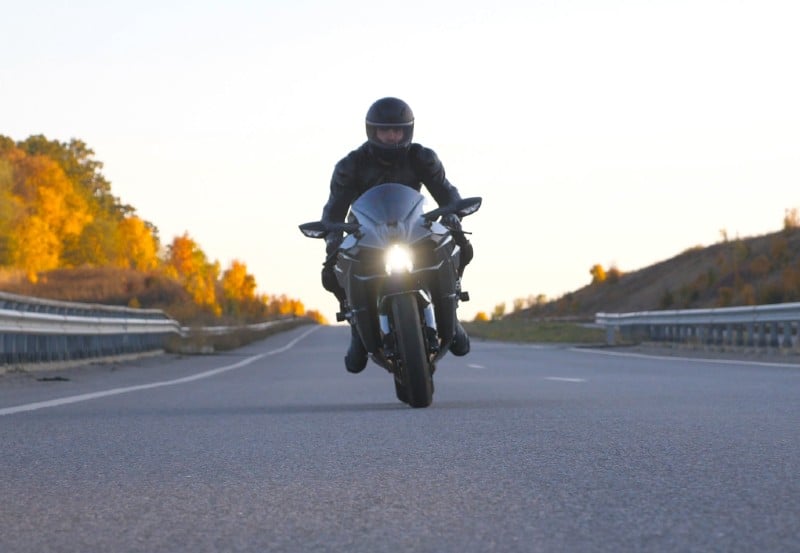 Go for a cheaper, less powerful motorbike
If you want to pay less for your motorbike insurance, you could simply choose a less powerful motorbike.
For example, if you're deciding between a 900cc and a 650cc machine, then opting for the latter could save you quite a bit on your insurance.
This is especially if the 650cc motorbike is worth less than the 900cc.
The more expensive your motorcycle, the more your insurer might have to shell out in the event of it being stolen or written off in an accident.
Repairs on some of the pricier motorbikes could also be more expensive.
Insurers also view the more powerful motorbikes as having a greater chance of being in an accident, and hence see them as riskier to cover.
Most motorcycle insurers assign motorbike models to insurance groups from 1 to 17. You generally pay less for your cover the lower the insurance group your model is in.
You'll probably find the biggest, more expensive machines in insurance groups 16-17, typically with engine sizes of 1000cc or above.
At the lower end, a 50cc moped is more likely to land in insurance group 2.
However, the insurance group for a 125cc motorbike might vary quite a bit, depending on the make and model, typically from 3 to 8.
The middleweight, 660cc motorbikes are commonly found in insurance groups 12 and 13.
Compare motorbike insurance quotes
Consider the type of cover you need
The first thing to do is to decide what level of cover you want.
There are 3 main types of motorbike insurance to choose from:
Third-party only (TPO) – covers damage to other people, property and vehicles in accidents that are your fault

Third-party, fire and theft (TPFT) – the same as you get with TPO but your motorbike should also be covered if it's stolen or damaged by fire

Comprehensive – along with all the benefits of TPFT, you're also covered for damage to you and your motorbike, even if an accident was your fault
If you use your motorbike only occasionally, you might decide that you don't need fully comprehensive cover.
As a general rule, the higher the level of cover, the more expensive the policy is.
However, especially for experienced bikers, the difference in prices between the higher and lower levels of cover might not be significant. So make sure you compare all the policies that are available.
Avoid modifications/imports
If you're considering buying a secondhand motorbike, it might be worth steering clear of motorbike modifications to keep insurance costs down.
Motorbike insurance tends to be pricier where motorcycles have been modified, especially when modifications increase the bike's value or boost performance.
The motorcycle becomes more expensive to replace and riskier to insure because it's more powerful than otherwise would be the case.
Classic motorcycles or imports might also be more expensive to insure.
Get an advanced rider qualification
Many insurers might offer you a lower insurance premium if you've completed advanced rider training, so it might be worth doing a course to upgrade your skills.
You may already be a competent biker with lots of experience, but having a piece of paper confirming this could make insurers view you as being less risky to cover
It usually consists of a theory test and an observed ride with expert motorcycle instructors.
You could expect your insurance to be more expensive if you've just started out on 2 wheels and have only recently passed your Compulsory Basic Training (CBT).
Keep your no-claims bonus
Your no-claims bonus could also reduce the cost of motorbike insurance, giving you a hefty discount.
The size of that discount might potentially rise each year, provided you don't make a motorbike insurance claim.
Suppose you've slightly damaged your motorbike and the cost of repair is only marginally above your excess.
In this case it might make more sense to pay for the repair out of your own pocket rather than make a claim, so you don't lose your no-claims bonus.
Without the no claims discount, you could end up paying a lot more when it's time to renew your policy.
Of course, responsible riding means you should reduce the chances of damaging your motorbike and having to make a claim in the first place.
Mind those speed traps
Motoring convictions and points on your licence, including for speeding, could result in higher insurance premiums.
So mind those speed traps and try to avoid breaking the speed limit.
If you do get caught speeding, you might be able to keep your motorbike insurance premiums down by doing a speed awareness course.
That is assuming the police offer this as an alternative to a possible conviction and points on your licence.
Improve your motorbike's security
The harder your motorbike is to steal, the lower your insurance costs might be.
This is with good reason as around 40,000 motorcycles are stolen each year in England and Wales.
So motorcycle theft therefore represents a significant risk for insurers.
If you can keep your motorbike in a locked garage at night, this could help keep insurance costs down.
Anti-theft measures such as ground anchors, immobilisers, motorcycle locks/chains, alarms and trackers could also help.
Make sure any security devices you buy are recognised by the insurer you're planning to use, otherwise you might not get a discount.
For more information, check out our guide on motorbike security options.
Increase your excess
You could lower the cost of your motorbike insurance by agreeing to a higher voluntary excess. This amount is deducted from your final payout when you make a claim.
While potentially lowering your costs, choosing a higher voluntary excess does mean that payouts on your policy might also be lower.
On the other hand, the lower your voluntary excess, the more your insurer might have to pay if you make a claim. Therefore the higher your insurance costs could be.
Don't overstate your mileage
When your insurer asks how many miles you expect to cover over the year, you should think carefully about your answer.
If you say you do 10,000 miles but then cover only 3,000, you might have overpaid for your motorbike insurance because you overstated your mileage.
Nevertheless, if you mislead your insurer, you risk not being covered, with claims potentially being rejected.
Honesty and accuracy is the best policy.
Add an older biker to your policy
If you're a younger biker, then adding an older, experienced rider to your policy could reduce your policy price.
Those between 17 and 25 years of age are considered the riskiest age group – so bikers in this age bracket tend to face higher costs.
On the other hand, if you're an older biker, but decide to add a younger rider to your policy, you could pay more for your policy.
It's important to accurately state the main biker on the policy, otherwise you risk invalidating your cover.
Take off pillion cover if you don't need it
If you never have passengers on your motorbike, then you should tell your insurer as this could reduce your costs.
Pillions represent added risk for insurers, so the cost of cover might be higher when other people are riding on the back of your motorbike.
Consider temporary cover
For those who only ride 2 or 3 times a year, taking out temporary motorcycle cover could potentially work out cheaper than conventional motorbike insurance.
Check out multi-motorbike insurance
If there's more than 1 motorbike in your household, you could save money by putting them all on the same multi-bike insurance policy.
Pay annually
You might pay less for your motorbike insurance if you choose to pay the cost as a lump sum rather than opting to pay through monthly instalments.