Figures from stolen vehicle recovery service, Tracker, reveal top-of-the-range vehicles such as Range Rovers and Land Rovers were favoured by thieves in 2021. Most of these vehicles have been stolen by hacking the keyless entry system on drivers' key fobs. So how do you protect your vehicle from keyless theft? And what other measures should you take to keep your car secure?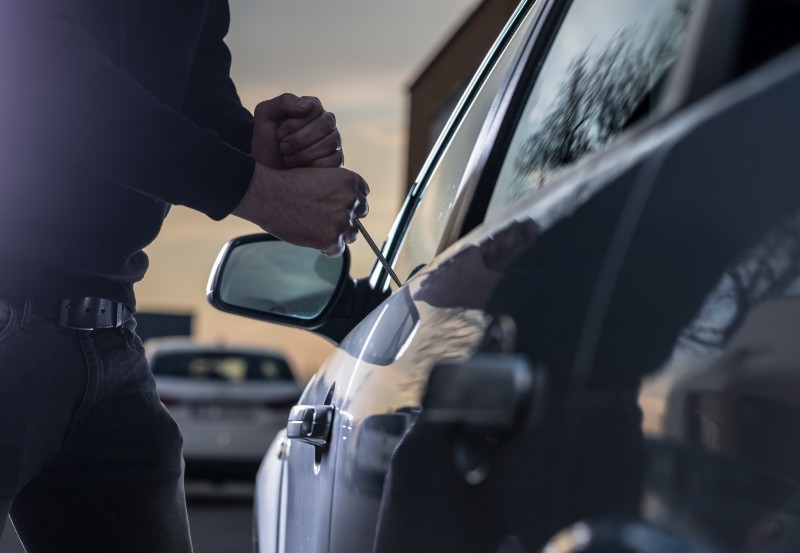 This article contains affiliate links. If you buy any products via these links, we may earn a small commission at no cost to you.
The UK's most stolen cars
Range Rover Autobiography

Land Rover Discovery

Range Rover Vogue

BMW X5

Range Rover Evoque

Mercedes-Benz E-Class

Land Rover Defender, Mercedes-Benz S-Class, BMW X 6, Mercedes-Benz GL

Audi A4 and Mercedes-Benz C-Class

Mercedes-Benz GLC, BMW M3, Audi Q7
Once again the Range Rover Sport tops the most stolen cars list in 2021. Tracker says that this is the third consecutive year that it's hit the top spot.
6 of the 10 models in the top 10 were either Range Rover and Land Rover models.
According to Tracker, Land Rover and Range Rover account for 44% of all stolen cars recovered by Tracker in 2021.
Clive Wain, Head of Police Liaison for Tracker, comments:
"Prestige models have always been the go-to for criminals who exploit the demand for these desirable cars in territories like Europe, Middle East and Africa.
"We are continuously intercepting shipping containers packed with stolen vehicles at ports around the country and 2021 was no different.
"However, due to the pandemic lower value cars have also seen an increase in theft rates."
According to Wain, global demand for car parts has created a boom in 'chop shops'. Here, stolen vehicles are stripped down so criminals can sell on expensive car parts.
The lack of parts and materials globally has led to a waiting list for new cars. This has caused a surge in demand for second-hand cars, causing their value to increase. All this means that criminals could stand to make a pretty penny from a stolen second-hand vehicle.

What is keyless entry theft?
Keyless entry theft has now risen to an all-time high, with 94% of vehicles stolen without using the owner's keys.
It's thought that this could be down to thieves hacking cars with keyless entry functions.
This convenient system allows you to get into your vehicle and start it without having to get your keys out.
The fob itself permanently transmits a signal to the car. Using a relay device, criminals can hack this signal, open the car and drive away. Even when the fob is inside the house.
How can I keep my car secure?
To keep your car secure and to protect against keyless car theft, the Metropolitan Police advise using an electronic car key security pouch – known as a faraday pouch.
The pouch blocks the keyless signal when the fob is inside it.
Check prices for Faraday Pouches on Amazon
When storing your keys, keep them out of sight. It's not unusual for thieves to fish for them through a letterbox.
But a multi-layered approach to security is best, as Clive Wain says:
"Whatever the value of a car, an important barrier to stop thieves is using traditional physical security devices like steering wheel locks and wheel clamps.
"In addition, placing the key fob into a signal blocking pouch which is lined with layers of metallic material, will stop a key's signal from being intercepted by would-be thieves"
Check prices for steering wheel locks on Amazon
Alarms and immobilisers are usually fitted as standard for new vehicles. You can also give your car a distinct mark that can be used to identify it.
Though they can't stop signals being intercepted, tracker systems can increase the chances of your car being recovered and returned to the police. Wain says:
"Thieves are increasingly determined and employ sophisticated methods too. In the event of a vehicle being stolen, an SVR solution will significantly increase the chances of it being quickly recovered and returned before it's sold on, stripped for parts or shipped abroad."
What do I do if my car is stolen?
If the worst happens and your car is stolen the first thing to do is call the police. Dial 101 and ask to be put through to your local police station and tell them exactly what has happened. You will need the following details:
The vehicle's registration number

Any details you can give about when and where it was stolen.
You should be given a crime reference number. You'll need this when speaking to your car insurer. The police will tell DVLA about the theft and they'll tell it if the car is found.
After you've spoken to the police, call your insurance company. It'll give you the details of exactly what you need to do to make the claim. You'll need to give it as much detail as possible about the theft and also have documents including your policy number to hand.
If your car isn't found and you make a car insurance claim and you paid for the car, you need to tell the DVLA. This is because technically the car has been sold to the insurance company. At the same time, you may need to give your log book back to the insurance company.
Compare car insurance quotes
How do I check if the vehicle I'm buying is stolen?
A vehicle history check should tell you if the vehicle you're intending to buy has been stolen. It should also bring up records of a car's MOT and service history.

A vehicle history check typically looks at these points:
Registered keeper changes

Outstanding finance

Stolen/recovered check

Import and export history

Engine number and vehicle identification number (VIN)

Previous sales history

Estimated mileage

Vehicle specifications

Number of plate changes

Previous colours
Confused.com is a participant in the Amazon EU Associates Program, an affiliate advertising program designed to provide a means for sites to earn commission incomes by advertising and linking to Amazon.co.uk.