Figures from stolen vehicle recovery service, Tracker, reveal top-of-the-range vehicles such as Range Rovers and Land Rovers were favoured by thieves in 2022. Most of these vehicles have been stolen by hacking the keyless entry system on drivers' key fobs. So how do you protect your vehicle from keyless theft? And what other measures should you take to keep your car secure?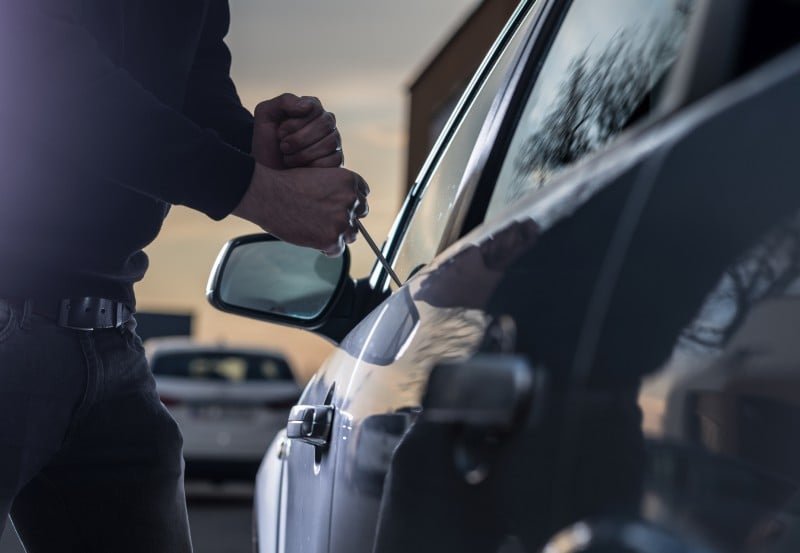 This article contains affiliate links. If you buy any products via these links, we may earn a small commission at no cost to you.
The UK's most stolen cars
Range Rover Sport

Range Rover Autobiography

Range Rover Vogue

Land Rover discovery

Mercedes-Benz C-Class

Lexus RX450H

Mercedes-Benz GL-Class

BMW 3 Series, , Mercedes-Benz S-Class, BMW X 5, Mercedes-Benz E-Class

Range Rover Evoque

Land Rover Defender, VW Golf and Mercedes-Benz CL-Class
The Range Rover Sport tops the most stolen cars list in 2022. Tracker says that this is the fourth consecutive year that it's hit the top spot. According to Tracker, Land Rover and Range Rover account for 42% of all stolen cars recovered by the company in 2022.
The highest value car recovered was a Mercedes-Benz worth £182,000. The VW golf, worth £10,000 on average, also reappeared on the list. The lowest value car was an Audi A4 worth £1,000 - so it's worth investing in extra security no matter what your car's value.
There's a new addition to the 10 most stolen cars, - the Lexus RX 450H. This is the first hybrid model to feature in the list, and could reflect a growing demand for low-emission vehicles.
Clive Wain, Head of Police Liaison for Tracker, comments:
"What's becoming evident through our data is that hybrid vehicles are now rich pickings for criminals."
"The Lexus RX 450h enters Tracker's top 10 most stolen and recovered league table. This is the first time a Lexus vehicle has ever appeared in its annual review of stolen and recovered vehicles.
"A sharp rise in thefts of the Lexus RX450h in the second half of the year indicates it's likely to remain a target for thieves."
Premium and nearly-new cars aren't the only targets. Thieves are taking advantage of the global shortage of car parts and creating 'chop-shops'. These are buildings that hold stolen cars, which are stripped down for parts.
In 2022, police forces uncovered 32 chop shops - a 300% increase since 2021. These vehicles were located using tracker systems, but they found hundreds of vehicles that didn't have trackers fitted too. The police also seized valuable vehicle parts worth millions of pounds.
The lack of parts and materials globally has led to a waiting list for new cars. This has caused a surge in demand for second-hand cars, causing their value to increase. All this means that criminals could stand to make money from a stolen second-hand vehicle.
What is keyless entry theft?
Criminals commit keyless entry theft using a relay device. They hack the constant signal from the fob, open the car and drive away. They can sometimes do this even if the fob is inside the house.
Keyless entry theft continues to challenge car manufacturers. Some have fitted the fobs with a sleep or an off function.
But thieves are still finding a way around this. Tracker reports that 94% of vehicles were stolen without using the owner's keys in 2022. This is a 14% rise since 2017.
How can I keep my car secure?
To keep your car secure and to protect against keyless car theft, you have several options including:
Using a faraday pouch

Buying a steering or wheel lock

Investing in CCTV or smart doorbells

Making your car easier to identify
The Metropolitan Police advises using an electronic car key security pouch – known as a faraday pouch. The pouch blocks the keyless signal when the fob is inside it.
When storing your keys, keep them out of sight. It's not unusual for thieves to use a tool and fish for them through a letterbox.
But a multi-layered approach to security is best, as Clive Wain says:
"Criminals continue to find ways around new security technology, which is why we always encourage motorists to use traditional security deterrents such as crook locks and wheel clamps to deter criminals and protect their vehicles.
"An investment in smart doorbells or a CCTV system are also increasingly popular amongst those keen to guard against unwanted visitors."
Alarms and immobilisers are usually fitted as standard for new vehicles. You can also give your car a distinct mark that can be used to identify it.
Though they can't stop signals being intercepted, tracker systems can increase the chances of your car being recovered and returned to the police. Wain says:
"In the event of a theft, stolen vehicle tracking technology will significantly help police quickly locate the vehicle and return it to its rightful owner before it's sold on, broken down for parts or shipped abroad."
What do I do if my car is stolen?
If your car is stolen, the first thing to do is call the police. Dial 101, ask to be put through to your local police station and tell them exactly what has happened. You need the following details:
The vehicle's registration number

The make and model

The colour of the car

Any details you can give about when and where it was stolen
You should be given a crime reference number. You'll need this when speaking to your car insurer. The police will tell DVLA about the theft and they'll tell it if the car is found.
After you've spoken to the police, call your insurance company. They should guide you through how you make a car insurance claim. You need to give your insurer as much detail as possible about the theft. It helps to have your insurance documents with you, including your policy number.
If your car isn't found and you make a car insurance claim, you need to tell the DVLA. This is because technically the car has been sold to the insurance company. At the same time, you may need to give your log book to the insurance company.
Compare car insurance quotes
How do I check if the vehicle I'm buying has been stolen?
A vehicle history check should tell you if the vehicle you're intending to buy has been stolen. It should also bring up records of a car's MOT and service history.
A vehicle history check typically looks at these points:
Registered keeper changes

Outstanding finance

Stolen/recovered check

Import and export history

Engine number and vehicle identification number (VIN)

Previous sales history

Estimated mileage

Vehicle specifications

Number of plate changes

Previous colours