Owning a campervan can bring years of pleasure and create many happy memories of holidays with friends and family.
The freedom to go wherever you want whenever you want does come with some complications though, and that's not including cooking a Sunday-lunch on two rings or reverse parking. Normal car or van insurance doesn't cover a motorhome, so you need to get special cover for your special vehicle.
Whether you use your campervan for a beach base while you're surfing on the weekends or you take it with you on a round-Europe extended getaway, you could get a great deal on motorhome insurance with Confused.com.
Specialist campervan and motorhome insurance provider
Policies can cover personal effects, awnings, gas bottles
Whatever type of campervan you own, and no matter how old it is, Confused.com could get you a great deal on insurance.
Campervans and motorhomes are available in a range of sizes so make sure your driving license has the right category for you to drive your motorhome.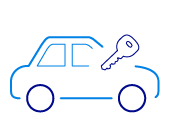 Alcohol unit calculator
The safest bet is to not drive if you've had any alcohol, but you can work out how many units are in your drinks here.
You might also be interested in
Confused.com motorhome and caravan insurance is administered by Vast Visibility Ltd who are authorised and regulated by the Financial Conduct Authority under firm reference number 566973. Vast Visibility Ltd is registered in England & Wales No. 05866769 at office: 8 Princes Parade, Liverpool, L3 1DL. Our service is free and compares a wide range of trusted household names. Confused.com is an intermediary and receives commission from Vast Visibility Ltd which is a percentage of the total commission if you decide to buy through our website. We pride ourselves on impartiality and independence – therefore we don't promote any one insurance provider over another.