As its name suggests, joint life insurance cover is one that insures two lives. It pays out when the first person dies (commonly called 'first to die') within the term of the policy and at that point, the policy will then lapse. Cover for both lives can also be arranged by having individual policies.
If you only need one payout joint cover may be the best option as it tends to be cheaper than buying two separate policies. However, it must be remembered that in the event that one of the policyholders passes on, then the survivor will be left uninsured.
In addition, taking out two separate policies (which may not necessarily be that much more expensive) would be easier to administer in the event of separation or divorce.
When you apply through us, your application will be processed by our partner, Direct Life & Pension Services Ltd. You'll be assigned a dedicated case handler who'll liaise directly with your chosen insurer, keep you updated on the progress of your application and advise you on acceptance.
Our online comparison is free to use
Jargon-free quotes with a simple application form
First UK insurance price comparison site
Compare up to 10 trusted UK insurance providers
See independent star ratings from Defaqto
Get a tailored quote and an indication of how your application will be treated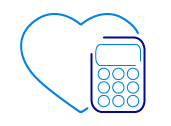 Life insurance calculator
Don't know how much life cover you need? This handy tool can point you in the right direction.
You might also be interested in other insurance types
Confused Life is arranged and administered by Direct Life & Pension Services Ltd, who are authorised and regulated by the Financial Conduct Authority. Registered office; 2nd Floor Gateway 2, Holgate Park Drive, York, United Kingdom, YO26 4GB. Registered in England and Wales No 2467691. Our service is free and compares a wide range of trusted household names. Confused.com is an intermediary and receives commission from Direct Life & Pension Services Ltd which is based on a percentage of the total annual premium if you decide to buy through our website. We pride ourselves on impartiality and independence – therefore we don't promote any one insurance provider over another.