If you're driving in Europe or abroad, make sure you have the right insurance and other road essentials for your trip.
We look at the important documents you need to gather before you drive abroad.
As well as some key pieces of kit to keep in the car.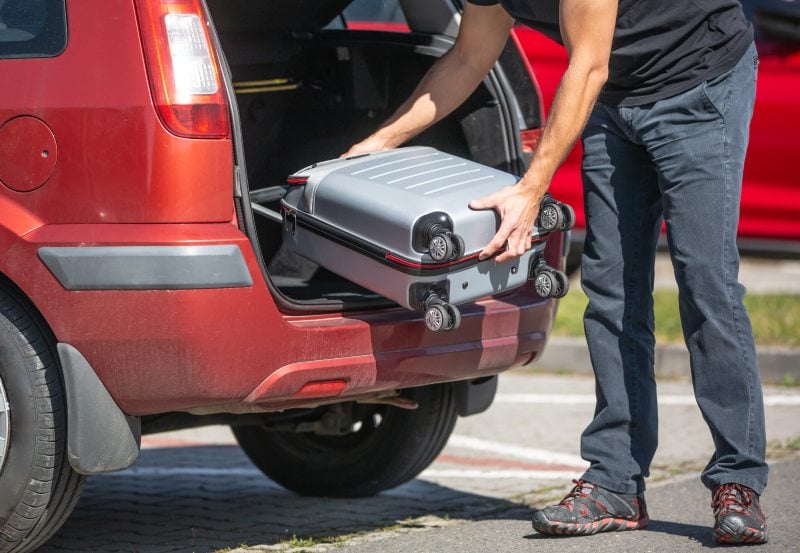 GB stickers are no longer valid for driving abroad
British motorists who are driving abroad can no longer use a GB sticker on their number plate, and it should be replaced or covered with a UK sticker.
The government advice states that you should display a UK sticker clearly on the rear of your vehicle if your number plate has:
a GB identifier with the Union flag
a Euro symbol
a national flag of England, Scotland or Wales
numbers and letters only - no flag or identifier
If your number plate has a UK identifier with a Union Jack flag, you won't need a sticker.
If you're driving in Spain, Cyprus or Malta you need the UK sticker regardless of what's on your number plate.
Drivers who don't have the new UK sticker while travelling abroad could face penalties. These vary depending on what country you're in.
You won't need a UK sticker if you're driving in Ireland.
Looking to drive further afield? - check out our driving abroad (outside Europe) checklist.
These are the key things to check before driving in or through Europe.
Do I need a green card to drive in Europe?
A green card is an internationally recognised document that acts as proof of insurance in Europe and other countries abroad.
But you no longer need a green card to drive in the EU and Ireland, Andorra, Bosnia and Herzegovina, Iceland, Liechtenstein, Norway, Serbia and Switzerland.
However, according to the GOV.UK. website you may still need to carry a green card to drive in other countries in Europe, including:
Albania

Azerbaijan

Belarus

Moldova

Russia

Turkey

Ukraine
You can get a green card from your insurer for free, but make sure you leave plenty of time to get one before you travel.
Do I need a certain type of licence to drive in Europe and abroad?
No, you just need a full UK photocard driving licence.
If you have a paper driving licence, or your licence was granted in Gibraltar, Guernsey, Jersey or the Isle of Man, you may need an international driving permit (IDP).
In some European countries you are also required to be 18 years old to drive.
If driving outside Europe, you may need also need an IDP.
What car insurance do I need to drive in Europe?
If you have a standard 12-month car insurance policy in the UK, then you're probably covered to drive in some European countries for up to 30 days.
However, you need to check your European cover status, as the level of cover and the countries included can vary from insurer to insurer.
Even if you have comprehensive insurance cover in the UK, you might only have the most basic third-party cover for driving in Europe.
All UK vehicle insurance should provide third-party cover to drive in:
The EU – including Ireland
Andorra
Bosnia and Herzegovina
Iceland
Liechtenstein
Norway
Serbia
Switzerland
If you only have standard third-party cover to drive in Europe, it might be worth considering paying a bit extra to upgrade your insurance.
That's because, with third-party cover, if you're involved in an accident that's your fault or where the fault is unknown, you won't be able to make a claim for any repairs.
If you're looking to take out a new policy that includes extra cover for driving abroad, some insurers offer European car insurance as an optional extra.
Think about the length of the trips you intend to take and the number of days covered by the policy.
European breakdown cover is available as an optional extra on your car insurance or as a standalone policy.
While it's not a legal requirement, having this in place could give you peace of mind and allow you to avoid expensive repair bills whilst on holiday in Europe.
If you're hiring a car in Europe rather than taking your own, you might want to consider car hire excess cover
This could cover the costly excess charge you can be liable for should you return your hire car to the rental company with any damage
This excess is often between £500 and £2,000. Sometimes it's even higher, depending on the vehicle type and who you're hiring the car from.
Driving in Europe after Brexit
The UK has left the EU, but you can still use your UK driving licence to drive around EU member states.
The same goes for countries that are members of the European Economic Area (EEA) such as Norway.
The European Commission has announced that UK drivers no longer need to show a 'green card' when driving in EU countries.
A 'green card' acts as proof that you're insured to drive abroad. The decision from the European Commission means a little less red tape to worry about before you go abroad.
If you're driving your own car, you need to take your V5C logbook with you.
You can still take your pet with you, but you need an Animal Health Certificate (AHC) rather than an EU pet passport.
Make sure your car insurance policy covers travel to Europe.
For more information, visit the GOV.UK website.
What vehicle documents do I need to take when driving in Europe?
When driving in Europe you should have the following documents ready for inspection:
Vehicle Registration Certificate (V5C)

Valid driving licence or an IDP (if you need one)

Certificate of vehicle insurance or a green card (if you need one)

Passport

Visa if needed – check GOV. UK

VE103 certificate if you're hiring a car
If you can't find these documents, don't worry, you should be able to replace the missing paperwork quickly.
Do I need breakdown cover when driving in Europe?
Some breakdown policies include European breakdown cover, but it's worth checking.
It might be tempting to cut corners, but the cost of repair and repatriation can be quite high.
So it's worth getting sufficient breakdown cover.
European driving kit
In the UK, you're not required to carry any particular equipment with you when driving.
But in some European countries, it's compulsory to have certain items.
You may already have some of the gear as part of your breakdown kit.
Standard items include:
Warning triangle

Reflecting or high-vis jackets

Headlamp converters

Spare bulbs for lights

First aid kit
These items could help if you find yourself unfortunate enough to breakdown.
Always check before setting off as different countries have different rules.
For example, when driving through France, you need to display an air pollution sticker.
Speed camera detectors are illegal in France, which is also true if you're driving in Spain.
Speeding fines when driving in Europe
Speeding fines on the continent can prove costly.
Even worse, you could have your car seized while on holiday.
Police in France, for example, now have the right to impound your vehicle if you are travelling more than 50kph (roughly 30mph) above the limit.
Exceed the permitted rate by 40kph (25mph) and your licence could be confiscated.
In Germany, your car can be towed away if you are unwilling or unable to pay any instant fines.
France
In France, there are different speeding laws for when you're inside and outside of a built-up area.
If you're in town and you go over the speed limit by less than 20kph you could receive a fine of €135.
If you're outside a built-up area and you exceed the speed limit by between 20kph and 49kph the fine is also €135.
If you're outside a built-up area and you go over the speed limit by less than 20kph you could receive a fine of €68. This is reduced to €45 if you pay within 15 days.
If you break the speed limit by more than 50kph then the fine is €1,500, with no discount allowable.
Someone caught exceeding the speed limit by more than 50kph for a second time in three years could face a fine of €3,750.
Germany
German speeding fines tend to be lower compared with France.
Again, German speeding fines vary according to whether the offence has taken place in a built-up area and the extent to which the limit has been breached.
If you break the speed limit by less than 10kph out of town, the fine would only be €10.
The maximum out-of-town penalty progressively rises depending on the extent of the speeding.
Breaking the limit by 26-30kph results in a fine of €80, while exceeding it by over 70kph would land you a bill for €600.
Inside urban areas, German speeding fines range from €15 if you break the limit by less than 10kph, €100 for a 26-30kph breach and €680 for exceeding the limit by more than 70kph.
Spain
How much you pay for breaking the speed limit in Spain generally depends on how much you went over the limit.
At the lower end, expect to pay a minimum fine of €100, while speeding at the higher end of the scale could leave you €600 out of pocket.
Italy
Speeding fines can vary a lot in Italy, so beware. As in other countries, the fine rises according to the extent to which the speed limit was breached.
But the fine could also increase quite a lot if the offence was committed between 10pm and 7am.
Breaking the speed limit by less than 10kph could cost as little €41 but as much as €224 if it takes place between 10pm and 7am.
At the upper end, if you exceed the limit by 60kph, it could cost you a minimum of €821 or up to a whopping €4,382.67 if the offence occurs between 10pm and 7am.
Motorway tolls in Europe and what to look out for
Motorway tolls are more widespread on the continent than in the UK. If you don't have cash on you, it shouldn't be an issue, as toll points tend to accept debit or credit cards as well.
You can usually get to your destination without using the motorways and avoiding the tolls, but this could add significant time to your journey.
Typically, the longer the distance you are covering, then the more worthwhile paying the tolls becomes.
For short journeys, you may be better off avoiding the toll motorways altogether as your journey might not be that much quicker anyway.
France
You need to pay a toll if you want to drive on the motorway in France.
There are a range of different toll gates that ask you for pre-payment as you drive through the country's autoroute system. You can also come across specific tolls for bridges and tunnels.
Generally, the toll is higher the longer the stretch of motorway that you are entering.
For example, the A1, A26, Paris – Calais autoroute covers 305km and costs €22.70 for a car, while the 793km motorway stretch along the A6, A7, A36 from Strasbourg to Montpellier sets you back €59.20.
Germany
The good news is that if you're driving a car in Germany, there shouldn't be many tolls to pay at all. It tends to be just vehicles weighing over 7.5 tonnes that are liable for motorway tolls.
Spain
You should encounter tolls on many major motorways (autopistas) in Spain, though you could also find stretches of motorway where you don't need to pay a toll.
Toll charges can be cheaper than in France. But charges can depend on the route you're taking as well as the distance you're covering.
Taking the A-2, AP-2, AP-7 route from Madrid to Barcelona, a 625km drive, costs €35.70. Meanwhile, the AP-68, AP-2, covering 609km from Bilbao to Barcelona, is priced at € 63.90.
Italy
Motorway toll charges for cars in Italy largely depend on the distance being covered.
For example, taking the A1 from Milan to Rome, a driving distance of 556km, costs € 41.90. The 865km motorway from Milan to Bari (A1, A14) sets you back € 64.40.
What to do if you're pulled over by the police
Being pulled over by the police on the continent might be nothing to worry about.
Routine checks are commonplace along the roadside in EU countries such as France, Spain and Italy. You could be on your way in just a few minutes, with no problem.
If it happens to you, keep calm and act just as you would if you were stopped by the police in the UK. It's worth remembering that laws between the UK and the EU can vary
And between EU member states and EEA countries. So do some research on the specific road laws of the country you're visiting beforehand.
If you're asked by the police to pay an on-the-spot fine, you should try to pay there and then, as otherwise you could end up having your car towed away.
Driving abroad checklist
If you're driving further afield that Europe, there are some extra things to consider:
Green card outside of Europe
According to the Motor Insurance Bureau you'll need a green card to drive in:
Islamic Republic of Iran

Israel

Morocco

Tunisia
You get can get a card, which acts as proof of vehicle insurance, by contacting your insurer.
International driving permits
If you're driving outside of Europe, chances are you need an international driving permit (IDP).
An IDP lets you drive in more than 140 countries.
So if you've ever fancied driving in Thailand or want to take a road-trip through the US, getting an IDP should be top of your list.
It's a multi-language version of your driving licence, but make sure you bring your original UK driving licence with you, too.
There are different types of permits – depending on the country you're driving in.
Here are the permits you'd need in some holiday destinations:
| Country or territory | Type of IDP |
| --- | --- |
| Andorra | 1949 |
| Argentina | 1949 |
| Australia | 1949 |
| Austria | None |
| Azerbaijan | 1968 |
| Bahamas | 1968 |
| Barbados | 1949 |
| Belgium | None |
| Bosnia and Herzegovina | 1968 |
| Brazil | 1968 |
| Bulgaria | None |
| Cambodia | 1949 |
| Canada | 1949 |
| Cape Verde | 1968 |
| Chile | 1949 |
| Croatia | None |
| Cuba | 1968 |
| Cyprus | None |
| Czech Republic | None |
| Denmark | None |
| Dominican Republic | 1949 |
| Egypt | 1949 |
| Fiji | 1949 |
| Finland | None |
| France | None |
| French Polynesia | 1968 |
| Georgia | 1968 |
| Germany | None |
| Greece | None |
| Haiti | 1949 |
| Hungary | None |
| Iceland | None |
| India | 1949 |
| Ireland | None |
| Israel | 1968 |
| Italy | None |
| Jamaica | 1949 |
| Japan | 1949 |
| Laos | 1949 |
| Lebanon | 1949 |
| Madagascar | 1949 |
| Malta | None |
| Mexico | 1926 |
| Monaco | 1968 |
| Montenegro | 1968 |
| Morocco | 1968 |
| Netherlands | None |
| New Zealand | 1949 |
| Norway | None |
| Peru | 1968 |
| Poland | None |
| Portugal | None |
| Russian Federation | 1968 |
| Serbia | 1968 |
| Seychelles | 1968 |
| Singapore | 1949 |
| Slovakia | None |
| Slovenia | None |
| South Africa | 1968 |
| South Korea | 1949 |
| Spain (including Balearic and Canary Isles) | None |
| Sri Lanka | 1949 |
| Sweden | None |
| Switzerland | None |
| Thailand | 1949 |
| Turkey | 1968 |
| United Arab Emirates | 1968 |
| United States | 1949 |
| Vatican City | 1949 |
| Vietnam | 1968 |
What car insurance do I need to drive abroad?
As with driving in Europe, you should ensure you're covered to drive abroad.
Check with your insurance provider to see if you're protected.
You may have to pay to add it onto your car insurance policy.
And you should consider breakdown cover, too.
What documents do I need when driving abroad?
You should have the following with you when driving outside of Europe:
Your international driving permit

UK driving licence

V5C logbook

Green card, if needed

Certificate of car insurance

Passport

Visa, if needed – you can check GOV.UK to see if you need one.
VE103 certificate i

f hiring a car
You should also have a UK sticker displayed clearly on the rear of your vehicle if you're driving abroad.
Staying safe while driving abroad
Always do some research prior to your trip, so you get a better idea of what to expect. Make sure to get to know the road signs.
As a general rule, it's better to drive with a little extra caution when you're on the continent as there are some differences to the UK.
The obvious one is that you might be driving on the right-hand side of the road rather than the left! So think about how to navigate junctions and roundabouts.
If you're doing a long-distance trip, take plenty of rest breaks, and consider dividing the journey up by staying overnight in a hotel along the way. Driving tired on unfamiliar foreign roads could increase the risk of an accident.
What else should I do before driving in Europe or abroad?
Before you set off on your trip it's worth: