As sales of electric vehicles (EVs) increase, fewer people are paying vehicle excise duty (VED). The government is also set to lose out on fuel duty since EVs don't use petrol and diesel. This is a tax you pay on fuel that's included in the price. But no VED or fuel duty could leave the government with a £35 billion tax black hole. To recoup the loss, the government has announced a tax on EVs from 2025.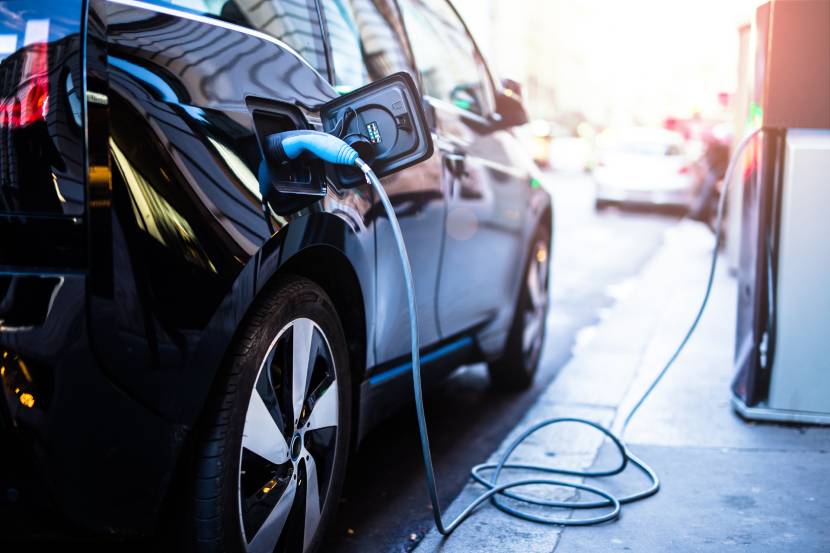 Why might car tax and fuel duty revenue decline?
You don't have to pay VED (sometimes incorrectly called road tax) on electric vehicles as they don't have any emissions from the tailpipe.
As EVs are powered by an electric battery rather than a combustion engine, you don't have to pay fuel duty either.
Nearly half of what motorists pay for fuel is tax. The rate of fuel duty is 52.95p per litre. The average price for petrol at the time of writing is 154.2p per litre*.
So as EVs become more popular, VED and fuel duty decline. But according to the Transport Committee, zero emission vehicles shouldn't mean zero tax revenue.
The tax revenue from fuel duty and VED tax accounts for 4% of the entire tax revenue in the UK. So the government is looking at ways to fill the £35 billion tax black hole that could be left if more people buy EVs.
In his 2022 autumn statement, chancellor of the exchequer, Jeremy Hunt announced that EVs will no longer be exempt from VED from 2025.
Chair of the Transport Committee, Huw Merriman MP, says:
"It's time for an honest conversation on motoring taxes. The government's plans to reach net zero by 2050 are ambitious. Zero emission vehicles are part of that plan.
"However, the resulting loss of 2 major sources of motor taxation will leave a £35 billion black hole in finances unless the government acts now."
The demand for electric vans and cars has also accelerated due to the upcoming ban on all new petrol, diesel and hybrid cars. In September 2023, prime minister Rishi Sunak announced that the date for this ban would be delayed by 5 years, to 2035.
The ban should help us fight climate change and meet the carbon emissions target by 2050. But motorists could be put off buying EVs if there's a new tax put on them.
What will the government do to make up the cost?
A 'pay as you drive' or 'pay by the mile' tax was discussed by the Transport Committee in 2020.
This type of road tax was put forward by Tony Blair's government in 2007. It was originally brought in as a way to reduce congestion.
But the 'pay as you drive' road tax wasn't well received by motorists and was later abandoned.
Reports said that the former chancellor of the exchequer, now prime minister, Rishi Sunak, was interested in bringing back the pay as you go system. But it could be called road pricing instead.
Merriman goes on to say:
"We need to talk about road pricing. Innovative technology could deliver a national road-pricing scheme which prices up a journey based on the amount of road, and type of vehicle, used.
"Just like our current motoring taxes but, by using price as a lever, we can offer better prices at less congested times and have technology compare these directly to public transport alternatives.
"By offering choice, we can deliver for the driver and for the environment. Road pricing should not cost motorists more, overall, or undermine progress on active travel."
What our motor insurance expert says
Louise Thomas, Confused.com car insurance expert, says:
"The number of registered EVs in the UK has more than doubled in the past 2 years, and that this could increase further. However, the news around tax costs may be disheartening for some drivers, as there are fewer incentives to go green in the future.
"As these changes shouldn't come into effect until 2025, there's still some time to benefit from this. But this could also mean the demand for EVs will increase over the next year or so, which could increase the waiting list to buy a new EV."
"There continues to be some debate around the initial costs of buying an EV. But overall, going electric could still save you money in the long-run as they can have lower running costs than other vehicles on the road. And they're a lot better for the environment."
Will EV owners have to pay road pricing?
EV owners may have to pay road pricing if it's rolled out in 2025. It's likely this could be a frustration for EV owners and people considering an EV as no tax was one of the main benefits.
Electric cars are already more expensive in terms of initial purchase price and car insurance costs. And earlier in 2022, the government scrapped the grants to help with the cost of buying electric vehicles - making them even more expensive.
What is the government doing to help the UK's EV uptake?
This latest announcement might not help boost the uptake of EVs. But there are other initiatives that are aiming to improve EV ownership.
In 2022, the government announced a £20 million pilot scheme to improve access to electric vehicle charging points in certain areas. The Local EV infrastructure or LEVI scheme aims to create new EV infrastructure like faster on-street chargepoints and larger petrol station-style charging hubs.
It's being piloted in a few authorities in the UK:
Barnet

Dorset

Durham

Kent

Midlands Connect (with Lincolnshire as a lead authority)

North Yorkshire

Nottinghamshire

Suffolk

Warrington
Also in 2022, the government made it a legal requirement for all new-build houses and supermarkets to have charging points. It's also put £1 billion toward the electrification of UK vehicles and their supply chains.
It's not just EVs. The government set aside £338 million to improve roads for active travel after people took to cycling and walking during the pandemic.
What else is the government doing to reach our carbon neutral goal?
In 2020, the government and local councils started to introduce low emission zones (LEZ) to cities with high levels of pollution. These areas charge people to enter if their vehicle is above a certain emission threshold.
Some of the cities that already have LEZ are:
Bristol

Birmingham

Oxford
To find the full list, read our guide on low emission zones.
London has an ultra-low emission zone (ULEZ). Here, the emission levels are even more strict. The ULEZ has recently been extended to cover most of the capital.
Compare car insurance quotes
*Based on the prices from Confused.com petrol prices tool on 21 September 2023