How to claim on your car insurance
From what to do in the immediate aftermath of an accident, to making a claim; we take you through everything you need to know.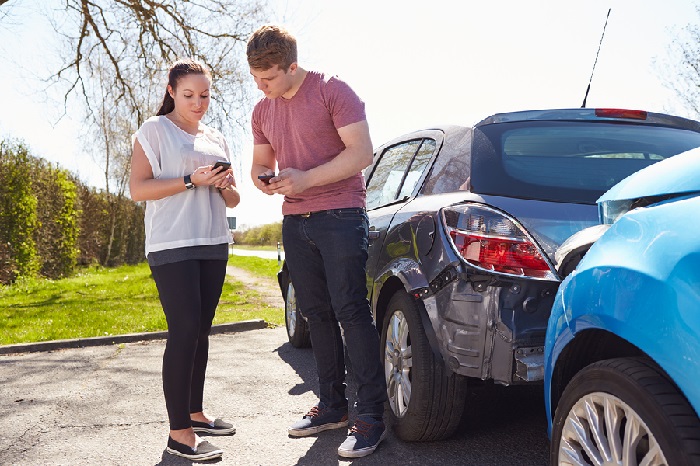 The last thing you want after an accident is to deal with red tape.

So to make the process easier, we've created a guide which takes you through from what to do following an accident, through to making a claim.
What to do after a car accident
If you're in the unfortunate situation of having a minor accident or collision with another vehicle, here's what to do in the immediate aftermath.
1. Keep calm
First and foremost, stay as calm as you can and try not to panic or lose your temper.
This is, of course, easier said than done. Even still, it will only exacerbate the situation if you don't remain level headed.
If there are other people involved, they're likely to be as shaken up as you are.
But if you retain your composure, this will have a calming effect on them too.
2. Check the scene is safe
Turn off the engine and put on your hazard lights.
Warn any oncoming traffic about the accident where practical to do so.
And don't put yourself in any further danger.
3. Stay where you are
If you think someone is injured or there's damage to vehicles or property you should stay where you are, providing it's safe to do so.
If you leave the scene of a crash you're involved in, before fulfilling certain obligations, then you're committing an offence.
4. Should you call the police?
If someone is injured, or the situation has created a hazard for other people or traffic, then you should call the police (traditionally 999, but more likely 112 from a mobile) straight away.
Equally, you should call if another party involved has left the scene without exchanging details.
If you're in doubt as to whether you should call, then it's best to do so – then they can make the judgement as to whether the scene needs their attention.
5. Exchange details
Those involved in the accident should exchange details - see below for the things you'll need when you call your insurer.
It is a legal requirement to get certain details (and the requirement is stricter in the case of accidents involving personal injury).
How to make a claim
Following your accident, you'll need to start the process of making a claim. And the first step in the process is calling your insurance provider.
Things you'll need when you call your insurer
First and foremost, make sure you have these things ready when you give them a call:
The registrations of both vehicles.

The names and contact details of the other driver, any passengers and witnesses.

Photos of the damage (if you've taken any).

The location, including road or street names, and the nearest house or business numbers.

Any other information that could be relevant such as road or weather conditions, plus time of day.
If one of the drivers involved doesn't own the vehicle they're driving (for example if it's a company car, or it belongs to a relative) then get the name and the address of the owner if you can.
When to contact your car insurer and make a claim
While it's not necessary to call your insurer from the scene of the accident, you should make sure you call within 24 hours.

This is because many car insurance policies have a set limit on the amount of time you have to report an accident.
What about non-accident claims?
If your claim's about theft or damage to your car while you were parked, the procedure is the same.

If police are involved, keep a record of it, including your crime reference number.
Read more: Car insurance excess explained
My car's on finance. What happens now?
If your car is a write-off or stolen, your insurer will pay you the car's market value.
Because of depreciation, this will be less than the original value of the car.
And if you bought the car on finance, this is likely to be a lot less than your outstanding finance agreement.
In most cases this means you'll have to pay the difference, which could leave you out of pocket.
One way to protect yourself against this is with gap insurance. It's a policy that covers the shortfall between your payout and what you owe the finance company.
Dealing with your insurer
Reporting any accident to your insurer is a must. They might ask you to take the car to an approved local garage.

If you take it to a different one for repairs, you're unlikely to claim the costs back.
You'll have to pay the excess on any claim you make on your own insurance – but if you're claiming off another driver for an accident that was their fault, you usually won't have to pay.
You may get a courtesy car while your own is getting fixed – check your terms and conditions to find out. If your car's been written off or stolen, a courtesy car's not normally given.
What if your car's written off?
If the insurance assessor thinks the repair costs more than the car's worth, they might write it off and your insurer will give you a payout.
To work out whether this sum's fair, you should check the value of cars as similar as possible to yours.
If you've made any modifications to the car that have increased its value, send all details including receipts of work done to your insurer to negotiate a fairer price.
MOT certificates and service receipts can often also be used when negotiating prices, as well as examples of similar cars on sale.

If you and your insurer fail to reach an agreed value, or you feel you are being treated unfairly, you can contact the Financial Ombudsman to adjudicate the dispute.
Read more: How to react to emergency vehicles on the road
Claiming after being hit by an uninsured driver
If you're in an accident with someone without insurance, you'll be able to claim from your own insurer if you have comprehensive cover.
It'll mean you'll lose your no-claims discount, unless your policy says otherwise and you'll have to pay your normal excess.
If you don't have comprehensive cover, you could claim from the Motor Insurers' Bureau for compensation relating to personal injuries and other losses. Any payments from the MIB are subject to a £300 excess.
Your policy excess
Before claiming, check out how much excess you've agreed to pay.

If fixing your car is less than your excess, there's not much point making a claim as you'll have to pay for it all yourself anyway and you'd lose your no-claims bonus.
What if I claim on the other driver's insurance?
Technically, you haven't claimed on your insurance so no excess is needed and your no-claims bonus won't be touched.

Don't be shocked when your premium goes up when you want to renew though.
Any claim, whether it's on your own insurance or someone else's, will be factored in by insurance companies when they give you a quote.
So it pays to weigh things up before making a claim. For small claims, it's sometimes more cost-effective to not claim.