There are loads of motorbike categories and motorbike styles, so it's important to know what sort of bike you're buying.
This information is also key for getting a motorbike insurance quote, which you'll need before you get on the road.
Here's a rundown on the different motorcycle types, what they are designed for and how they are commonly used.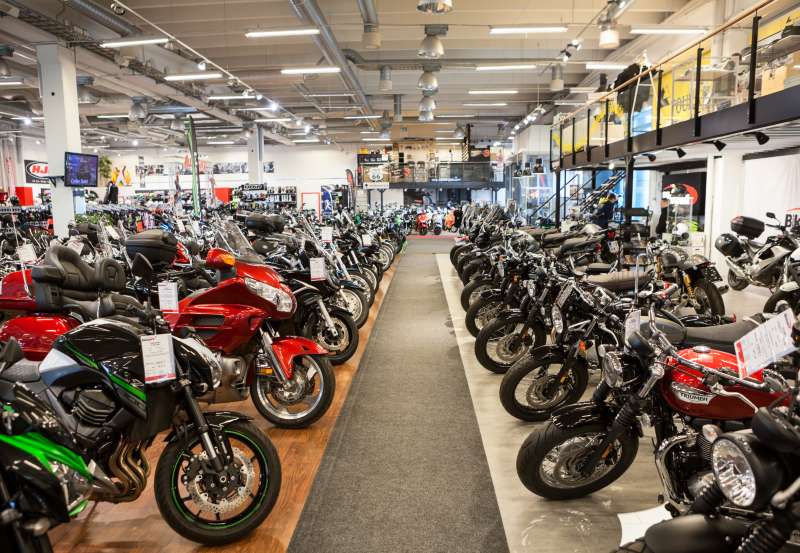 What are the different types of motorbike?
The world is your oyster when it comes to motorbike styles. And depending on your budget, and the reason you're buying the bike, there are lots of options to choose from.
You need a valid motorbike insurance policy before you start driving and when thinking about buying there are decisions to make too.
Do you buy new or used bike and where will you keep your bike? But for now let's focus on the detail of different types of motorbike.
Scooters and mopeds
Synonymous with the swinging 60s, scooters exploded back into popularity in the mid-90s.
The reason for the boom was the increased frustration at urban gridlock and their cheap running costs.
The advent of desirable new models from Japanese manufacturers and Italian firm Piaggio also played a part.
Mopeds v scooters
Mopes are small engine 50cc motorbikes that have a top speed of about 28mph.
As mopeds have such low power, moped insurance cover tends to be much cheaper than for other motorbikes.
Scooters have larger engines than mopeds – normally 125cc-150cc – and have a step-through frame.
The smaller engine tends to reduce its running costs, and that makes it much more affordable than bigger bikes.
Scooter insurance is often considerably cheaper than other motorbike insurance too.
Sports bikes
At the other end of the spectrum, sports bikes are built for power and speed.
They have fast and powerful engines, sharp styling and handling, and aerodynamic fairings.
Dominated by Japanese giants Honda, Suzuki, Kawasaki and Yamaha, other makes include Ducati (Italy) and Triumph (good old Blighty).
As sport bikes are built for speed and have blistering acceleration, novice riders should think carefully before opting for one of these as their first ride.
As you might expect, bike insurance in this class is generally more expensive than in other classes.
Naked motorbikes
In a nutshell, these are unfaired sports bikes.
The term 'naked' refers to road bikes without a fairing to obscure the engine and frame, and normally no screen over the handlebars.
However, not all bikes without fairings are naked bikes. Exceptions include custom bikes, off-roaders and adventure sport bikes.
Cruiser motorbikes
Typically, cruisers have low seats, long wheelbases, loads of chrome and, most importantly, a laid-back attitude.
Although probably the most well-known, Harleys aren't the only name in town. There are a range of Japanese bikes able to provide that custom look for a lot less cash (although also less heritage).
Other cruiser makers include Italian firm Moto Guzzi and BMW.
Some cruisers, such as the massive Kawasaki VN2000, have larger engines than some mid-size cars.
These are definitely not recommended for bikers who've just removed their stabilisers.
Adventure motorbikes
Adventure bikes are designed to be a jack of all trades, suited to commuting, touring and some sporty riding.
They tend to be endurance machines with larger luggage compartments and petrol tanks for long-distance trekking. Perfect for exploring some of the UK's best motorbiking roads.
They also often have the capability to do a bit of off-roading.
But be warned: taking a larger, heavier bike off-road can be a challenge for even the most experienced rider, especially if you drop it.
A tall profile and upright riding position mean you get good visibility over the car in front, and you should also be easier to see for other road users.
King of this class is arguably the BMW R1250GS, while Suzuki's V-Strom 1000 is one of the more affordable big adventure bikes.
Touring motorcycles
If you're looking to ride coast-to-coast across the US or take a European tour, a tourer is the bike for you.
Designed for long distances, these are big, comfortable, mile-munching monsters.
These bikes are built for on-road comfort for both rider and pillion, with continent-cruising ability.
Many tourers have:
Large windscreens
Generous luggage capacity
Plush seats
A driver/passenger intercom
Heated handlebar grips
Many manufacturers offer variations of their sports bikes or adventure bikes, and these are labelled as sports-tourers or adventure tourers.
They often have side panniers for luggage which may or may not be removable.
Others, such as the classic Honda Goldwing or the BMW K1600, are specifically-designed tourers.
Given their size, combined with their luggage and fuel capacity, it's not surprising that tourers are among the heaviest bikes on the road.
To help with this, they often have features such as hill-start assist, while some have a reverse gear to help with parking.
Off-road motorbikes
Dirt bikes, enduro bikes and motocross bikes are variations of motorbike that are primarily or solely used for off-roading.
There are hundreds of styles and variations of off-road bikes. These range from enduro bikes that are used for long distance off-roading through to trials bikes that are so lightweight they don't even have a seat.
Many types of off-road bikes can't be used on the road at all.
If you want to use yours on the road, you need to ensure it's legal to do so first.
Motocross bikes
Motocross bikes are built for off-road racing and have suspension designed for rough terrain and large jumps.
Dirt bikes
These lightweight bikes are fast and powerful. They can be used for different things, from touring to racing.
They also have tyres that can cope with surfaces ranging from dirt roads to rocks.
Enduro bikes
Enduro bikes are used for long-distance time-trial competitions.
They look similar to motocross bikes but are heavier because they have extras – such as lights and a speedometer – to make them legal to drive on the road.
Monkey bikes
Honda released its first monkey bike in the 60s. Originally with a 50cc engine, the Monkey was a compact or minibike.
Its name came from the way it makes the rider's knees and elbows stick out.
Modern monkey bikes tend to be 125cc.
But while other manufacturers have their own versions, it's the Honda Monkey that is still the king of this category.
Unless you speak to a Grom owner, that is.
Groms
Another Honda-manufactured mini-motorbike, the MSX125 is known in biking circles as the Grom bike.
Big bike styling in a tiny size, the Grom has an almost fanatical following in the biking world, usually as a secondary bike.
Highly manoeuvrable, it's perfect for city riding. It also has enough torque that its limited speeds feel much faster because you're that much closer to the road.
Quad bikes
Usually used off-road or in competitions, quad bikes are a unique breed.
Whether it's used for agriculture, modified for your own purpose or used for sports and leisure, a quad bike can be covered under quad bike insurance.
Given how different quad bikes are from regular motorcycles, there are a number of other factors to bear in mind.
You can get more information from the government's website.
Three wheeled motorbikes
A three wheeled motorbike, or motor trike, is a larger motorbike that runs on three wheels instead of two.
Many motor trikes are built with components found in cars, and cars on three wheels also use parts found in motorcycles.
This can be confusing when it comes to insuring your trike.
In general, if your vehicle has an open chassis with handlebars then it should be considered a motor trike.
If it has a closed chassis or a steering wheel then you need to purchase a kit car insurance policy.
While it's less common to see a motor trike on the roads, they're popular with riders who are after something different.
They're also a popular choice with those who can't ride a standard motorbike, whether through age, injury or disability.
Unlike manual motorbikes that require a shift gear change, trikes can be run with automatic transmission.
Classic motorbike
Classic, antique, or retro, an older bike - usually between 20 and 25 years - can be great for occasional drives. It's not generally a bike you rely on for everyday use, as engines tend to be smaller and they have relatively low speeds. This makes them cheaper to insure though in some cases.
Some of the most common classic motorbikes include the Norton Commando, Velocette Viper, and Triumph Bonneville.
Bobber motorbike
Bobbers are recognisable because they're usually stripped of most essentials including the front fender. They have a shortened, bobbed rear fender instead, and a lower stance with any unnecessary extras removed.
First popular in the 1920s with the Harley Davidson's 'J' Series V-Twin, they began to reappear in the last 20 years and in 2006 Harley launched the Street Bob. Benefits of a bobber include the ability to strip back the bike and make it your own, and the fact it's much lighter than other motorbikes.
What type of motorbike is right for me?
Whatever type of motorbike you ride, make sure it fits your lifestyle. Will you be using it for commuting everyday, is it purely for sports, or are you looking for something you occasionally drive on sunny weekends? When you've decided you'll have a clearer picture about the kind of bike you're after.
That Ducati Streetfighter might look the business with an engine that sounds like a pride of roaring lions But 28kg of downforce at 168 mph doesn't do you much good when you're stuck in the traffic of a daily commute.
Buy a bike that suits your needs, is the right power and size and is not so heavy that you can barely lift it. You also need to factor in your budget, and the cost of motorbike insurance.
In the long run, that means you'll enjoy your motorbike that much more.
How do different types of motorbike impact motorbike insurance?
The cost of motorbike insurance depends on lots of different factors. There are lots of types of motorbikes to choose from and they all come with different insurance costs.
All bikes are put into motorbike categories by insurers and this directly relates to how much your premium could be. But there are also things like your own driving history, postcode, and where you keep your bike.
Different types of motorbike are priced accordingly by insurers, with those that are a lower risk of being stolen or in an accident resulting in cheaper premiums.
Compare motorbike insurance quotes
How you use the bike also makes a difference to the cost. If it's for an extreme sport, expect your premiums to be high. If it's only for the weekend when the sun appears, your insurance is likely to be a lot less.