If you're not planning on using your car for a while, you can take steps that mean you don't have to pay tax or car insurance.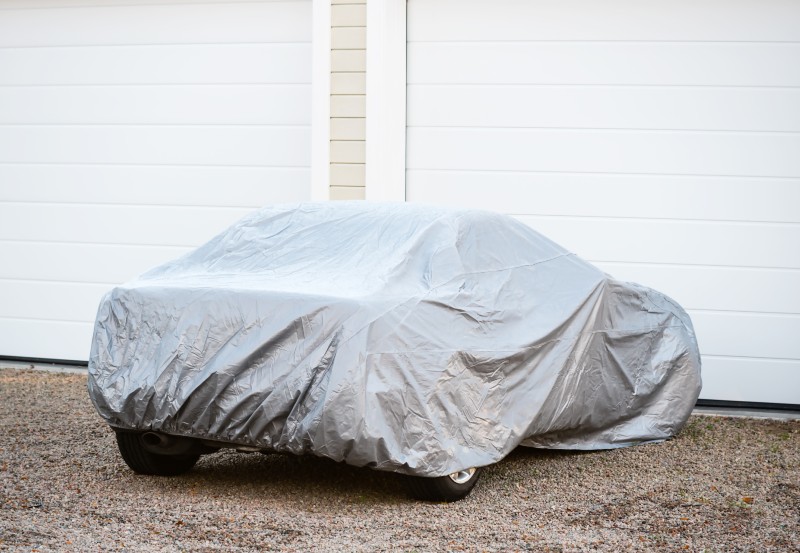 But it's vital to follow the correct legal procedures.
What does SORN mean?
Anyone who is planning to take their car off the road for a period of more than a few weeks could consider going down the SORN route.
SORN stands for "statutory off-road notification".
It's a legal process which means you don't need to pay for car insurance.
You also don't need to tax your vehicle (officially known as vehicle excise duty or VED) or have an up-to-date MOT certificate.
But declaring your car as SORN means you can't use it on any public road at any time.
This means you'll have to make sure your car is kept on private property – in a driveway or a garage, for example.
You can't park it on a public street.
If you're caught driving a vehicle that has been declared SORN in public, you could face a fine of up to £2,500.
During the lockdown periods in 2020 and 2021, the number of people applying for a SORN for their car rose dramatically.
The DVLA said that SORN requests doubled to over 500,000 between February and March 2020.
But there are many other reasons to apply for a SORN.
For example, if you're planning to spend a few months overseas, either working or at a second home.
You might also decide in the autumn to apply for a SORN for a car you only use during the summer months.
How to SORN a car
The easiest way to get a SORN is to apply online on the government website.
Visit GOV.UK to get started. You'll need some of your car's documentation to complete your application:
your V11 tax reminder
your logbook (V5C)
your New Keeper's Supplement (V5C/2).
You can also set the process in motion by calling the DVLA on 0300 123 4321.
It's important that the address on your tax reminder letter as well as your log book is correct before you apply.
If the address on your log book is wrong, visit GOV.UK to update your details.
How do I SORN my car without a logbook?
If you have mislaid your V5C logbook, you'll have to apply for a replacement which will cost £25.
Log onto GOV.UK and start the application process. This assumes that you don't need to make any changes to the details on the logbook such as your name or address.
Note that you won't be able to get the £25 refunded if you find your original logbook at a later date.
How long is a SORN valid?
Your car's SORN status will continue until you take steps to get the vehicle back on the road – i.e. as long as you want.
There is no time limit on a SORN.
However, if you buy a car that has a SORN, you'll need to apply for a new SORN under your own name if you want to keep it off the road.
The SORN status does not transfer automatically from one owner to the next.
When will my SORN start?
You can choose to have your SORN start immediately or on the first day of the next month.
If you want it to start right away, you'll need the 11-digit number on your log book (V5C).
For a SORN which you want to commence at the start of the next month, you'll need the 16-digit number that is printed on your V11 tax reminder letter.
It should take no more than four weeks to process a SORN request.
If the process does take longer than this, any tax refund should be backdated..
Do you have to pay to SORN a car?
Applying for a SORN costs nothing, other than the time you need to devote to making the application.
However, if you don't have off-street parking of your own, you may need to pay for the vehicle to be kept on private property.
You can't keep a SORN vehicle parked on the street or any other public road.
SORN and car tax
Applying for a SORN means you don't have to continue to pay VED tax for a car you're not using.
If you've already taxed a vehicle that you're applying for a SORN for, you could be entitled to a tax refund for any unused whole months.
Take for example, if you applied for a SORN in mid-September for a car you've taxed until the end of the year.
You should get three months' worth of tax refunded to cover October to December.
SORN and car insurance
If your car is declared SORN, you'll no longer have a legal obligation to insure it.
This means you can contact your car insurance provider and ask them to refund the rest of the current year's premiums.
Typically, they'll be happy to do this although they may charge an admin fee for doing so.
Think carefully though about whether you really want to cancel the insurance on your car.
If it is no longer insured, you won't be able to make a claim for any accidental damage it suffers while it's off the road.
You won't be able to claim if it's stolen either.
Compare car insurance quotes
Does a SORN car need an MOT?
As with tax and insurance, if a car is off the road with a SORN it doesn't need to have a current MOT.
So, you don't need to get it re-tested when the existing MOT runs out.
However, you'll need to have an up-to-date MOT when you want to get the car back on the road (more on this later).
Even if your motor is not in use for an extended period of time, it's important to keep your car healthy so that it has a better chance of passing its MOT when you do use it again.
This is the only situation in which you're allowed to drive a SORN car on the public roads – if you're heading for a pre-booked MOT appointment.
You might be asking, can you drive a SORN car to an MOT testing centre without insurance?
The answer to this is no, you have a legal obligation to insure any vehicle that's on a public road.
How to unSORN a car
The process to take your car out of SORN is simple – you just have to tax it again.
Before you can buy road tax for your vehicle, you'll need to get a current MOT certificate, which means taking your vehicle for an MOT test.
As stated above, you can drive to an MOT test while your car is still classed as a SORN.
That's as long as the test has been pre-booked and you go directly there.
But note that you'll need to take out car insurance on the vehicle before you can head off onto public roads.
It's worth preparing your car for its MOT beforehand, especially if it's not been in use for a while.
If you're concerned that your car might fail its MOT and need to be scrapped, you could look at taking out a temporary car insurance policy.
This might turn out to be cheaper than signing up for a whole year.
Once you have the MOT certificate, you can buy your road tax.
The DVLA will update its records to reflect the fact that your car is no longer classed as a SORN.
Alternatively, if you follow the correct procedure to scrap your vehicle, you'll inform the DVLA that you've taken your car to an authorised treatment facility (ATF) for disposal.
The agency should then automatically update its records to reflect that your car is no longer a SORN.
Do I need to SORN my car?
SORN might not necessarily be the best answer to your problems.
You won't be able to use it at all once it is a SORN – and you could face a fine of up to £2,500 for driving a SORN vehicle.
It will also be necessary to find somewhere off-road to store your car.
You won't be able to park it on the street when it's SORN.
You'll probably also have to pay a cancellation fee if you want to terminate your current insurance policy.
If you want to reduce the amount you're paying in car insurance premiums, you should compare car insurance prices.
There are also steps you can to reduce your car insurance costs.
You might be able to save more than you expect on your annual premiums.