MOT check
Find out the MOT status of your vehicle - FOR FREE
MOT checks explained
Our free MOT check includes the current MOT expiry date and indicates whether the MOT is valid.
MOT tests are a legal requirement to ensure that your vehicle is roadworthy and meets UK safety and environmental standards.
Driving without a valid MOT is a criminal offence that could land you with a fine of up to £1,000. If you drive a vehicle deemed 'dangerous' by an MOT test, you could be fined up to £2,500, a possible driving ban and receive three penalty points per fault. For example, if you have 4 tyres under the legal tread limit, you could get 3 points per tyre, so 12 points in total. It could also invalidate your insurance, leaving you without cover.
A valid MOT is needed to tax a vehicle with the DVLA or to take out insurance for it. If your MOT has expired, any existing insurance may be invalid, which could get messy if you need to make a claim.
If you'd like to find out more about a vehicle's history, use our app to get a free, detailed view of its MOT history, including passes, fails and advisories.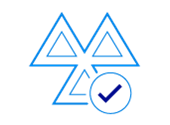 MOT checker
Unsure when your MOT is due?
MOT checker
Result for:
MOT data unavailable
Vehicle not found
An error has occurred, please search again