Multi car insurance
More than one car in your household? A multi car insurance policy could save you money.
Our selected partners can help:

Voted the UK's best car insurance provider for five consecutive years. Admiral offer every car added to the policy its own discount and no-claims bonus. Combine cars from different addresses so even if family members live away from home, they can still be added to the policy.

Specialists in classic car cover
Lancaster Insurance, classic car specialists, offer fluid policies which means you can add or remove vehicles to your policy throughout the year, as and when you add to your collection. Combine cover for a range of vehicles whether they're modern, classic, commercial, motorcycles or even tractors.
You can call their friendly team Monday - Friday 08:30 - 17:30 or submit a call back form Saturday - Sunday and receive a call back on Monday.
With RAC multi-car, get 10% discount when you insure more than one car. Choose your level of cover from third-party fire and theft or comprehensive. What's more, with the RAC, each car keeps it's own no-claims discount and policy renewal date.
What is multi car insurance?
Multi car insurance policies are designed for people who have more than one car in the family.
Instead of having to keep track of different policies and renewal dates for different cars, a multi car policy bundles all the policies with one insurer so they're held together separately or combined into a single policy that renews at the same time.
Most providers offer a further discount for each car you bring to the policy (usually up to a maximum of five). So if you start the policy with two cars and then introduce a third car, the first and second car will have a discount applied to them as well as the third car.
Rather than cancelling your existing insurance policy, you can add new cars to the policy throughout the year as they reach their renewal date.
Despite the convenience, as with any policy there's no guarantee that it'll be the cheapest option for you. It's always best to compare the combined cost versus prices for insuring each car separately.
Who is eligible for multi car insurance?
In short, if there is more than one car in your household or family, then you're likely to be eligible.
Some examples of people who could get a quote:
Family home with more than one car
A couple living together with two or more cars
A couple who live at different addresses but each have a car
A family who have children living away (but still UK residents) where the children have their own car
You can get quotes for each car individually here at Confused.com, or visit one of our selected partners to get a multi car insurance quote.
What happens to my renewal dates?
It can depend on the specific insurer but usually your policy renewal date starts with the first car you add to the policy.
After the first car, the renewal dates of any new cars added to the policy are synched to renew on the same day as the first car.
If you're already part way through your multi car policy, that may mean you pay a pro-rated amount for the new cars added until they reach the first car's renewal date.
What happens to my no-claims bonus (NCB)?
With multi car insurance, the main driver on the policy earns their own NCB. That means if you make a claim for an accident involving one driver, it doesn't affect the other main drivers on the policy. However, if a named driver on your policy makes a claim, that could impact your no-claims-bonus.
Is multi car insurance cheaper than a standard policy?
With discounts available from most providers, it could be a good way to save yourself some money. However, as with all car insurance policies, the potential savings you make will depend on your own circumstances and driving history as well as those of the other drivers listed on the policy.
You may still find it cheaper to purchase separate standalone policies for each of the cars you're looking to cover.
Other ways to save on car insurance
Add a named driver - if one of your family's drivers is young or inexperienced, adding a more experienced named driver, such as a parent, to the policy could result in a fall in premiums.
Increase your excess - You can cut your premiums by opting for a larger voluntary excess. If you agree to pay the first £250 of any claim rather than just the first £100, your policy could cost less. However, it's always best to consider what you could afford if a car does get a bump – it's a bit of a balancing act.
Improve security - if your car is fitted with an alarm or immobiliser, it will be harder to steal. This should in turn lead to cheaper car insurance.
What you'll need to get a quote
For each car you're looking to insure, you'll need:

the number plate and/or the make and model

any existing renewal dates
You'll also need the details of each driver:

their name and DOB

any previous insurance claims they've made

any driving convictions they have

any existing no-claims bonus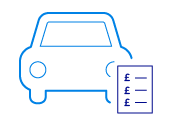 Car insurance calculator
Our car insurance calculator can help you find out the average cost of a comprehensive policy based on our recent price index results.
Looking for other types of car insurance?
There is no charge for using our service. We compare a range of trusted insurers that are household names. Confused.com is an intermediary and may receive a fee from our insurer partners if you decide to buy through our website. We pride ourselves on impartiality and independence – therefore we don't promote any one insurer partner over another.
Admiral multi car insurance is arranged and administered by EUI Limited (trading as Admiral), who are authorised and regulated by the Financial Conduct Authority. Registered office; Ty Admiral, David Street, Cardiff, CF10 2EH. Registered in England and Wales, No 2686904.
Lancaster multi-car insurance is arranged and administered by Lancaster Insurance Services which is a trading name of Insurance Factory Limited. Insurance Factory Limited is authorised and regulated by the Financial Conduct Authority (No. 306164). Registered in England and Wales number 02982445. Registered office Markerstudy House, 45 Westerham Road, Sevenoaks, Kent TN13 2QB. Insurance Factory is part of the Markerstudy Group of Companies.
RAC Insurance is a trading name of RAC Financial Services Limited. Registered in England and Wales No. 5171817. Registered office: RAC House, Brockhurst Crescent, Walsall, WS5 4AW. RAC Car Insurance and RAC Home Insurance are arranged and administered by BISL Limited, which is an independent intermediary. Registered in England no. 3231094. Registered office: Pegasus House, Bakewell Road, Orton Southgate, Peterborough PE2 6YS. Both companies are authorised and regulated by the Financial Conduct Authority.