Heavy rainfall and flash floods can transform roads into rivers. This is why it's important to have the right cover in place and know what to do if your car is a victim of flooding.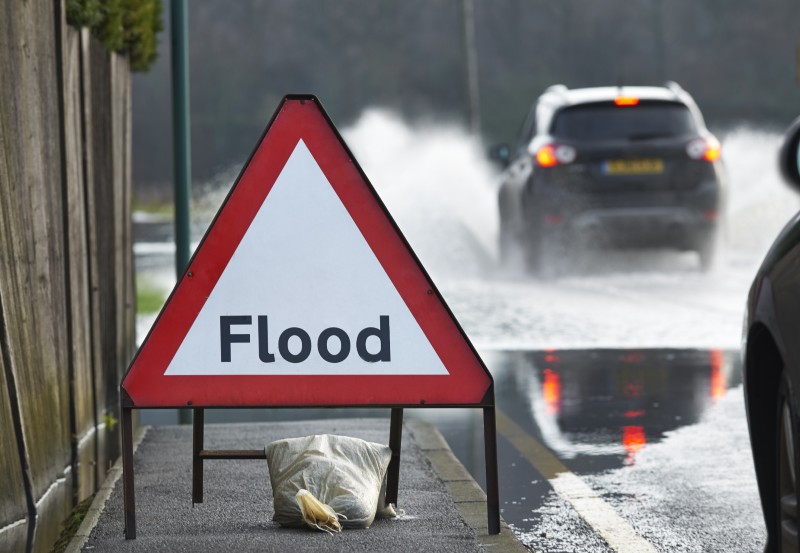 Does my car insurance cover flood damage?
If you have a fully comprehensive car insurance policy and your vehicle sustains flood damage, you should be covered.
If you're unsure, it's one of those occasions when you'd be wise to check your policy documents.
If you have a third party or a third party, fire and theft policy, this basic cover is unlikely to protect your car against flood damage.
Even if you're covered for some flood damage incidents, it comes down to whether the damage was avoidable or unavoidable.
If you live in an area prone to flooding, it's probably worth considering a fully comprehensive policy.
And if you're unsure whether or not you live in an area of high risk of flooding, these are some flood risk areas in England.
What is avoidable vs unavoidable flood damage to your car?
Avoidable flood damage is damage that should have been anticipated.
Unavoidable flood damage is damage that you wouldn't have been able to predict or get away from.
Most insurers expect you to take precautions to safeguard your car, so when deciding whether or not to pay out for flood damage, an insurer puts your claim into one of these two categories.
Most flood damage is no fault of the owner and is therefore classed as unavoidable flood damage. This might include, for example, parking your car at home only to find it flooded in a freak storm or by torrential rain.
But let's say you left your car at the bottom of a harbour slipway and you returned to find it submerged. Your insurer would likely classify it as avoidable damage, and you'd be unlikely to get an insurance payout.
Similarly, driving through a flooded street and finding the water is deeper than you anticipated, resulting in damage to your car, would probably be considered as being avoidable flood damage.
Does my car insurance cover flood damage if I drive during a red weather warning?
Yes, it should.
Just because there's a red weather warning doesn't mean your insurance is invalidated should you choose to drive through it.
However, if you ignore speed restrictions or drive dangerously and have a crash, this might influence any decision by the insurer to cover your claim.
So while bad weather itself can't invalidate your insurance, driving recklessly could, which is why it's always best to drive safely in heavy rain and wind.
What do I do if my car is damaged by a flood?
Avoid opening the bonnet, to prevent your car's delicate electrical systems from getting soaked.
If your engine cuts out after driving through deep water, don't attempt to restart it, as you might damage your engine.
Turn on the hazard lights, call your breakdown cover provider and have the vehicle professionally examined.
If you do get stuck in floodwater, it's usually best to wait in the car and call for help rather than try to get out.
Urban floodwater can carry dangerous bacteria from drains and sewers that can cause disease.
And rural floodwater is more likely to be contaminated by agricultural chemicals and animal waste, so it's a good idea to stay put if you can.
What do I do when I call my insurer about water damage to my car?
If your car is flooded out and recovered from the scene by breakdown services, your next step is to call your insurer.
Here are some dos and don'ts when it comes to water damage to your car:
DO tell your insurer the extent of flood damage to your car. Inform them if the damage is confined to the engine or if it includes the car's interior as well. You could take photos, too, to be extra thorough.

DO bear in mind you have to pay the agreed excess on your policy on any repairs.

DO be mindful of the fact that any claim could reduce your no claims bonus and increase your premium when you renew your policy.
DON'T assume that just because your vehicle has suffered extensive water damage, your car is an immediate

write-off

. Your insurer should inspect the car and assess whether it's worth repairing or not.

DON'T worry that your assessment of your car's damage isn't finely detailed. Be as thorough as you can but bear in mind your car will likely be checked by a qualified mechanic to ascertain the full extent of any damage.

DON'T be tempted to dry the car out yourself before it's been assessed by your insurer, as this requires professional expertise.
What can water damage do to my car in a flood?
Flooding can cause severe damage to your car.
Even minor flood damage can:
Cause rust and mould
Damage the brakes
Contaminate oil, petrol and other automotive fluids
Prevent things indicators and sensors from working properly.
Meanwhile, your car could start to float in as little as a foot of water – and you could be swept away on just two feet of moving water.
What water damage will my insurance policy cover?
If your provider insures you for floods, this might include damage to upholstery and entertainment systems.
It might also include any necessary repairs to the mechanics and electrics of the vehicle.
This does depend on the terms of your policy, though.
If your personal possessions have been damaged, your car policy might also include contents cover.
If it doesn't, it's possible you may already have 'contents outside the home cover' as part of your contents insurance, so it's worth checking.
Another aspect worth considering is if the finance owed on the car is far greater than the sum an insurer would pay out.
You can mitigate this with gap insurance.
Gap insurance is a standalone policy. It's designed to bridge the gap between the amount you paid for your car and the amount your insurer would pay out in the event of a claim.
Will my car insurance cover water damage to the engine?
Putting the engine right is perhaps the most costly damage to address. In some cases, it can lead to a car being written off.
The good news is that if you have fully comprehensive insurance cover, your insurer should foot the bill for this.
But bear in mind the information about avoidable vs unavoidable water damage. If the damage was something that you could have easily avoided, you might find your policy won't pay out.
How do I make a claim for flood damage?
First things first, contact your insurer as soon as possible.
They should arrange for an approved mechanic to visit and assess the damage caused.
Your insurer then decides whether they'll repair the car or write it off.
There are a couple of things you need to hand before you make the call to claim on your car insurance:
Your car registration
Policy number
Photos of the flood damage – it's always a good idea to take some for your records
Location of the incident – was it at home, work or somewhere else?
What do insurance providers do with cars that have flood damage?
Insurers classify a car that's too expensive to repair a write-off and pay an agreed amount to the vehicle's owner.
The insurance company then keeps the car to dispose of as it sees fit.
Write-offs are assessed by the insurance industry and classified into four categories, depending on the severity of the damages.
Flood-damaged cars are generally graded as Cat N (short for non-structural damage, which replaced the old Cat D classification in October 2017).
Even though the insurance company has judged it's too expensive for it to repair, Cat N cars can legally be put back on the road.
Insurance companies typically base their repair estimates for spare parts on manufacturer price lists, which tend to be on the expensive side.
It's a common occurrence for garage owners to buy flood write-offs from insurance companies, repair them with generic spares and get them back on the road. automotive data specialist CAP HPI has warned about the dangers of buying flood and water damaged-vehicles, despite their lower prices.
HPI says if a flood-damaged car hasn't been repaired properly, it's likely to need entire engine components replaced so the car works properly and safely.
How do I keep my car safe during a flood?
If the conditions are deteriorating while you're driving, pull over and check for flood alerts and flood warnings.
But if you're caught out on your journey, common sense is key.
Try to head to higher ground if you think you're going to be affected rather than ploughing on with your original route regardless.
And don't just assume that the driver in front knows what's happening. Even if they have local knowledge, it's dangerous to follow anyone else into floodwater.
You won't know what you're driving into – and it doesn't take much water for you to be swept away.