Confused.com
car finance
customers rate us
4.5

/5 based on

1569

Reviews.co.uk respondents - as of 14/04/22). Read our reviews
"Very easy and quick results, definitely worth using"
Alan, March 2022





Hire purchase (HP) is a way to pay for a vehicle without forking out its full value at the outset.
As a customer, you'll typically pay a deposit upfront, and then the remainder of the balance, plus any interest, is split over a set period of time.
Paying the balance in monthly installments tends to be the norm.
Once you've made your final payment, you'll then own the car.
Hire purchase is quite similar to another form of car finance called Personal contract purchase (PCP). If you'd like to know more about it, our PCP car finance page could help.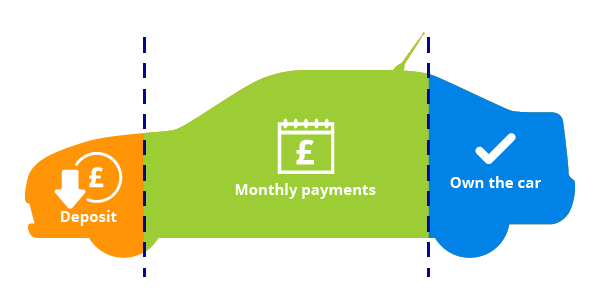 How does hire purchase work?
When buying a car, you can either sit down with a dealer to work out an HP deal, or apply online through a site such as Confused.com.
As mentioned, you'll usually need to pay an initial deposit – this is typically around 10% of the full value of the car. After this, you can drive the car while you pay off the remainder of its value plus interest via monthly instalments.
HP contracts tend to be between one to five years.
What's the difference between hire purchase and a loan?
The main difference is that if you're taking out a loan the car is yours as soon as you buy it.
You obviously still need to repay the loan, plus any interest. But it's not secured against the value of the car, meaning the car will be yours from day one.
With HP, on the other hand, the car isn't actually yours until you've made the final payment.
There's no one best HP deal as every agreement will suit different people depending on their financial circumstances.
For example, an HP deal taken out over a shorter amount of time will tend to require higher monthly payments than one taken out over a longer period.
What's more, paying a higher initial deposit tends to lower your monthly payments. Ultimately, it'll depend on how much you can afford to pay back each month.
Saying this, some deals are obviously more competitive than others, so it's worth comparing finance deals.
For more information take a look at our FAQs or visit our car finance guides section.
A look at your rights of voluntary termination.
What you need to know before you sell your car.
Got credit issues? There may still be hope.
Confused about your options? We're here to help.
Everything you need to know about PCH.
Common problems to watch out for.
"Easy to deal with, very pleasant"

"Very easy to use and gave competitive prices"

"Easy and quick"

"Nice and easy process with good visibility"

"Simple easy to use and exactly what I was after"