Making a whiplash claim is one of the most controversial and complicated aspects of motoring and car insurance today.
This is because the extent of a whiplash or other soft-tissue injury is more difficult to assess than, say, a broken leg. And there's a great deal of concern that a large proportion of whiplash compensation claims are either exaggerated or invented for financial gain.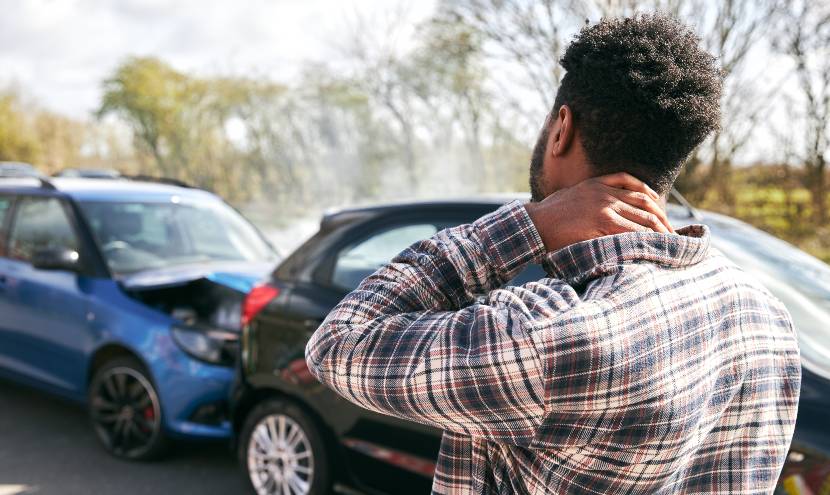 To crack down false claims, legislation was passed in 2018 and new rules were introduced in 2021.
But the problem is, genuine whiplash injuries are frequently suffered in road accidents and, in many cases, can cause significant long-term pain and discomfort. Here we look at what a whiplash claim is and how to make one, if you need to.
What is whiplash?
Whiplash is a neck injury caused by a sudden movement of the head which usually lasts for up to 3 months.
Symptoms of whiplash can include:
Neck pain
Difficulty moving
Headaches
Shoulder pain
The reason it's a condition that's so easy to abuse by fraudsters is that it can be difficult to diagnose.
Much of the diagnosis relies on the honesty of the patient and it can take several hours after an incident for the symptoms to develop.
So, con artists can claim this is why they didn't report the injury at the time of the accident.
How do you get whiplash?
The most common way to get whiplash is after a fall or car accident.
Whiplash can often be caused by a rear-end collision, so be cautious when dealing with a tailgater.
It can also happen as a result of sudden braking. For example, when trying to avoid hitting an animal on the road.
How do I make a whiplash claim?
If you have whiplash, you can claim on your car insurance policy by contacting your insurer. You have 3 years from the date of the accident in which to make a claim.
This might be something you inform them about later as sometimes there's a delay in symptoms appearing.
But you need to get medical evidence for the claim to be processed, thanks to rules introduced in 2021.
The following steps outline what you need to do when making a whiplash claim:
Exchange personal and insurance details with any other drivers after an accident
Take photographs and take down the names of witnesses
Contact your insurer and tell them about the accident
Visit a doctor if you have symptoms of whiplash
If you have a genuine claim, you can start the claims process with your insurer. If you suffer whiplash in a multi-car accident, you contact your own insurer.
It doesn't matter if you were the driver or a passenger in a car, either - if you've suffered whiplash you can make a claim.
Compare car insurance quotes
How much is whiplash compensation?
Under the rules introduced in 2021, the amount of whiplash compensation you can claim ranges from £240 to £4,215.
Payouts for whiplash that lasts up to 3 months are capped at £240. This figure then rises in stages to £4,215 for an injury that lasts up to 2 years.
There are small 'add-ons' if you've suffered minor psychological injuries as a result of the accident.
The courts have the power to increase a payout by up to 20%, in exceptional cases. The following guidelines for whiplash payouts are published by The Judicial College, part of the Ministry of Justice.
| Length of injury | Amount for whiplash injuries | Amount for whiplash injuries plus mild psychological injury |
| --- | --- | --- |
| Not more than 3 months | £240 | £260 |
| More than 3 months but not more than 6 months | £495 | £520 |
| More than 6 months but not more than 9 months | £840 | £895 |
| More than 9 months but not more than 12 months | £1320 | £1390 |
| More than 12 months but not more than 15 months | £2040 | £2125 |
| More than 15 months but not more than 18 months | £3005 | £3100 |
| More than 18 months but not more than 24 months | £4215 | £4345 |
How does a claim for whiplash compensation work?
Regardless of who was responsible for the whiplash you've suffered, you might be entitled to compensation if the injury is particularly serious and long-lasting.
This compensation could address any pain or discomfort you suffer as well as any financial losses, such as if you need to take time off work.
As with any claim for damages, it's important to gather as much evidence as possible.
This should include photos and witness details or statements from the accident itself as well as medical reports about your injuries.
The insurance company for the party responsible for the accident might offer an out-of-court settlement that you're free to accept or reject.
If your accident involves an uninsured driver, things can get a bit more complicated. But you may be able to seek compensation from the Motor Insurers' Bureau (MIB).
The MIB was set up to help compensate victims of accidents caused by drivers who either aren't insured or can't be found.
There are dozens, if not hundreds, of legal firms in the UK that could offer to help you negotiate a claim or take your case to court.
Typically, they operate on a no-win, no-fee basis, which means you pay them their fees out of any settlement you get. However, it's important to take the time to research any firm before signing up. Always make sure you're aware of any fees involved and when they'll be taken.
You should also compare these costs with the cost of making a claim yourself and going to court. This usually costs a lot less but may involve more work from you.
What are the latest rules on making a whiplash claim?
In 2021, new rules on whiplash claims came into force.
The government said the changes were aimed at reducing the "unacceptably high number of whiplash claims made each year". There were more than half a million claims made in 2019/20 alone.
A reduction in fraudulent claims should enable insurers to cut car insurance costs.
It's thought the savings from the excessive whiplash claims could amount to £1.2bn a year, which means policies could potentially be cut by an average of £35.
Included in the changes is a system for whiplash compensation, which means a fixed amount of compensation is paid out.
Insurers are also prohibited from making settlements for whiplash unless they've seen medical evidence of such injuries.
How long does whiplash last?
According to the NHS, whiplash can last between 2-3 months. But chronic whiplash could last for 6 months or longer.
The amount of time you have off work, if any, depends on the extent of your injury.
How long does it take to settle a whiplash claim?
Every claim is different so there's no set time for a whiplash claim to be settled.
If it's a relatively straightforward claim, it should be resolved by your insurer, usually within a few months.
But, if it's a complicated claim, the process can take a lot longer.
Can a whiplash claim be refused?
As with all claims, your insurer should process and consider a whiplash claim.
There was a time when some people thought a whiplash claim would automatically be accepted.
But tightening of the rules means that you now need to produce evidence that you've genuinely suffered whiplash.
If you don't have the right medical certificate, or your insurer thinks the accident was staged, it has the right to refuse a payout. If your insurance claim is rejected, you could go to court.