How to check your driving licence online
Checking your driving licence record online is useful for finding out what vehicles you can drive and driving convictions.
You'll need a couple of things to check your driving record online:
Your driving licence number

Your national insurance number

Your postcode as shown on your licence.
Once you have that information at hand, login in on GOV.UK.
You'll be able to check your personal details, vehicle categories you're allowed to drive, and any penalties and disqualifications.
Once you're logged in you can generate a unique licence "check code" which you can then pass on to others. Keep in mind that the code is valid for 21 days.
Useful if you want to share your driving licence information with a third party company, like a car hire company or employer.
READ MORE: How to check to see if your car is insured
What is my driving licence number?
The driving licence number is unique to every driver and consists of 16 characters.
It begins with the first five letters of your surname, six numbers identifying your date of birth, two letters identifying your initials and three random letters and numbers: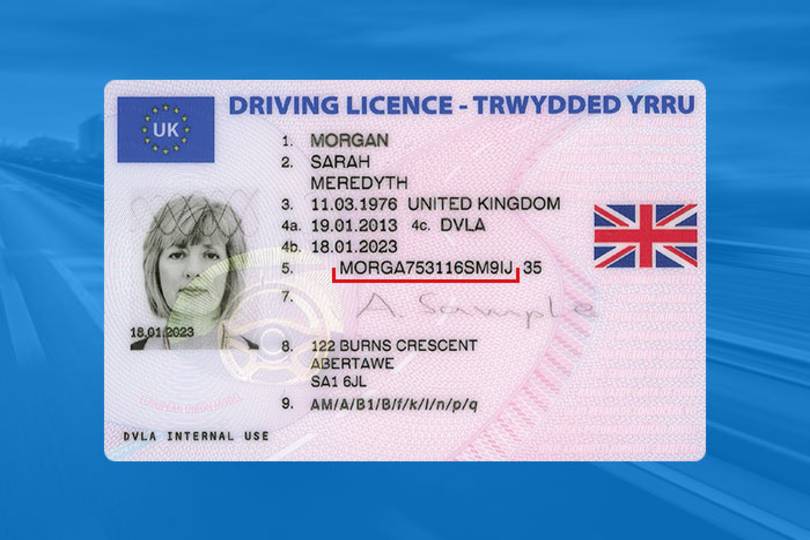 Car insurance and your driving licence record
When getting a car insurance quote, you have the option to include your driving licence number.

Instead of you filling out all your details, car insurance companies can check your driving licence records and pull all the information automatically.
This service is called MyLicence and was developed by the Driver and Vehicle Licensing Agency (DVLA) and the Motor Insurers' Bureau (MIB). Its aim is to provide drivers with a more accurate insurance quote, which can lead to cheaper premiums for honest motorists.
Insurers can access DVLA's records instantaneously, so there isn't a delay when running an insurance quote.
By sharing your record with insurers, you'll avoid making mistakes when manually entering past motoring convictions, which can invalidate your insurance.
This transparency also helps tackle insurance fraud and improve overall road safety by providing a more accurate risk assessment of drivers.
What information does MyLicence hold?
The database includes:
Type of licence held

Length of time you've held the licence for

Penalty points

Convictions

Conviction dates

Type of cars you can drive
Not all personal information is accessible by insurers. Your medical information, full address details and motor history prior to the last five years remains private and isn't shared with them.
Parking fines don't count as motoring offences, so they don't make their way to your driving licence record.
If you're holding a non-GB licence you'll have to self-declare all your driving data when getting a quote, as MyLicence doesn't hold information on foreign licences.
What other information can insurers get hold of?
Apart from MyLicence data, car insurance companies may cross check your details with other motor insurance databases:
Claims Underwriting Exchange (CUE) – A centralised database which records all motoring claims. Its aim is to prevent fraud, cross-check claim histories and keep premiums down.

Motor Insurance Database (MID) – This service holds insurance information of all vehicles insured in the UK. Individuals also have access to it so they can check if their car is insured.

Insurance Fraud Register (IFR) – This is a database of all known insurance fraudsters. It's designed to protect honest customers and keep the cost of insurance down.

Motor Insurance Anti-Fraud and Theft Register (MIAFTR) – The DVLA is notified when a vehicle has been written off. This information is then passed on to the MIAFTR to keep record of. It also helps trace and recover stolen vehicles and battle fraud.
First published 9 February 2017