Almost half (44%)* of the drivers we spoke to admitted to getting a speeding fine in the past. And 1 in 4 (24%) who were caught speeding faced a fine. The average speeding penalty came to £187.10.
There are currently more than 1,300 operating speed cameras on UK roads. So what are the speed camera rules? As well as our own research, we spoke to GoSafe to help put an end to the confusion.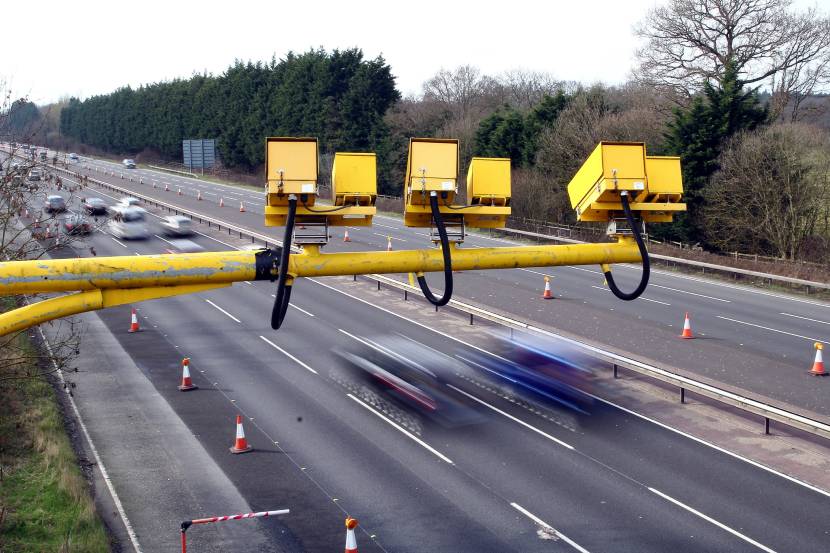 What are the speed camera rules?
The guidelines from the Department for Transport say:
Speed cameras must sit in a yellow housing.
The housing itself should be visible and not obscured by trees or bushes.
You should be able to see the speed camera from 60 metres away in a 40 mph zone, or 100 metres for all other zones.
Signs should be placed in areas where there are visible camera housings - but this isn't mandatory.
Every camera site should be reviewed every 6 months. This is to make sure they're visible and properly signposted.
If you're caught by a camera that doesn't meet these conditions, you can't use it as a defence for speeding. You could get fines and penalty points even if the speed camera doesn't meet these conditions.
What are mobile speed camera rules? 
Mobile speed cameras also have rules on their positioning and appearance:
Mobile speed camera operators should be visible and wearing fluorescent clothing. Their vehicles should be marked with reflective strips too 
Signs should be placed in areas where mobile cameras are operating - but this isn't mandatory
Like fixed speed cameras, mobile speed camera sites should be reviewed every 6 months 
If you get caught by a mobile speed camera that doesn't meet these rules, you won't be able to use this as a defence.
Mobile speed cameras are usually run by local police forces and positioned in places where there's a history of road traffic incidents. They operate at all times of day, including at night. 
Do speed cameras need speed camera warning signs?
No - it's not a legal requirement to warn you if there's a speed camera ahead.
In fact, mobile speed cameras operators could technically choose to operate in an unmarked vehicle with no speed camera sign. But often, the sign is a deterrent in itself.
For stationary speed cameras you usually see signage, but this isn't mandatory. You could still be charged for speeding even if there are no speed camera warning signs. GoSafe says: 
"You can see safety camera signs on routes leading to sites where fixed cameras operate.
"This isn't a legal requirement. The mobile sites operated by GoSafe have no requirement to have a camera warning sign." 
If you're confused about what the speed limit is, keep an eye out for speed limit signs or street lighting to show the maximum speed.
Street lighting usually indicates that the speed is 30 mph. But the absence of a camera sign doesn't make it okay to speed.
What are the rules around warning drivers of a speed camera?
According to GoSafe, you shouldn't do this. Flashing your lights at other motorists to warn them about speed cameras could count as police obstruction.
GoSafe says that if you were caught, the court might consider the following:
Was there any obstruction of a constable?
Was the constable acting lawfully in the execution of their duty?
Was the obstruction intentional?
According to the Crown Prosecution Service, you could get serve 1 month in prison for police obstruction and potentially get a level 3 fine, which is £1,000.
Is there a tolerance on speed cameras?
Yes - most speed cameras have a tolerance of 10% + 2 mph. 
For example, if a driver's speed goes over 30 mph, they might not get a fine unless they reach 35 mph. 
This is mainly to accommodate different types of speed and traffic cameras. For example, speed cameras, speedometers and portable speed meters. 
The tolerances are also there to allow for driver safety. You could miss a hazard if you're constantly looking at your speedometer.
Go safe says:
"The speed limit is the maximum speed – it's not a target speed."
When safety camera programmes came about, GoSafe adopted the NPCC guidelines which takes into consideration any variances in speedometers.
This doesn't apply to police officers – they can enforce at different levels.
Here are the speed limit thresholds:
| Speed limit | Lower threshold | Speed awareness course up to: |
| --- | --- | --- |
| 20 mph | 24 mph | 31 mph |
| 30 mph | 35 mph | 42 mph |
| 40 mph | 46 mph | 53 mph |
| 50 mph | 57 mph | 64 mph |
| 60 mph | 68 mph | 75 mph |
| 70 mph | 79 mph | 86 mph |
Is there an automatic driving ban if you break the speed limit by a certain amount?
Usually, there's not an automatic ban if you exceed the speed limit by a certain speed. But it doesn't mean that you can't get a ban.
It all depends on the circumstances in which you were caught speeding. Go safe says:
"It's commonplace for people to lose their licence when their speed is double or over 100 mph on a motorway. It all depends on the circumstances. That's at the discretion of the court hearing the case."
To see the sentencing guidelines on speeding, visit the Sentencing Council website. 
Is it possible to drive fast enough that you don't set off a speed camera?
No. Cameras can detect all speeds, there's no exception for excessive speeds. Go Safe says:
"There are many cases where cameras have caught vehicles speeding at excessive speeds. One example is a supercar that was recorded travelling through Texas at 242 mph."
Where are the most prolific speed cameras?
We looked at speed cameras in the UK to see which ones are the best at catching people speeding. 
Our data revealed that cameras on the A40 in North-West London have caught 50,000 speeding drivers in the last financial year alone. 
As you might expect, speed cameras on motorways like the M4, M5 and M6 have also caught many motorists breaking the law. 
Around 1.74 million1  drivers were snapped by speed cameras last year. As a result, drivers have paid a staggering £45.7 million2 in fines.
| Site | No. of intended prosecutions | Police Constabulary |
| --- | --- | --- |
| A40 between Long Dr and Wellands Gdns E/B | 49,050 | Metropolitan |
| M25 Junction 7-16, Surrey | 23,134 | Surrey |
| M4 Junction 20-19, Bristol | 18,317 | Avon & Somerset |
| A5460 Narborough Road, Leicester, Jnc with Fullhurst Avenue | 16,634 | Leicestershire |
| M6 Junction 1-4 (Northbound and Southbound) | 15,410 | Warwickshire |
| Garston Way/ Dock Road, Liverpool | 15,295 | Merseyside |
| M5 Junction 4a-6, Birmingham | 15,062 | West Mercia |
| A282 Dartford Tunnel Approach Road | 14,423 | Kent |
| Lewes Road, Brighton, Jnc with Coldean Lane | 14,172 | Sussex |
| M6 Junction 7 & 8 N/B, Birmingham | 12,762 | West Midlands |
1 Confused.com issued a Freedom of Information request to police constabularies requesting the following information:
1. Please state how many sites you have where there are fixed position cameras in operation for the detection of speeding motorists as of 1st April 2022?
NB: If you have more than one camera at a site to detect speeding using average speeds across a set distance please count this as one site.
2. For each of the last five financial years (17/18), (18/19), (19/20), (20/21) and (21/22) please state how many notifications of an intended prosecution were issued by you for the fixed position speed cameras that you had in operation?
3. For each of the last five financial years (17/18), (18/19), (19/20), (20/21) and (21/22) please state how many (a) fixed penalty notices were issued, and (b) speed awareness courses were carried out as a result of people being caught in the fixed position speed cameras that you had in operation?
Q.4: In relation to the last financial year (20/21) which fixed position camera site was responsible for issuing the most notices of intended prosecution? Could you please state the position of the camera and the number of notices of intended prosecution issued.
2 This figure is based on 457,232 fines of £100 being issued to speeding drivers 
*Unless otherwise stated, all figures taken from omnibus research carried out by One Poll on behalf of Confused.com. This was an online poll of 2,000 UK adults who drive (nationally representative sample). The research was conducted between 9th and 14th June 2022.
Compare car insurance quotes