Penalty points can push up your insurance premiums. Getting too many penalty points on your licence could even land you with a minimum 6-month driving ban. But how long do points stay on your licence? Our guide explains everything you need to know.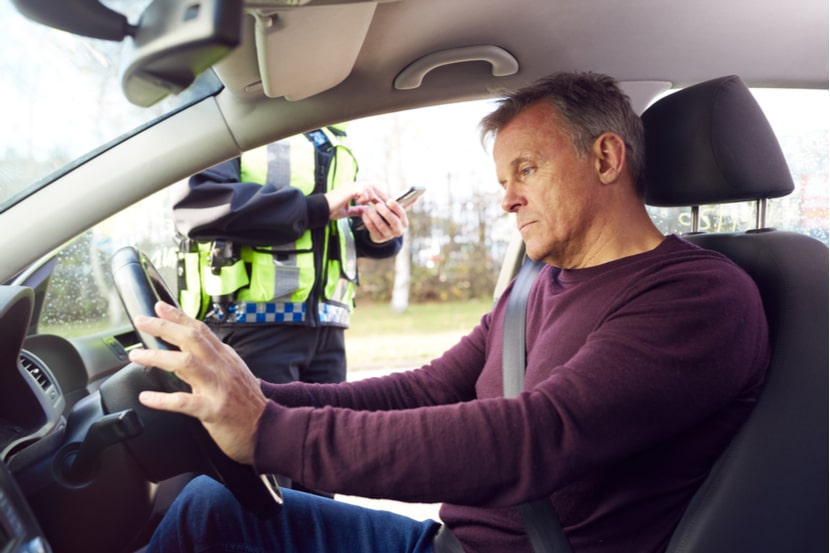 What is a driving endorsement?
A driving endorsement is usually when penalty points are placed on your driving record because you've been convicted of a driving offence. Or you might have accepted a fixed penalty that includes an endorsement of points.
Driving offences have different endorsement codes, which correspond to the number of penalty points that can be added to your licence. The minimum number of penalty points for a driving offence that can be put on your licence is three. But the more serious driving offences can carry a maximum of 11 points.
Some examples of driving endorsements include:
Speeding offences
Drink-driving
Driving while using your mobile phone
Driving without car insurance
For more information, see our guide on motoring conviction codes.
How long do points stay on your licence?
A driving endorsement remains on your driving record for four to 11 years, depending on the severity of the driving offence.
Penalty points for speeding usually stay on your licence for four years. At the other end of the spectrum, penalty points for serious driving offences like drink-driving or causing death by dangerous driving are on your licence for 11 years.
It's worth noting that car insurance companies tend to keep driving offences on record for five years.
How many points do I have on my licence?
You can find out how many penalty points you have on your licence by accessing your driving record. You can do this through the Driver and Vehicle Licensing Agency (DVLA) information service on the GOV.UK portal.
To check your driving licence points, you'll need to enter your:
Driving licence number
National Insurance number
The postcode on your driving licence
What is 'totting up'?
Totting up occurs if:
You get more than one driving endorsement within a three-year period
The total of the penalty points accumulated within this time frame comes to 12 or more.
If this threshold is reached through the totting-up system, you're typically banned from driving by a court for a minimum of six months.
Driving bans through totting up can be longer if you've been disqualified from driving before.
How many points do you get for speeding?
The number of penalty points for speeding tends to fall in the range of three to six. The higher number of points imposed, the more serious the speeding offence.
Breaching a speed limit by 5 mph is treated as a lesser offence than if you were caught by a traffic camera going over the speed limit by 20 mph.
But where you went over the speed limit can also affect the number of penalty points imposed. For example, exceeding the speed limit outside a school could be treated as a more serious offence.
Your driving record can also be taken into account, so you could get more penalty points if you've been convicted of speeding offences in the past.
How many points can you get on your licence?
There's no upper limit on how many points you can get on your licence, though getting 12 points or more within a three-year period usually results in a minimum driving ban of six months.
Someone charged with multiple driving offences at the same time could find themselves with more than 12 points. The most serious driving offences, including drink-driving, carry up to 11 penalty points on their own.
How many points can I get as a new driver?
If you're a new driver and were to get six or more penalty points within the first two years of passing your test, your licence would be revoked. In driving terms, you'd be back to square one. To get your licence back, you'd need to retake both the theory and practical parts of your driving test all over again.
Any penalty points you get on a provisional driver's licence are carried over onto your full driving licence.
Do you have to tell your insurance company about points straight away?
Most insurers don't require you to tell them about penalty points straight away. But they do expect you to tell them about points you've accumulated when you renew your car insurance. If you get penalty points, you should check your policy wording just in case.
Some insurance companies also insist you tell them about any speed awareness courses you take. Although a speed awareness course doesn't result in points on your licence, from a risk perspective, it's relevant for the insurer.
When you apply for car insurance, you're required by law to tell insurers about any penalty points that are still on your driving record.
Points on your licence are likely to make your car insurance prices go up. In some cases, convicted drivers might find their options for cover to be quite limited.
That's why it's important to shop around for an insurance company that can give you proper cover that doesn't cost the earth.
Compare car insurance quotes