If you have a car crash, or even a minor bump or scrape, follow these steps.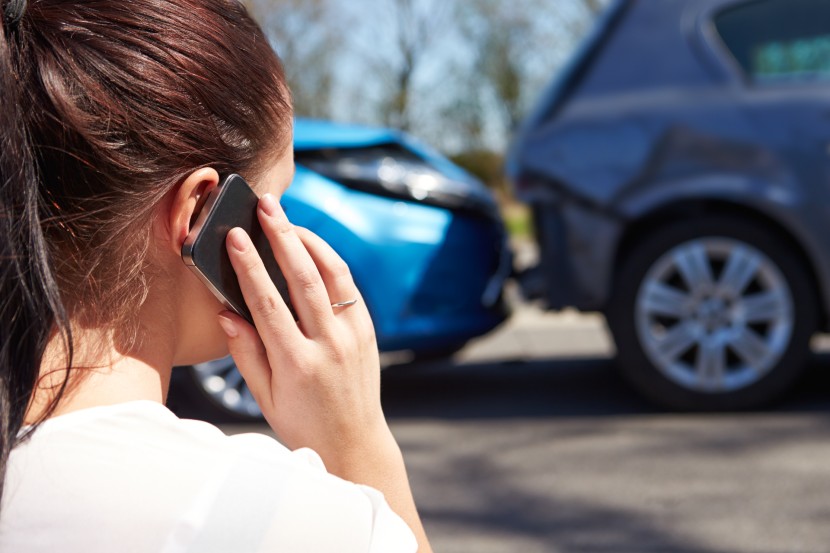 If you're in a road traffic accident, remember:
Stop. Pull over, turn off the engine and turn on your hazard lights. This is the red triangle in the middle of the dashboard.
Check for any injuries to yourself or any passengers. Make sure it's safe to leave the car before doing so.
Check for any injuries to anyone else involved. Make a note of these. You should also make a note even if everyone's OK.
Dial 999 if anyone is injured or the road is blocked. You should also call 999 if you believe that the crash was deliberate, or if you think drugs or alcohol were involved.
Move all passengers away from the car, unless they are injured and unable to be moved.
Exchange details with anyone else involved. This includes names, addresses and vehicle registrations.
Don't say sorry. You shouldn't admit fault if you're not sure what happened. Although you're not legally accepting responsibility by apologising, the other party could try to use it against you at a later date.
Concentrate on making sure you and your passengers are safe, calling the authorities if needed, and exchanging details.
Compare car insurance quotes
Why is it important to report accidents?
If you don't report an accident, someone could claim against you later.
For example, say you bumped into someone's parked car and drove off. At the time there might not be anyone around, but you may have been caught on CCTV or someone might have seen you.
It's also a legal requirement to stop after an accident, no matter how minor it is. You can find more information on this in the Road Traffic Act.
Driving off after something like this can have far greater repercussions than if you stop, leave your details and report it to the police.
So if you haven't spoken to the driver of the vehicle, you need to leave your details and report it to the police.
If you don't, you could face a fine, points on your licence or a driving ban.
Do I need to report minor bumps and scrapes?
As mentioned above, if you cause any damage to someone's vehicle or property, no matter how minor, you should stop.
If the other person is at the scene, give your name, address and vehicle registration.
You don't need to leave your insurance details unless someone is injured, but it can speed up the claims process if you do.
If you didn't exchange details at the scene, you should report the accident to the police within 24 hours.
If you hit a parked car or someone's property and you can't locate the owner, you should leave a note with your details.
You'll also need to report this by dialling 101 – the police non-emergency number – within 24 hours.
Should I call 999?
If there's an injury or the road's blocked, call 999 straightaway.
Also, call the police on 999 if the other road user drives away or you suspect that they crashed into you deliberately.
Crash-for-cash scams are still happening across the UK, with criminals deliberately crashing their cars for an insurance pay-out.
If you think the other driver doesn't have insurance, or if you think they're under the influence of drugs or alcohol, you should also call 999.
What details should I provide?
If anyone involved in the accident is injured, you must give your insurance details, including your name, address and the vehicle's registration. You must show them your insurance certificate if they ask for it.
Even if no one is injured you could exchange insurance details as it might help to speed up the claims process.
It's worth getting their details, too, as you may have an injury that you weren't aware of at the time of the crash.
If you're not the vehicle's owner, you should give the car owner's details.
Do I need to report the accident to my car insurance company?
You should report the accident to your car insurance provider even if you're not planning to make a claim.
This is because the other driver might decide to make a claim without you knowing.
You should call them as soon after the accident as possible.
They'll likely ask for:
The registration numbers of the cars involved.
The other driver's name, address and phone number.
The other driver's insurance details, if you have them.
You could also mention if you have any dash cam footage of the accident at this point too.
Will reporting an accident increase my car insurance cost?
Different factors affect the cost of car insurance.
If you were deemed to be at fault in the accident, you might see your premiums rise. This is because insurers see you as risky.
But sometimes even if an accident isn't your fault, you might see your premiums rise.
You shouldn't let a potential rise in premiums stop you from reporting an accident, though.
If you don't tell your insurer about one but they find out later, it could invalidate your insurance – and you might even find it difficult to get another policy.
Remember, even if you don't make a claim, an accident needs to be disclosed when you buy insurance in the future.
Can I report accidents online?
Some police forces will allow you to report accidents online. For example, the Metropolitan Police have a 'report a road traffic incident' tool.
You can check your local force's website to see if they offer this.
But if it's an emergency – for example, if someone is injured or a car is blocking the road – you should always call 999.
Should I take details at the scene?
It's important to take notes at the time of the accident. The more detail you can provide, the better. This will help insurance companies and the police when it comes to working out who's liable.
You could make a note of the following:
The weather and traffic conditions.
Any road markings or signs.
What happened in the accident – you could even include sketches.
The vehicle type, colour, make, model and registration.
An estimate of the speed the other vehicle was travelling at and in what direction.
The other car's condition.
The number of passengers in the other vehicle.
Details about the driver, such as contact information and a description.
Any witnesses or CCTV cameras.
Any damage to vehicles or property, as well as any injuries.
In summary
If in doubt, report the accident – both to the police and to your insurer.
Take as many details from the other parties as possible, and remember that any notes you take at the time can be useful should there be any legal or insurance implications further down the line.