A decent burglar alarm has the power to deter intruders. It either puts them off from entering or makes them flee the scene.
The type of burglar alarm system you choose depends on the level of security you're after and how much you're willing to pay for it.
It's worth considering what the police response would be if the alarm goes off. And, if the burglar alarm has any effect on your home insurance costs.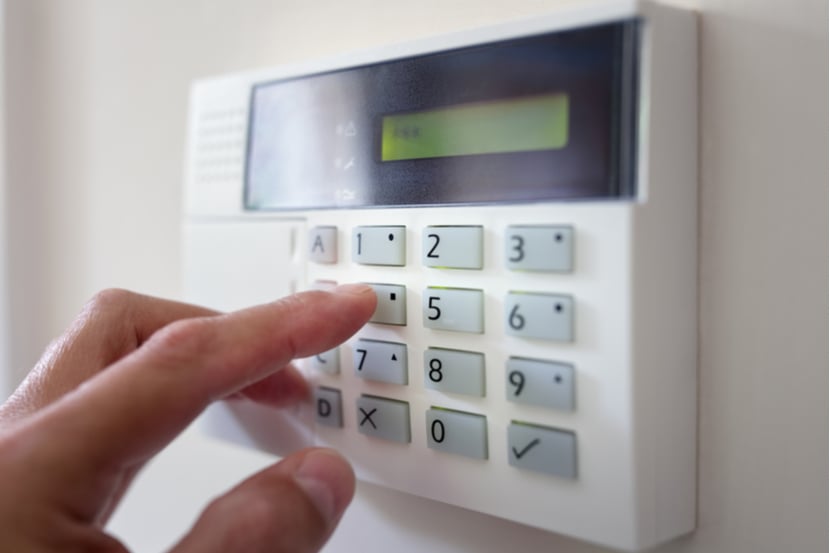 How to choose a burglar alarm
Your first choice is whether you go for a wireless burglar alarm or a wired alarm system.
There are pros and cons to each option. Let's look at them in more detail.
Wireless burglar alarm
Wireless burglar alarms are battery-powered and have sensors that communicate with a central control panel via radio signals.
Pros
Cons

Without the need for wiring, wireless burglar alarms tend to be quicker and easier to install - you could possibly do it yourself.

Wireless burglar alarms are usually more expensive than wired versions. But that might be a price worth paying if you don't need to pay a professional to install it.

These home alarm systems often look better on your wall.

You need to regularly replace batteries, but your control panels should let you know when they're running low.

It's easy to add more sensors if you want to upgrade the system.

With larger properties, you might have issues with the range of the sensors.

Wireless burglar alarms are portable if you

move house

.
Wired burglar alarms
Wired burglar alarms are your standard home alarm systems. Just like with wireless alarms, you get sensors and a control panel, but they're all connected with wires.
| Pros | Cons |
| --- | --- |
| Wired burglar alarms tend to be cheaper than with wireless models. | Because of the wires, you need to have the burglar alarm installed by a qualified engineer. |
| Wired burglar alarms don't need a great deal of maintenance once they're installed. | It can be difficult to add more sensors to the alarm. |
| Works well in a new build property or renovation, so long as the wiring is done during the construction. | You can't take the security system with you if you move house. |
Ultimately, the best burglar alarm system for you depends on your property and preferences.
Home security alarm systems
So what happens when your home security alarm goes off? There are a range of choices here such as:
1. Monitored home security alarms
A monitored home security alarm connects to an external security company, which monitors signals from your alarm.
When the alarm goes off, someone at the security centre usually calls your home for a password and to check everything is okay.
If they don't get the right password, or the phone isn't picked up, the company notifies a nominated key holder or the police.
The main advantage with monitored burglar alarms is that there's someone able to keep an eye on your property all the time.
But this service comes with a contract or a subscription at an additional cost.
2. Bells-only burglar alarms
A bells-only alarm is a ringer alarm that makes a noise when it detects a break-in.
The external alarm only continues for a maximum of 20 minutes. But the internal alarm and outdoor light should continue to flash until the system is turned off.
These systems aren't connected in the same way that monitored alarms are. They're mostly there to scare the burglar off and to attract attention to the fact that someone's trying to burgle your home.
Unmonitored systems are better suited to lower-risk homes, or those without a lot of of home contents or high value items.
Usually the police don't come unless there's proof that an offence is taking place, for example a witness is at the scene.
3. Smart security systems
Smart home security alarm systems keep you connected to your home 24/7. They do this by allowing you to connect your security system to your smartphone.
This allows you to keep an eye on your home anywhere – even when you're on holiday. No more relying on neighbours to check on your house!
Some smart burglar alarms can also connect to police systems in the same way that monitored systems do.
There's likely to be a subscription fee, which often makes these kinds of burglar alarms more expensive than others.
4. Dummy alarm boxes
A dummy box can be a viable option if you really can't afford a house alarm system.
A dummy alarm box is a hollow box that you mount to your wall that makes it look like you've got a burglar alarm.
Some of them even have flashing LED lights to give the appearance of being functional.
This could help prevent burglars from targeting your home. But be mindful that professional burglars might be able to spot a fake alarm with ease.
What's more, it's unlikely to have any effect on your home insurance costs as it's not a real security device.
How are burglar alarms installed?
Anyone can install an alarm if you've chosen a wireless burglar alarm. But if you own a wired burglar alarm, it's best to use a qualified installation engineer.
Companies with National Security Inspectorate (NSI) or Security Systems & Alarms Inspection Boards (SSAIB) approval come strongly recommended in installing burglar alarms. They're fully audited against British and European Standards for things like:
System design
Installation
Monitoring
Maintenance
How do burglar alarms work?
Burglar alarms come in 2 parts:
The central control panel
The sensors
The specifics vary between burglar alarms, but you generally turn the alarm on or off from the central control panel.
You can place the sensors more or less wherever you like around your house. Unless you've paid for a wireless alarm, you need to connect the sensors to the central console.
Most burglar alarm sensors are Passive Infrared (PIR) detectors. These sensors measure changes in heat in a room. If the temperature changes past a certain point after you arm it (indicating something that gives off body heat is in the room), it goes off.
Some burglar alarms come with a separate keypad. This lets you turn the alarm off without having to run to the central panel before the alarm sounds.
And don't forget to switch your alarm on when you're out of the house. If your home gets broken into and you didn't have your alarm switched on, it could impact your chances of making a successful home insurance claim.
Identifying high risk parts of your home
Before you install a new burglar alarm and decide where your sensors should go, think about which areas of your property are at highest risk.
These areas are likely to be your entry and exit points, or any natural blind spots where a thief could work unobserved.
You can also install additional devices like security lighting and cameras.
Maintaining your burglar alarm
Unless you go for a dummy box on your wall, it's important to maintain your home alarm system to ensure it's doing its job. With wireless systems an important part of this is checking that the batteries aren't running low.
Regular maintenance gives you the peace of mind that everything is working as it should. It also helps you catch something early if it does go wrong.
If you get a maintenance contract with your burglar alarm it's usually checked once a year - twice if you have a police-monitored arrangement.
Your insurance company might also insist that it's regularly being checked.
How much do you need to pay for a good burglar alarm system?
You can get a reliable bells-only burglar alarm system for less than £100.
However, costs vary depending on factors like:
How sophisticated your home alarm system is
The level of monitoring it offers you
Whether you have a maintenance contract
According to CrimeRate, a monitored alarm is likely to cost around £269 for the basic alarm, with monitoring costing as much as £293 a year.
Smart security systems can cost in the region of £224 for a smaller home, with an additional fee for installation and monitoring.
Does having a burglar alarm lower the cost of home insurance?
In some cases, you could get a discount on your home insurance costs if your property has a higher degree of protection against intruders.
When you get a home insurance quote with us, you'll see 5 options for alarms:
NUD Audible-Only alarm
NUD Monitored alarm
NACOSS Audible-Only alarm
NACOSS Monitored alarm
SSAIB Alarm Fitted
According to our data, the NUD Audible-Only alarm is the most popular security alarm system. The average home insurance cost for those with a NUD Audible-Only alarm is £189*.
When you compare home insurance quotes with us, we also ask what door locks and patio locks you have to get a sense of your home's security.
Compare home insurance quotes
Is a Ring doorbell a security system?
Yes, a Ring doorbell is considered to be a smart home security system!
The Ring doorbell works as both a burglar alarm and a house doorbell. It detects motion when someone is coming up to your property and sends a notification to an app on your device. The app then allows you to see and talk to visitors in real time while you're away from your home.
There's a wide range of Ring doorbell products you can buy depending on what specifications you want. These start from an average price of £59.99 to £349.99.
*Confused.com data - average top home insurance cost for policies with the NUD Audible-Only Alarm. February 2022-February 2023