What kind of van breakdown cover do I need?
What you use your van for will change the kind of cover you need. Some of the cheaper options will offer the basics, but may not provide enough cover if you use your van for business.
If you break down without cover you may have to make a one-off payment to get breakdown assistance.
The main features to consider when comparing breakdown policies for your van are:
Roadside assistance
Home start
Onward journey
European cover
Roadside assistance is the most basic level of breakdown cover. A recovery vehicle will be sent to your location and they'll try to fix the problem by the side of the road. If they can't then you'll usually be towed to the nearest garage.
Home start covers your van within a quarter of a mile radius from your home address. The exact terms of cover may vary depending on your chosen provider.
Onward journey provides you with an alternate vehicle to reach your destination while your van is being repaired. Depending on your breakdown company's policy you could also receive overnight accommodation and reimbursement of any alternative onward travel costs.
National recovery is ideal if you drive your van long distances across the UK. If your van breaks down in the UK and can't be fixed on the roadside, the recovery vehicle will tow your van almost anywhere in the UK you need to go.
European breakdown cover protects you if your van breaks down when driving in the EU. The type of recovery and how long you're covered for may vary depending on your provider's terms.
What are the most common breakdown causes?
Some common causes of breakdowns are:
Flat batteries
Engine issues
Flat tyres
Misfuelling
Lost keys
Flat batteries are the top reason for breakdown recoveries. If you hear silence or the engine clicking when you attempt to start your van, you probably have a flat battery.
You may have left the lights on and need to jump start your van or it could be something more serious like a faulty alternator. Batteries don't last forever. You may need to replace yours every few years.
Cold weather can significantly drain your battery too, so it's important that you charge it up either by disconnecting it from the van and using a dedicated charger, or leaving it connected to the van and going for a long drive.
Engine issues will likely mean you need to be towed to the nearest garage for diagnostics.
If your van's alternator is faulty your battery is likely to go flat. There's nothing you can do to prolong an alternator's life. But noticing the signs of a dying alternator like dimmed headlights or your ignition warning light can give you time to get it fixed before you break down.
Flat tyres are often caused by potholes or a rogue nail or screw making its way into your tyre.
New vans don't always come with a full spare tyre but may include a run-flat which lets you travel for a short distance. Your van might include a repair kit but these are also only meant for short-term onward travel to a tyre garage.
It's wise to make sure you have a spare tyre on your van along with a tyre lever, nuts, bolts and a jack. Just in case.
Misfuelling - accidently putting the wrong fuel in your van - happens to the best of us.
If you notice early enough and haven't started your engine, an expert can pump the fuel out for you. But if you've started the engine there may be some mechanical damage which might mean you'll need more extensive repairs.
If you realise you've misfueled, don't turn on your engine. Push your van to a safe place and call an expert.
Lost keys are common. Whether you've misplaced them or locked them in your van, you'll most likely have to call for help.
It's always a wise idea to keep a spare set of keys somewhere, as the cost of getting a new set can be high. Find out more about getting replacement keys for your van.
What to do if your van breaks down
If you do break down there are a few things you should do to keep yourself and any passengers safe.
Stay calm and try to find a safe place to pull over

Pull over safely – if you're on a motorway pull onto the hard shoulder immediately and turn on your hazard lights. Get yourself and any passengers out of the van and to a safe place behind the barrier away from passing traffic. On quieter roads you may want to place a warning triangle 45 metres behind your van to warn other drivers

Call your breakdown provider – Don't try to repair the problem yourself. You may cause more damage
Having a breakdown survival kit in your van can be useful. You should try to include:
The phone number for your breakdown provider
Blankets
Water and snacks
First aid kit
Mobile phone charger
Wind-up torch
Empty fuel can
High visibility vest
Warning triangle
You might also be interested in
Breakdown cover guides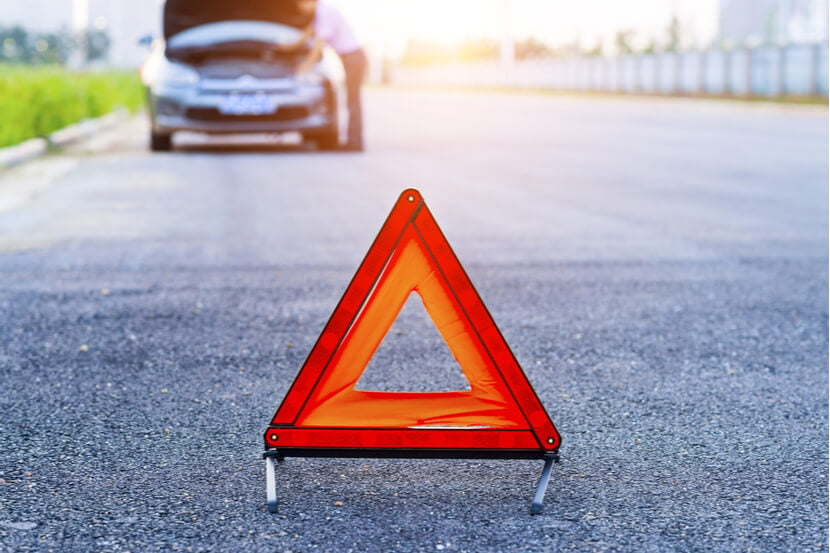 Being prepared and knowing what to do can be crucial in keeping you and your passengers safe with a broken down car.
Confused.com's breakdown cover is arranged by Comparison Creator who are authorised and regulated by the Financial Conduct Authority under firm reference number 832239. Comparison Creator is registered in England & Wales No. 07336373 at Springboard Business Innovation Centre, Llantarnam Park, Cwmbran, NP44 3AW. Confused.com is an intermediary and receives commission from Comparison Creator, which is a percentage of the commission received by Comparison Creator. We pride ourselves on impartiality and independence – therefore we don't promote any one insurance provider over another.