There may be lots of reasons why you want to add a named driver to your car insurance. Whether that's sharing responsibility of driving the car long distances, or sharing the car with your child who's back from uni.
Getting named driver insurance for a friend or family member is one way to make sure they're insured to drive it.
But does adding a named driver make your car insurance cheaper? In some cases, it could. Could the potential cost savings work for you?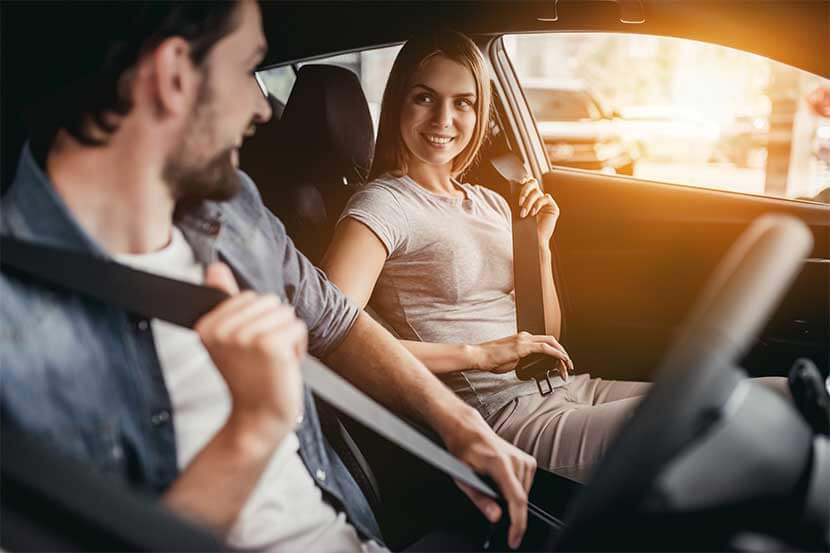 What is named driver car insurance?
Named driver car insurance is another way of saying that you're adding someone to your car insurance where they become an additional driver. A named driver can drive your car any time of day and usually has the same level of cover as you.
But they're not the main driver. The policyholder should always be the main driver - they're the ones who do the majority of the driving.
When you add a named driver to your policy - also called 'second driver insurance' - you should give your insurer some basic details about that person.
Some car insurance companies might let you add someone to your car insurance temporarily - often for as little as a week or so.
Because you're changing your policy, sometimes your insurer might add an admin charge. If in doubt, get in touch with them beforehand.
Compare car insurance quotes
Is it cheaper to have a named driver on my car insurance?
A named driver might be older and more experienced behind the wheel than yourself. So, your costs could go down if you add them to your policy.
That's because driver age and on-the-road experience plays an important part in the likelihood of a claim.
It goes the other way, too. An older, more experienced driver might add a named driver to their insurance. If that driver looks like a higher risk to an insurer, the policyholder's costs could rise.
Younger drivers often have faster reflexes and better eyesight. But more experienced drivers tend to have more natural caution and experience.
A named driver on your insurance has a bit of overlap with Driving Other Cars (DOC) cover. DOC protection could come as standard on a lot of comprehensive car insurance policies. For others, you might need to add it on.
The big difference is that DOC cover is limited to third-party protection only. Named driver insurance, in contrast, offers the driver far more protection and peace of mind in the event of an incident.
If you don't think adding a named driver is right for you, there are other ways to cut the cost of your insurance such as:
Adding a 'black box' or telematics policy
Adding safety features, such as an immobiliser
Increasing your voluntary excess
Read our guide on tips for a cheaper car insurance for more information.
How much does it cost to add a named driver to my car insurance policy?
Insurers generally charge when you make changes to your policy. You can call them or make changes to your car insurance policy online via your policy document.
When you add a named driver to your insurance, you're potentially changing the overall 'risk profile' of the car. This could mean that your car insurance costs could go up or down as a result.
How much adding a driver might cost you depends on the insurance company and the kind of driver you're adding. Younger, inexperienced drivers, or those with past claims and convictions, could see your prices go up.
The cost of car insurance for an 18-year-old driver is £1,419, according to our Q2 2022 car insurance price index.
It might be worth planning this a bit in advance. You might want to make several amendments to your policy simultaneously to reduce potential admin charges.
Sometimes it could be better to talk direct to your insurer. Especially if you want a better feel of a situation or scope out the potential impact on your policy.
How do I add a named driver to my existing car insurance policy?
Give your insurer a quick call or contact them online. Often, it's easier online as you can usually make changes to your policy 24/7.
Perhaps check their T&Cs too. Sometimes you can be charged extra for small changes to your policy.
You shouldn't be asked for huge amounts of info about the other named driver but it's best to have some basic information to hand. This includes:
Their full name
Their date of birth
Their main job
Their marital status
Their driving licence number and licence type
Details of any motoring convictions in the past 5 years
Any accidents or claims in the past 5 years
A named driver doesn't have to live at the same address of the policyholder.
Does being a named driver affect my own insurance?
It shouldn't impact your own policy. If you're involved in an accident that was your fault, you usually claim on the policyholder's policy.
They might see their insurance costs rise as their no-claims bonus (NCB) could be hit.
In other words, if you drive a friend's car as a named driver and have an accident, the policy is tied to the car, not the person.
If you're concerned about this risk and are the policyholder, have a think about protecting your NCB. Especially if you've built it up carefully over several years.
It's not normally possible to build up a no-claims bonus as a named driver. Some insurance companies do let named drivers build their own NCB. But they usually only transfer it to their own policy with the same insurer.
Does adding a named driver affect my no-claims bonus?
Adding a named driver to your insurance could impact your NCB in the long run. This is an issue around additional driver insurance you should be aware of.
If you build up your NCB over several years, a single accident from a riskier driver could wipe that out in no time.
When you add a named driver to your policy, they enjoy all the benefits of that policy. If it's a comprehensive policy, they get fully comp protection too.
This often includes breakdown cover and a courtesy car, if needed.
But the risk of that named driver is passed to you – to your policy.
Even when a 100% responsible named driver is behind the wheel, none of us can control the behaviour of other road users. We can manage the risk around us only up to a reasonable limit.
Is temporary car insurance a good substitute to adding a named driver to my policy?
It depends. The beauty of temporary car insurance is that it places the risk on the person paying for the cover.
If someone puts a named driver on their insurance, they absorb the risk of that new driver.
Temporary cover re-directs that risk back to the person buying the cover.
So temporary car insurance could be worth considering if:
You need it for those once-or-twice a year road trips where shared driving between friends can help
You're borrowing a friend's car if yours is being repaired or is off the road
You want extra cover for a child back from university who needs to get around
You can buy cover lasting from 1 hour to a month or anything in between. It's super-flexible, timewise. It also goes under the name of short-term car insurance.
Temporary cover could be harder to get if you've driving convictions or points on your licence. You might keep your costs down by insuring less expensive and less powerful cars.
Either way, never accept the first quote you get. Always shop around.
Compare temporary car insurance quotes
What are the named driver insurance rules?
When you're a named driver, you can use the car as you wish and you should have the same level of cover as the main driver. There aren't many additional rules for named drivers compared to the policyholder.
The only thing to be mindful of is how much you use the car compared to the other drivers on the policy.
In most cases, whoever does the bulk of the driving should be put as the main driver on the policy. Then, all other drivers should be named drivers or second drivers.
Let's say you're a parent and you add your child to the policy as a named driver. If it turns out that they use the car much more than you do, you should change your car insurance policy so they're the main driver.
If you don't, you could be committing a form of insurance fraud called fronting. Typically, it's when an older person puts themselves as the policyholder and main driver. They then add a named driver, often younger, who does most of the driving.
Because fronting is deliberate misrepresentation, it's a criminal offence. Bending the truth to an insurer might leave both the registered owner and the other driver without cover if discovered.
The registered owner's policy could be invalidated, and the younger driver could be treated as completely uninsured in any claim.
This means they could be fined, prosecuted, and even banned from driving.