We can get so excited about jetting off to sunnier climes that it might not cross our minds to consider potential problems.

The reality is that many things can go wrong at the last minute. A bereavement, falling ill before the flight, or being called up for jury duty can all scupper plans for the family holiday.
But what can you do in such scenarios? In this guide we take a look at what you need to know about travel insurance cancellation cover: What it is, how much policies cost, and what to consider.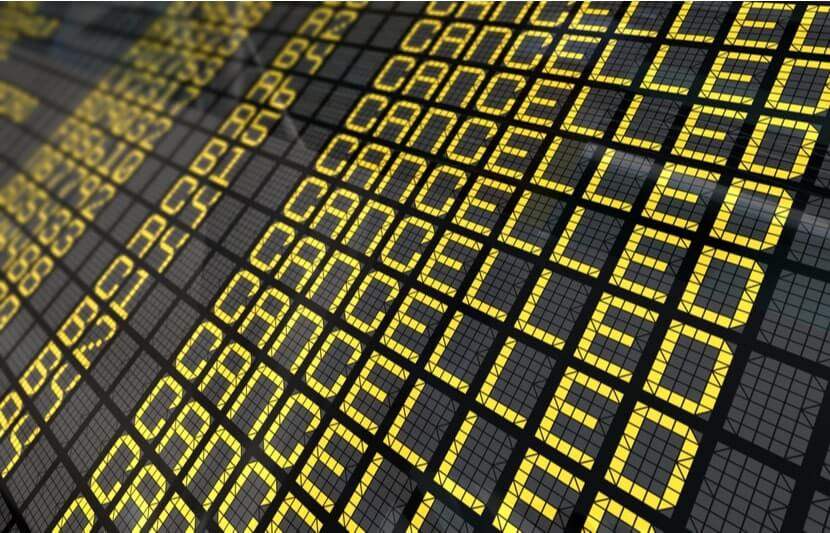 What is travel insurance cancellation cover?
The aim of travel insurance cancellation cover is for you to reclaim all or some of your costs should you need to cancel your holiday plans.
Cancellation cover is included as part of most travel insurance policies. Therefore, you should expect to get the money back. However, policies vary so you need to check exactly what's on offer.
It's often referred to as cancellation and curtailment. The cancellation part means when you can't go on holiday before the intended departure date.
Curtailment, meanwhile, kicks in when you're forced to cut your vacation short due to unexpected circumstances happening during the trip itself.
What's covered by travel insurance cancellation cover?
Broadly speaking, you should be able to make a travel insurance claim if you need to cancel your holiday due to an unforeseen circumstance. But what does this phrase actually mean?
The policy might pay out if you or a travelling companion suffers unforeseen illness, injury or bereavement.
It may be that you've abandoned your trip following a flight delay of more than 12 hours to the departure of your outward journey.
Other acceptable reasons for cancellation may include:
You being made redundant
The police requiring your presence for something happening to your home within 48 hours of your departure.
Being called up for jury duty or summoned as a witness
In addition, payments could be approved if the government issues a directive advising against all but essential travel to your destination.
The rules governing unexpected illness
Cover usually kicks in when people cancel plans due to an unexpected illness. However, this means the condition must be entirely unanticipated.
It can't be due to pre-existing medical conditions that haven't been declared – even if it wasn't expected to flare up prior to departure. If the insurer believes this to be the case, then it might not pay out. If you do have an existing medical condition, it might be worth looking at pre-existing medical travel insurance.
This could result in you being thousands of pounds out of pocket. The golden rule is to always be honest. The chances are that cover may still have been offered, even for a slightly higher price.
Either way, proof of your illness might be requested. Generally, you need to provide a certificate giving full details of your illness from your doctor or a relevant medical consultant.
It's also important to note that cover levels vary between insurance providers. Make sure you check to see if the policy meets your needs before taking it out.
Depending on the circumstances, flights may or may not be covered. If a flight gets cancelled due to bad weather or something beyond the airlines control, you likely won't be covered. And it's a similar story if your flight is delayed, but you may be entitled to flight delay compensation from the airline.
However, you may get compensation from an airline if you have to cover any extra costs associated with a cancelled flight. Generally, for curtailment claims, the amount to be paid out is calculated on the number of nights of your trip you missed due to your early return.
Similarly, how many nights you were hospitalised is taken into consideration.
What isn't covered by a cancellation policy?
There are certain circumstances that won't normally be covered by your policy. These include any pre-existing medical conditions that weren't declared when you initially took out the cover.
It's a similar situation with any incidents about which you had prior knowledge. For example, this may include one of your close relatives suffering from a long-term illness.
Of course, this list isn't exhaustive. Other scenarios where you've taken out insurance with a premeditated intent to make a claim won't be covered.
Terms and conditions also vary between providers. It's up to you to check with them to establish exactly what will – and what won't – be covered by such a policy.
Whatever happens, you're required to provide substantial evidence to support your claim should it need to be made. This is why it's essential that you tell the truth.
Often policies won't cover a change of travelling plans without good reason. For example, you decide you no longer fancy going somewhere and expect the insurance company to foot the bill.
Not being able to afford the trip isn't a good enough reason to trigger a claim, and neither is your vehicle being stolen or breaking down.
Claims arising from a planned strike or industrial action that was common knowledge at the time you booked the trip night also be rejected.
Finally, if you're denied boarding to your aircraft due to anti-social behaviour, drug use, alcohol or solvent abuse, your claim should likely be turned down.
Making a cancellation claim
The more detail you can provide to your insurance company, the easier it is for them to help you with your claim.
That's why it's vital to make a note of the claims team's phone number before you depart.
You also need your insurance policy number. Having all these details make the entire process a lot smoother when you get in touch with a claims handler.
The golden rule is to contact your insurer immediately something happens – and keep a note of everything you're told.
If there is a medical emergency, for example, your insurer should be called within 48 hours. If it's a non-emergency then it may help you locate appropriate treatment.
Generally, it's advisable to keep every receipt and other important documents just in case you need to end up making a claim.
This includes:
Travel tickets
Boarding passes
Booking confirmations
Letters from authorities or public transport providers
Not being able to supply such information could delay your claim.
How much cancellation cover do I need?
Different policy providers offer various levels of cover. Generally, most offer between £1,000 and £5,000 to cover the costs of cancellation.
However, some insurers will have different levels of protection available – obviously for increasing premiums – to give you an extra level of protection. For example, these different levels may pay out to a maximum of £1,000, £2,500 and £5,000. The higher the premium, the higher the potential pay-out.
You may even get providers to offer cancellation cover of up to £10,000. However, you need to do your research and find out exactly what's on offer.
Let's say you booked a holiday or flights costing between £100 and £30,000 and paid either a deposit or the full price on your credit card. You may be able to make a claim under the Consumer Credit Act.
This applies if the airline or holiday company goes bust or the holiday is cancelled.
Travel insurance with Covid-19 cancellation
The cancellation of travel plans due to Covid-19 have been a part of life for the past two years, even though restrictions have started to ease in recent months.
However, this remains a fast-moving situation. Rules and regulations differ around the world so it's important to keep on top of the latest advice.
While most insurance providers should cover you if you have to cancel your holiday due to Covid-19, it's important to check they're offering a suitable level of cover.
Some, for example, may pay if you have had a positive test result in the 14 days before departure.
Check to see if there is cover if you or family members can't return home after testing positive for coronavirus during the trip.
You need to know if the policy covers additional costs, such as alternative flights, accommodation and further Covid tests.
Policies may not cover if you travel against the advice of the Foreign, Commonwealth & Development Office (FCSO), unless you have an enhanced cover of some descriptions. However, the policy may not cover claims arising from lockdown, travel warnings or restricted movement.
Making a complaint about travel cancellation cover
Unfortunately, not every claim goes smoothly.
Complaints are made every year to the Financial Ombudsman Service, the free service sorting out disputes between consumers and financial firms.
For example, the most common disputes when it comes to curtailment include the insurer not paying the claim as they weren't contacted first.
The insurer not paying out because it doesn't think it was medically necessary to cut short the trip is another complaint that's voiced.