❤ Life insurance
Compare life insurance quotes and get up to £100,000 of cover from £4.69 a month*
Get a Quote
*Based on £100,000 of level term cover over 20 years for a 30 year old non smoker with no pre-existing medical conditions (May '21)
Just three of the great reasons to use Confused.com
"Easy to use, helpful and saved me money."
Susan - Confused.com customer

What is life insurance?
Life insurance is a policy that pays out if you die during the cover term. It's used to ensure something is left behind for loved ones in the event of the policy holder's death. It can help with paying off a mortgage, covering funeral costs or just maintaining a family's standard of living in the event of a bereavement.
Aside from standard life insurance, also called level term life insurance, there're a few types of life insurance to choose from, each with their own benefits. If you're looking for policies to help out if you fall sick or are unable to work, there's something for you there, too:
Life insurance costs vary, but can start from as little as £4.69 per month.
However, bear in mind that this is the minimum you can expect to pay, as premiums are based on a range of factors. The average cost of a policy is likely to be slightly higher.
We've set out the average costs of life insurance below. This is what most customers in each age bracket pay.
| | |
| --- | --- |
| Age | Average monthly premium* |
| 18-24 | £11.01 |
| 25-34 | £22.93 |
| 35-44 | £26.69 |
| 45-54 | £32.34 |
| 55-64 | £32.22 |
| 65+ | £18.91 |
*Prices from Confused.com data, averaged across sales of all policy types and lengths for cover of less than or equal to £350,000 in 2020. This contains 84% of customers and is correct as of October 2020.
There are a few things that can affect how much life insurance costs.
These typically include:
Your age: the older you are, the more you're likely to pay
Lifestyle: drinking, smoking, including vaping and use of nicotine replacements, and other risky behaviours can all edge up your premiums
Weight: if you're very overweight, the likelihood of developing an obesity-related illness increases, and so does your premium cost
Medical history: pre-existing conditions like asthma, or a family history of certain diseases, could also see you paying more
Amount of cover: typically the higher the pay-out you're looking for, the higher your premiums are likely to be. See our guide for advice on how much life insurance cover you need
Policy length: life insurance policies often run over a set term – say, 25 years. The longer you want the term to be, the more you're likely to pay out in premiums
Salary: the more you earn, the higher your expenses are likely to be. Which means you'll need more cover to maintain your family's standard of living. More cover equals a higher premium
Occupation: if you're a fireman or an oil rig worker, or have another high-risk job, your premiums will probably be higher than those with low risk jobs such as an office worker or milk man
For a deeper dive into how your life insurance premiums are calculated– and what that means for you – check out our guide.
Have more questions? Our FAQs can help
Find out more with our useful guides: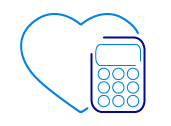 Life insurance calculator
Don't know how much life cover you need? This handy tool can point you in the right direction.
Confused.com
life insurance
customers rate us
4.61

/5 based on

446

Reviews.co.uk respondents - as of 03/09/20). Read our reviews
Confused Life is provided by Direct Life & Pension Services Ltd, who are authorised and regulated by the Financial Conduct Authority. Registered office; 2nd Floor Gateway 2, Holgate Park Drive, York, United Kingdom, YO26 4GB. Registered in England and Wales No 2467691. Our service is free and compares a wide range of trusted household names. Confused.com is an intermediary and receives commission from Direct Life & Pension Services Ltd which is based on a percentage of the total annual premium if you decide to buy through our website. We pride ourselves on impartiality and independence – therefore we don't promote any one insurance provider over another.