Quad bike insurance
Compare deals on four dirty wheels with It's Quad Bike Insurance
Get a Quad bike quote
With it's Quad Bike insurance, you can compare quotes online from a wide range of approved insurers to help find a policy that meets your needs and at an affordable price.
With a knowledgeable UK call centre with years of experience, available 7 days a week, the it's Quad Bike team can assist with any quote or query.
it's Quad Bike work with a wide range of insurers, providing affordable insurance for quad bikes and finding the right quad bike policy for your needs.
What can it's Quad Bike offer me?
Compare quotes from trusted brands
Quote and buy online 24/7
Quick hassle-free online quotes
Wide range of policy benefits
Flexible payment options
Knowledgeable UK call centre

Quad bikes are not conventional vehicles, which can often make them difficult to insure.
Most insurers won't even offer cover for these vehicles because of the risks associated with riding them, especially when it comes to making them road-legal. That's where it's Quad Bike can help.
Compare insurers through it's Quad Bike who can tailor a quote specifically to you, so that your quad can be driven legally on UK roads
Certain members of their panel may be able to offer you quad bike insurance policies, dependent on the model you own. Click the 'Get a quote' button above to be taken through to the it's Quad Bike page, where you can enter your bike details and start comparing quotes.
Different policies will offer varying levels of protection for you and your quad, so it's important that you understand the policy fully before you purchase anything. You'll need to decide the level and type of cover you need, and make sure the policy you choose supports it. This can include;
Breakdown/legal cover
Use in connection with work
Cover for multiple riders
Because they are a unique vehicle and carry a unique set of risks for riders, insurers and the public, it can often be difficult to find insurers willing to cover quad bikes. For the same reasons, the government have a set of rules in place governing how quads should be used, which you can find on the GOV.UK website.
Quads must be approved, registered and taxed, have an MOT and an active insurance policy to be used on UK roads
Most are not road legal because they don't meet road safety standards – they must be tested and 'type approved' to be considered road-safe
Quad riders don't have to wear helmets (though it is recommended), and may only carry passengers if the bike was designed to do so
You don't need to tax or register your quad bike if it will only be used off-road. However, including it on the government's off-road register will assist the police if your bike is stolen. You must also ensure you have the correct insurance for your off-road quad bike
If a quad bike is used for agricultural or horticultural use then they are exempt from paying vehicle tax, but it must still be registered for road use and must have insurance
With unconventional vehicles such as these, it's important to thoroughly do your homework on the rules and regulations governing their safe and legal use before riding. Click the 'Get a quote' button above to start finding the right protection for you and your quad today.
Get to know all the ins and outs of motorbike insurance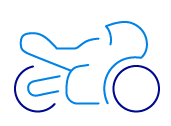 The most sold vehicle in the world
Did you know that this motorbike has sold the most units compared to any vehicle ever made?
You might also be interested in other insurance types
Confused Quad Bike Insurance is administered by it's Quad Bike Insurance Services. it's Quad Bike Insurance Services is a trading name of Grove & Dean Ltd, an independent intermediary who are authorised and regulated by the Financial Conduct Authority under firm reference number 307002. Our service is free and compares quotes from specialist Quad Bike insurance brands provided by Grove & Dean Ltd. Confused.com is an intermediary and receives commission from Grove & Dean Ltd. if you decide to buy through our website.