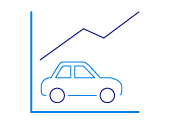 Car insurance price index
How much should you be paying for your insurance? Check the average price for your age and region.
You might also be interested in other insurance types
Confused.com's temporary cover solution is provided by Tempcover Ltd who are authorised and regulated by the Financial Conduct Authority under firm reference number 746985. Tempcover Ltd is registered in England No. 09923259 at office: Fyfe House, St James Road, Fleet, Hampshire, GU51 3QH.We are an intermediary and we receive commission from Tempcover Ltd, which is a flat rate fee plus a proportion of commission that Tempcover Ltd receive from the insurers if you decide to purchase through our website.