Pet insurance
Compare cover for your cat or dog from £4.77*
"Really helpful to find the right pet insurance for my dog. Thanks."
Philip, Confused.com customer

A selection of the trusted pet insurance companies we compare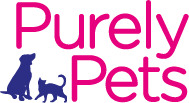 "Easy to use, clear results and lots of choice of companies."
Kristina, Confused.com customer

*Price per month for accident only cover based on a moggie, aged 2, no known medical conditions, neutered, up to date with vaccinations, microchipped and based in the SA15 2DB postcode region. Prices correct on 03/06/2020 on Confused.com
There are 4 types of pet insurance to choose from: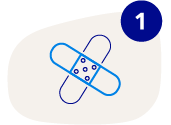 Accident only
This policy provides a fixed sum to help towards your pet's treatment. This usually only covers accidents and not illnesses, with some policies having a time limit on treatment.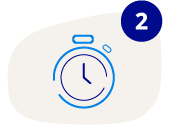 Time limited
Here a fixed sum is available for each separate illness or injury. The policy covers treatment for a specific period of time, usually 12 months from the start of the illness or injury.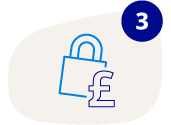 Maximum benefit
A maximum set amount is made available to cover each illness or injury your pet may suffer. Once the amount has been paid out, the treatment won't be covered again.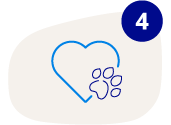 Lifetime
This covers any new illness or injury up to a set amount each year. As long as the policy is renewed it should provide cover for long-term or recurring illnesses.
Don't just compare cat and dog insurance policies based on the cheapest quote. It is important to decide which policy features will benefit you the most.

Typically, a cat or dog insurance policy might include cover for:
Accidents and injuries - if you need help towards any vet bills.
Treatment for unexpected illnesses - this can sometimes include cover for your own holiday cancellation due to an unwell pet.
Boarding fees for kennels or catteries - should you have to spend more than four consecutive days in hospital.
Liability cover - if your pet causes accidental damage to a third party and they decide to take legal action against you.
Advertising and reward - if your cat or dog goes missing or is stolen.
As with all insurance, it is important to read the small print to make sure you know what you're covered for.
Most policies typically exclude:
Preventive treatments e.g. neutering and vaccinations

Dental treatment

Pre-existing conditions

Routine check-ups

Behavioural problems
Do your research -

if you already own a pet then we know you wouldn't change them for the world. However, if you're looking to buy one it might be worth doing some research to find out which breeds are prone to certain medical conditions.

Keep your pet healthy – if you have to claim on your policy because your pet has fallen ill, your next insurance renewal may be more expensive.
Multi-pet insurance - if you have more than one cat or dog, consider taking out a multi-pet policy. Some providers offer a discount if you take out more than one pet insurance policy with them.
Vaccinations - keeping your pet's vaccinations up-to-date will not only help protect them but could also lower your premium.
Excess - If you can afford to pay an increased excess, it could lower your premiums.
How much is pet insurance?
It really depends on the animal, its medical history and the type of cover you're looking for but some policies start from as little as £4.77* a month.
What details do I need to get a pet insurance quote?
As well as details about yourself e.g. name, date of birth, email address and address, make sure you have these details to hand:
• Your pet's personal details eg name, breed, gender, their date of birth and whether they've been neutered.
• Their vaccination history - are they up to date with their vaccines?
My pet has a pre-existing medical condition. Can I still get cover?

Most insurers won't offer cover to a pet with pre-existing medical conditions, as it's more likely that you'll have to claim more than once for the original problem. It's best to get your pet insured when they are young, so that if any health problems occur later in life, you'll have peace of mind that they'll be covered.

Does my pet need to be microchipped to get pet insurance?

Microchipping your dog is a legal requirement, and it makes life much easier if your dog goes missing. Although it's not required by law, microchipping your cat is also a good idea. Not only does it make finding a missing pet much easier, it could also lower your premiums as you could be seen as a responsible owner.
Am I still able to travel in Europe with my pet following Brexit?
To visit Europe with your pet following Brexit, you may need to take some extra measures before you travel. This includes getting a new pet passport, a successful rabies antibody blood test and an animal health certificate by an official vet. The process should take around four months.
For more information around how Brexit may impact travel to Europe, the government has issued guidance. Visit this guide from GOV.UK.
Want some more information? Take a look at our handy guides
Confused.com's Pet Insurance solution is provided by theIdol.com. theidol.com is a trading style of Investment Discounts On-Line Ltd and is authorised and regulated by the Financial Conduct Authority. Registered office; Investment Discounts On-Line Ltd, One Coleman Street, London, EC2R 5AA. Registered in England no: 04231834. theidol.com is part of the Legal & General group.
Our service is free to use and compares a wide range of trusted household names. Confused.com is an intermediary and receives a commission from theidol.com if you decide to buy through our website. Our commission is based on a percentage of a fixed price per pet insured, but will not increase your premium. We pride ourselves on impartiality and independence – therefore we don't promote any one insurance provider over another.