Buy car, home or van insurance and choose a freebie with Confused.com Rewards
Free recipe box

12 free car washes

£20 to spend

£20 to spend
Single annual policy. HelloFresh 18+ subscription service, geographical exclusions apply. T&Cs apply.
Black box car insurance, sometimes called 'telematics', is a type of policy offered by some insurers that monitors your driving. If you're a younger driver, or a driver with less experience, black box insurance may be a cheaper option for you.
The form the black box takes depends on the insurer. It could be a physical black box installed in your car, a plug-in device or a mobile app. It looks at things like your braking, speed and handling to understand how well you drive.
The insurance company uses the data captured to score how safely you drive. Your insurance price is then calculated based on your driving score.
The black box, whether it's a physical black box, plug-in device or mobile app, uses GPS to gather your driving information.
Usually, this data covers braking, cornering, speed, mileage and the time of day you drive. The insurer uses this information to give you a regular driving score.
You can view your driving score online. Some insurers send regular updates on what your driving score means, including tips on how to improve.
Your price is then personalised to you, based on what kind of driver you are.
Generally, the safer your driving is, the better priced your insurance will be.
Want to find out more? Our black box insurance guide explains more.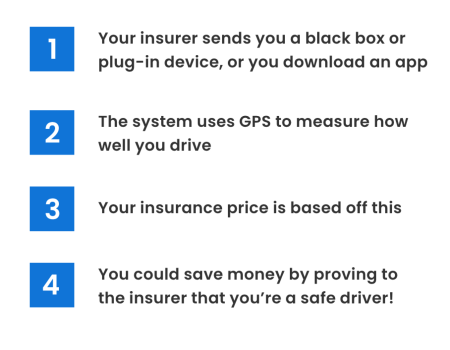 Getting a quote is easy. You'll need the following details to hand to help speed things up:
Personal details:
Your job
Any points on your licence
Previous claims or accidents from the last 5 years
Details of any additional drivers
Your driving licence number is useful but not essential - some insurers offer better rates if they know this from the start
Any claims and convictions from the last 5 years
Car details:
The registration or make and model of your car
Any modifications to your car
Estimated annual mileage
Once you get a quote, look out for insurers who have the black box label above their logo in your list of results.

You'll also be able to see details about each policy, like whether they include a physical device or use an app. Press the 'more info' button to see this and any restrictions, features or fees that come with the policy.

The 'black box features' and 'black box fees' sections have more ins-and-outs too.Once you've bought your policy, your insurer will contact you to either schedule a time to fit a device in your car or send you a plug-in device to install yourself. Or they'll give you details on how to download their app.

Get a quote and start comparing prices.
Instead of paying for insurance based on the average driver, black box insurance premiums are based on when and how you drive. They're often suited to young drivers, and one of the biggest benefits is the opportunity to save money. Other benefits include:
Anti-theft tracker – as black boxes use GPS to track the location of your car, some policies include theft tracking to make it easier to find your car if it's stolen.
Accident alert – some insurers include an accident alert in your policy at no extra cost. The box notifies the insurer if it detects an incident or collision and they'll try to contact you.
Low mileage drivers – if you drive less than average, you could save money.
Online driver dashboard – most policies will offer the option to log in and see how you're driving. You can get tips on how to improve and see whether you're on track for any discounts.
Most insurers will have some rules on a black box policy. This could be a mileage limit or curfew. Insurers use them as they know that accidents are most likely to happen late at night or early in the morning. Agreeing to not use your car during specific hours can help reduce your costs.
Black box policies come with more restrictions than a standard policy. But they can help you build up driving experience and earn a no-claims bonus which you can use to gain a discount on your next policy.
If you're worried about the rules, make sure you understand them before commiting to a policy, also check for any exclusions.
Black box policies last for 12-months, just like a standard car insurance policy. When your policy is due to renew, you can decide if you want to continue with a black box policy for another 12-months, or switch to a standard car insurance policy.
Take a look at our FAQs for more information.
If your insurer installs a box in your car, getting it removed is straighforward and won't leave any permanent mark on your car. Contact your insurer who will arrange a suitable time and date to remove the box.
What our expert says:
"Black box policies are a great option if you're a young or inexperienced driver. The app or small device keeps an eye on your driving, think of it like a driving instructor assessing how you drive. If you can prove that you're a safe driver it might help lower the cost of your policy."

You might also be interested in other car insurance types
After buying
car insurance
,
96%

of Confused.com customers would recommend us (based on

73113

Reviews.co.uk respondents - as of 09/06/21). Read our reviews