Want to make money by sharing or lending your car for a spell? Car sharing could be the answer, providing you have the right insurance, as we explain.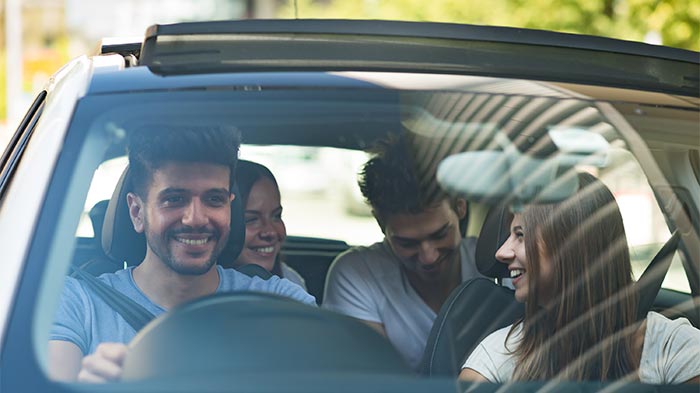 What is car sharing?
Unlike taxis, or van and car hire companies, car sharing sees one person let or share their car with a stranger. It's not really a business, being more of a side-line.
There are two main types of car sharing:
Carpooling
Think Peter Kay's Car Share. This option would see you hook up with someone to share the running costs of a journey that suits you both.

For example, your passenger may live and work on your route to work, and by sharing you can half the fuel costs incurred.
Car clubs
This type of car sharing would see you let your car for a temporary period, perhaps just an hour or two.

Commonly known as a car club, with this option you decide where someone can pick up and return your car.

It can be from work or near your home when you're not using it. It means you can earn some pocket money while you're in the office or tucked up in bed. This type of car share is more common in city centres.
What are the benefits of car sharing?
There are several benefits to car sharing. Here we present the highlights, starting with carpooling.
Carpooling benefits
The key benefit of carpooling is that it could save you and your passenger money – and it's better for the environment. So, it really isn't a hard sell.
Carpooling could save you money
If you regularly commute, sharing the cost of the fuel burned could save you a pretty penny.
For example, a round trip between Newcastle and Carlisle is 118 miles. With petrol at around £1.25 a litre, the whole journey could cost around £15 a day or £300 a month.
Being able to slice this outlay in two or even three makes economic sense for all concerned. After all, rail travel isn't cheap, and besides, the passenger gets door-to-door service.
The one stipulation insurers and HMRC insist on is that the amount charged doesn't leave the driver with a profit. Car sharing isn't a problem, providing it only covers running costs.
Carpooling provides company
Long journeys and those you repeat over and over again can soon become tiresome. What carpooling offers is a bit of company and conversation.
So, if you're travelling from Liverpool to London for a Premiership football game, having someone to chat to is arguably a huge bonus – providing you both support the same team.
Extend car life
If you carpool rather than drive your own car to work every day, for example, you're reducing wear and tear which could ultimately prolong its life.
Easier drive
The more people who share cars, rather than sit behind one another in traffic, the fewer cars there'll ultimately be on the road.
This'll save you money on fuel, and make driving less of a chore.
Share the load
If you're heading off on a particularly long journey, say from Bristol to Middlesbrough, car sharing could be ideal.
You and your passenger could share the driving, avoiding just one person doing all the work and potentially getting overtired in the process.
Car club benefits
In this case, we mean letting out your car for a short spell. It would likely be for a few hours max to someone you don't know, but who's been vetted by a car share company.
For instance, they might have provided a home address that checks out, and they have a full licence.
Money for nothing
The beauty of car clubs is you're earning money for little, if any, effort. Your car and its temporary driver do all the hard work.
Environmental benefits
As with carpooling, car clubs benefit the environment because they may encourage some people to forego buying a car in favour of just hiring one as required.
What is car sharing insurance?
Given there are two types of car share, it'll come as no surprise to learn insurance treats each differently.
Car share insurance: carpooling
The Association of British Insurers (ABI), which represents most UK insurance providers, says regular car insurance cover shouldn't be affected if passengers are only contributing toward journey costs.
These include fuel, depreciation and other running costs.
However, insurers could reject any claims if the vehicle owner is making a profit, the car seats more than eight passengers or the owner carries passengers for a living.
Not all insurers are members of the ABI, so it's always worth reading the T&Cs before getting started.
Compare car insurance quotes
Car sharing insurance: car clubs
Car sharing insurance is likely to appeal to anyone who doesn't own or have regular access to a car.
In most cases, it's available to anyone with a full licence, without any age restriction. However, cover for particularly powerful or expensive cars might have a higher minimum age limit.
This type of policy typically provides short-term third-party cover for from one hour to 30 days and can start straight away.
It's specifically designed for people needing to drive someone else's car.
Always read the policy terms, though, and if need be, consider buying temporary car insurance if it doesn't fit the bill.
If the person taking out the policy has a claimable accident it should be dealt with by their insurance company.
The alternative is that the driver adds you as a named driver to their insurance policy.
How would I start car sharing?
If carpooling or car clubs pique your interest, then you're in luck. There's no shortage of them around and they're really easy to get involved with.
How do I start carpooling?
The key thing to note about carpooling is that you're not a Hackney Cab, so you can't trawl the streets looking for customers.
Neither are you a minicab, meaning you don't run a business taking orders direct for journeys.
Instead, all work is arranged through a middleperson, who checks the details of the person be getting the lift, as well as you, of course.
Who offers carpooling services?
There are several well-established carpooling companies you can consider using, including:
How do I start using a car club?
You wouldn't hand over your key fob to just anyone, would you? Of course not, and your insurer might not like it, either.
As with carpooling companies, car-club operators have strict procedures to protect you and your temporary driver.
For example, the firms gather important information up-front. This includes the customer's driving licence, along with a photo of them holding it, so they can verify it's not been stolen.
This is important. You, the car owner may never meet the person hiring your car, due to the way they pick it up and drop it off.
Who offers car club services?
There are several well-established car club companies you can consider using, including:
What are the benefits of using a carpooling company?

As with car clubs, carpooling companies have thrived in recent years because they offer a service that profits both the car owner and the passenger.
Here are some of the best reasons to use one:
Personal safety
The car share company matches your car up with potential customers. The person hiring your car won't know your address and vice versa. This offers some degree of safety and security.
For this reason, car share companies recommend that pick-ups aren't made at your home. It's best to meet in a public place, just in case.
Save cash
We keep coming back to this, but it's true. Fuel costs are high at the moment, so sharing the running costs without much if any extra effort makes sense.
How much should I charge for car sharing?

Unlike car clubs, which often feature a cost calculator, how much you'd charge passengers is down to you.
That said, car hire firms do offer suggestions. GoCarShare reckons 10p per passenger per mile is fair.
BlaBlaCar uses 11p per passenger per mile as an example on their site. In the end, the choice is yours.
The important thing to remember is that you're not making a profit from passengers chipping in for petrol.
What are the benefits of using a car club company?
Car club companies have come a long way in a short time, and offer several benefits, including:
Car share middleperson
One of the biggest pluses car sharing companies have to offer is they act as a buffer between you and a stranger.
Without them you'd probably have to place a classified ad and your phone would be red hot with calls.
Instead, car sharing firms deal with bookings and coordination, selecting the best matches based on location.
Other requirements, such as the type of vehicle they require, are also factored in. In this way, no one gets a nasty surprise.
Car share codes of conduct
There's an additional benefit too. Decent car clubs have a code of conduct, so customers know what is expected of them.
This is more than just agreeing to wear a mask if they're to be your passenger.
It would typically involve customer drivers agreeing to a code of conduct that would include some or all of the following:
No smoking in the car

Check and report any damage before heading off

No pets or animals in the car

Don't return the vehicle with less than a quarter tank of fuel

Leave the car in the condition it was found. Remove all rubbish

Pay parking tickets

The driver is liable for any speeding tickets incurred while the car is in their care

Return the car on time.
With a code in place, the car club usually with any disputes. This means you don't have to waste time arguing with someone who's rented your car and left it in a right state.
Car share cost calculator
Car clubs usually include a cost calculator on their site, so customers can establish the cost upfront, and you won't need to haggle.
Car share apps
We mentioned earlier about the importance of companies verifying who'll be behind the wheel of your car. Here's why.
Car share firms require customers to download an app to proceed with the arrangement.
The app includes a geolocator, so the customer can find the closest car to them. Additionally, the app is used to lock and unlock the car they've rented.
Having this vetting process beforehand ensures that those using the app are trustworthy.