The average driver spends a small fortune every year on fuel, car insurance, car tax and servicing, not to mention all the various congestion charges.
In response to the rising costs of motoring and Britain's overcrowded road network, car sharing has grown in popularity over the past decade.
Here we take a look at what car sharing entails, how car clubs work and what you need to know before getting involved.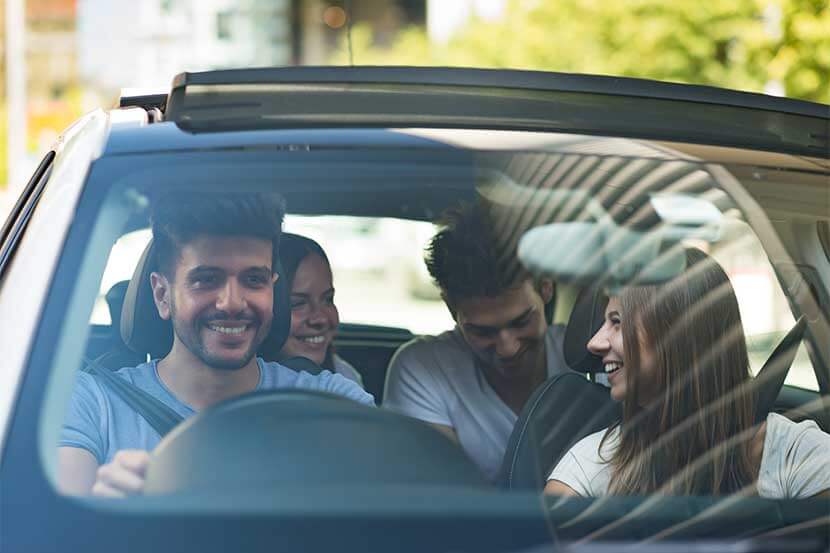 What is car sharing?
Car sharing can be defined in a couple of ways. The first is when at least two people 'share' a journey in a vehicle that's going to the same destination.
Fans of Peter Kay's Car Share show should be familiar with this concept. The hit comedy charts the daily journeys to work of an assistant supermarket manager and promotions rep.
This form of car sharing can be an informal arrangement between friends or work colleagues. They could either take turns driving or one of them chips in towards petrol costs.
The second kind of car sharing, is the more structured concept of a vehicle being shared by multiple people through organised car clubs.
Why has car sharing become more popular?
Many car journeys are essential, especially for those living in rural areas that are devoid of public transport or anyone travelling at odd times of day.
It means being able to enjoy the convenience of a car when you need it – but without the associated sky high ongoing expenses – makes sense to many people.
Then there's the congestion. Britain's roads are already packed and the government expects a huge influx of cars on the network over the coming decade.
In fact, traffic is forecast to grow between 17% and 51% from 2015 to 2050, according to the Department for Transport's Road Traffic Forecasts 2018.
Car sharing could be an effective solution to these problems.
How do car clubs work?
In a car club, vehicles can be rented out on a flexible basis, such as per hour or per day. This makes them ideal if you only need a car for a couple of trips each month.
According to Collaborative Mobility UK (CoMoUK), which supports shared transport, there are a number of variations on these themes:
"Peer-to-peer car-sharing enables people with underused vehicles to offer them for rent to their neighbours and other members of the local area."
Of course, you must check with your car insurance provider before you consider renting out your car or letting anyone else behind the wheel.
CoMoUK also highlighted 'one-way car-sharing', which is just starting in the UK. This enables members to pick up a car from a predefined zone and drop it off anywhere else within the zone.
Compare car insurance quotes
What are the benefits of car sharing?
Car sharing benefits the environment – and it could save you a small fortune.
Sharing a car means there's at least one less vehicle on the road, which means you're helping to reduce emissions and congestion.
And your petrol costs, insurance premiums and congestion charges could all be significantly reduced when more than one person is in the car.
According to Liftshare, the organisation set up to bring drivers and potential passengers together, members sharing their regular commutes save £1,000-a-year.
Liftshare even has an online calculator to help organisations work out how much car sharing could save their businesses.
How can I car share as a passenger or driver?
So, what are the options to car share in the UK? Well, the most obvious place to start is to chat with friends and work colleagues to see if your daily schedules and journeys match.
For example, many people from the same area attend the same clubs and night classes so it makes sense to cut costs by sharing a vehicle.
You could also explore the growing number of car clubs operating across the country. While they each work slightly differently, they all offer plenty of positives, according to the Energy Saving Trust.
It pointed out that cars in these clubs are, on average, newer:
"This means 43% less CO2 emitted from the tailpipe and more comfortable to drive."
These newer vehicles are also usually safer to drive. You might even have options for electric vehicles, as well as saving you maintenance costs, car tax and insurance. You just pay as you drive.
The Trust also suggested they help people remain active as they walk from their destination to pick up the club car:
"They are convenient and simple to use – book, turn up, drive and return."
What about car insurance for car sharers?
How car insurance works for car sharing depends on which definition of 'car sharing' you're using.
If you're taking other people to the same destination as you, then your standard car insurance policy should be all you need.
If any of your passengers intends to share the driving too, make sure you add them as a named driver to your policy. Or, they can get temporary car insurance to be able to drive your car.
If you have comprehensive car insurance, don't assume that you automatically get the 'driving other cars' feature. Not all policies have this by default.
How do I find a car sharing solution?
There are now plenty of car clubs operating across the country – and thousands of vehicles available for you to hire out when you need to make a journey.
CoMoUK has compiled a list of community car sharing schemes across the UK.
Remember to check the terms and conditions carefully to ensure there are no hidden expenses or liabilities. Reading reviews of people that have used different services is also worthwhile.
Here are some options that could be worth considering, whether you're:
Just looking for a lift

Wanting to fill an empty space in your car

Needing to book a vehicle for a journey
This enables you to fill empty seats in your car on a journey. If you don't mind company – and want to cut the cost of the trip – then this could be the perfect solution.
If you're planning to drive, you create a GoCarShare request by entering details of your journey on the site. Potential passengers can then get in touch.
Similarly, you can post asking if anyone has a spare seat – and listing how much you'd be prepared to contribute to the journey. You can sign up for the site via Facebook.
According to GoCarShare.com, there are currently 23,000 people sharing rides via the site that hail from places across the UK.
When we logged on, we found someone who could take you from Romford to Reading Festival in August for £10 one way or £20 for a round trip.
The site was created back in 2006 with the idea of turning wasted car capacity into a community-based travel network. It now has 100 million members around the world.
It's based around carpooling. Passengers pay VAT and a service charge when they book a seat on BlaBlaCar – but the driver gets the full amount they've requested.
The service fee is calculated from the price set by the driver. Passengers browsing carpool rides are shown the total price that they pay to book the ride before confirming.
These rides could be significantly cheaper than the train. For example, we found a driver willing to take us from London to Leeds in West Yorkshire for £22.50.
This was less than half the cheapest £46 rail ticket we found for the corresponding journey on the same date.
It has a large fleet of shared cars and vans in a number of UK cities. Once you've signed up, you're free to drive any vehicles. They can be reserved from as little as half an hour.
Membership gives you access to vehicles via a car sharing app 24/7, every day of the year. It also includes fuel and roadside assistance, as well as liability protection with an excess of £750.
The price of membership varies between regions – and the plan you choose. For example, the monthly fee to access car sharing in London is between £7 and £20.
Depending on the plan, subsequent car hire costs between £4.35 per hour and £6.39 per hour, with plans suitable for casual, medium, and frequent users.
There are also eco-friendly car options. For example, almost a third of Enterprise Car Club's fleet is either plug-in EV or hybrid.
The cost of renting a Zipcar varies depending on the plan you're on, the car sharing location, and the vehicle you've chosen.
Rates start from £5.50 per hour for a roundtrip and £14 per hour for Flex. To hire them for the day generally costs between £50 and £72. Van prices start from £9 per hour and £79 per day.
The UK locations currently listed by Zipcar are:
London

Bristol

Oxford

Cambridge
The service is also available across the United States and Canada.
For example, if you're looking to car share in Bristol, the basic membership doesn't have a monthly fee, but there is a £10 application charge. Driving rates are from £6.50 per hour to £59 per day.
The smart plan for Bristol, meanwhile, doesn't have an application fee, but costs £6 a month. This gives you access to cheaper driving rates from £5 per hour and £44 per day.
In order to get approved as a member, you need to have held your licence for at least one year and be aged at least 23 years old.
Also, you can't have had any major violations in the past three years or any alcohol or drug-related violations over the past seven years.
Can I car share during the pandemic?
Yes – it's still possible to share your car in the current environment, although it's important to adhere to the regulations. These might vary depending on where in the UK you live.
The government recommends you wear a face covering when travelling in a private vehicle with people that you don't usually meet.
It also suggests planning your route – along with any breaks – before setting out on your journey, as well as opening windows to let in fresh air.
Current advice is to check in using the NHS Covid-19 app at any places displaying an official NHS Covid-19 QR poster. This includes garages, petrol stations and motorway service areas.