Formula E: How racing technology is shaping cars on our roads
Technology being developed within Formula E - one of the world's newest and most exciting motorsports – is impacting the cars on our roads.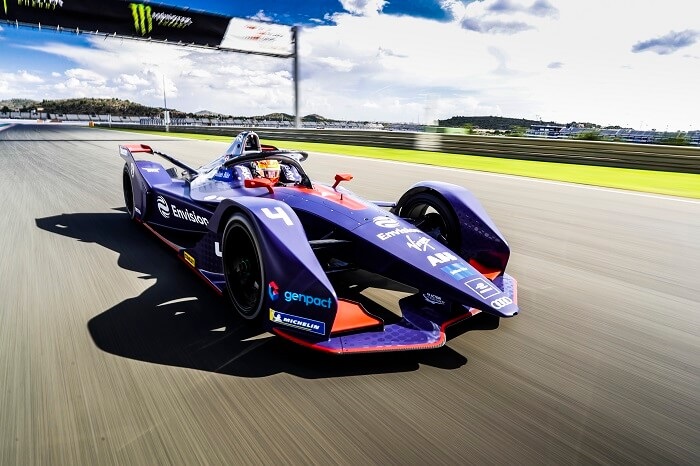 High-level motorsport has always been a way of testing new technologies for road cars.
Just look at how Formula One has ushered in a new era of powerful hybrid supercars based on the energy recovery system used in the sport.
Formula E is no different, and over the years it's been a way for manufacturers and technology partners to develop powertrains, battery technology and more.
A living laboratory
The reason the sport has been so popular with manufacturers is that it acts as a living laboratory for EV technology.
In fact, even successful racing giant Porsche has dropped out of Le Mans racing in order to put its efforts into Formula E.
Sylvain Filippi, managing director of the Envision Virgin Racing Formula E team understands how the sport is developing this kind of technology.
"It was created as a testbed for manufacturers to develop their electric technology at the highest level of competition," he says.
" - with that tech then filtering down into everyday electric road cars – just how other forms of motorsport have previously influenced and shaped petrol and diesel cars, only much faster.
"In just a short space of time – Formula E is only in its fifth season after all – we've seen a dramatic advancement in EV battery and software technology."
Improvements in battery life
Filippi continues: "To give you an example, in the early seasons of Formula E, drivers had to change cars mid-way through the race because the battery limitations meant we couldn't complete a full race distance (approx. 45-minutes) at racing speed.
"Now, for the current season, we have a brand-new car and battery, which can last the whole race and it's even quicker.
"That's an incredible timeframe and makes you wonder what the next five years will bring."
Not only has battery technology improved within the racing series but other technologies are being developed within the Formula E platform.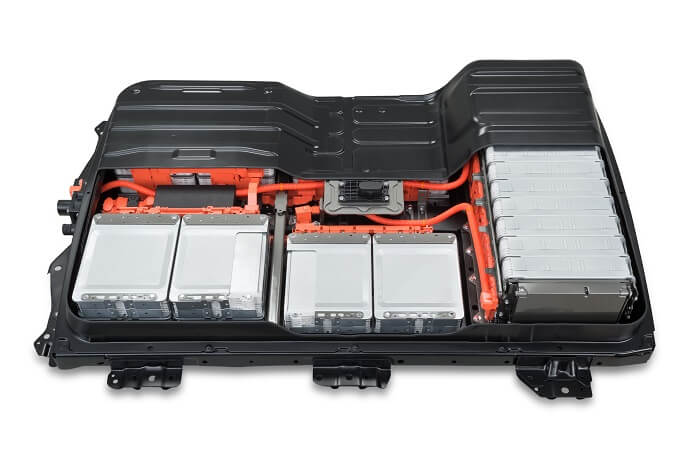 Battery from a Nissan Leaf electric vehicle
Filippi says: "Battery technology is already advancing massively but what the championship's governing body wants is for manufacturers to focus on the powertrain of an electric vehicle.
"That's essentially how the power is transferred from the battery, through the drivetrain and into the wheels, plus all the software needed to run it along the way.
"This is where some really clever technology is being developed to increase the car's efficiency to its maximum potential.
"In parallel to this, there are companies linked to Formula E looking at aspects like fast-charging and, of course, how we get the energy to charge the batteries in the first place."
Formula E batteries completed distance of Earth to the Moon
Williams Advanced Engineering is the technology and engineering arm of the Williams Group, which is most well-known for its Formula One team.
It's been the sole battery supplier to Formula E since the racing series started back in 2014.
The Williams-supplied Formula E batteries have now completed more than 240,000 miles, the same as a trip from the Earth to the Moon.
With this kind of data under their belts, it's no wonder Williams Advanced Engineering is using the knowledge it has gained from Formula E to help its manufacturing customers.
Read more: Electric cars: Pros & cons
'Sustainable future transport'
"We're proud to have played a key role in Formula E, taking the championship from its inception through to its position today as a globally respected, passionately supported racing series," said Craig Wilson, managing director of Williams Advanced Engineering.
"To have powered four seasons of racing, more than 240,000 miles in distance, at over 99.5% reliability and 100% safety is a major achievement for our team.
"In challenging circumstances on bumpy tracks and with racing collisions, the batteries have proven themselves both in terms of high performance and safety.
"These are lessons we will apply to the road with our automotive manufacturing customers, delivering sustainable future transport to the mass market, just as the founders of Formula E envisioned."
Formula E is a way for technology partners such as Williams Advanced Engineering, as well as manufacturers including Nissan, Jaguar Land Rover, Audi and BMW to develop new solutions for electric road cars.
Read more: Why an electric car could be right for you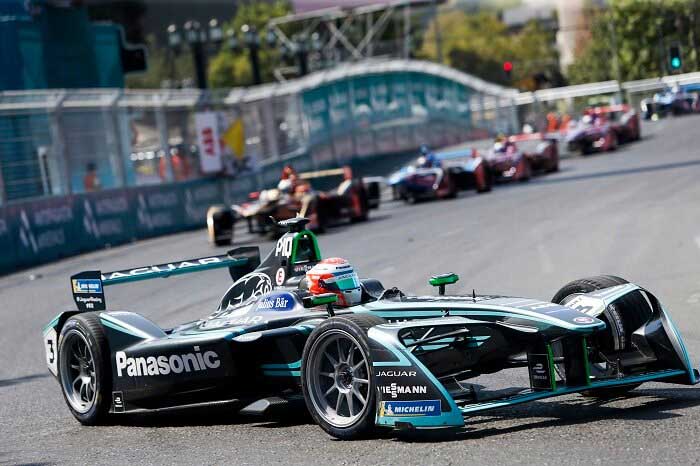 Jaguar Land Rover has used the sport to push the electrification of its entire range.
James Barclay, team director at Panasonic Jaguar Racing explains: "ABB FIA Formula E has been central to Jaguar Land Rover's move towards electrification.
"Jaguar was the first premium brand to enter the Formula E with the Jaguar I-TYPE, in 2016. From next year all new Jaguar Land Rover model lines will feature some form of electrification option."
Panasonic Jaguar Racing and the Jaguar Land Rover brand work very closely together to push the development of new technologies.
Barclay says: "We have Jaguar Land Rover engineers embedded within the Jaguar Racing team and there is a technology transfer which works both ways.
"The Formula E programme will generate tangible R&D benefits, with the technology developed and lessons learned on the race track helping to accelerate the electrification of future Jaguar Land Rover road cars."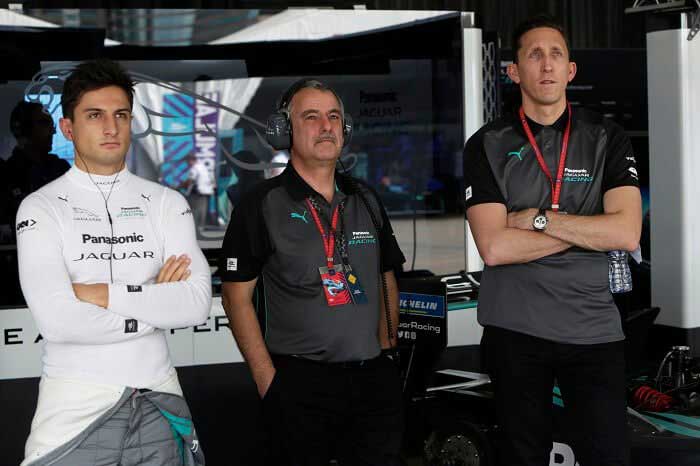 From left to right: Mitch Evans (driver), Gerd Mauser (chairman), James Barclay (team director) - Jaguar Racing
Changing perceptions
Not only will Formula E continue to develop the technology that we see in our road cars but it's starting to change perceptions of electric vehicles too.
A lot of people will look at these slick race cars and start to think that if they can enjoy electric racing, perhaps they can enjoy an electric car.
The sport is showing people that electric cars aren't boring or slow.
In fact, they're quite the opposite, especially with the instant torque provided by an electric motor.
As more and more electric racing series pop up, we're going to see more people come around to the idea of this electric future.
Read more: Is it time to ditch your diesel?
Formula E: 3 fast facts
For those either not familiar with the sport of Formula E or confused about how it works, here's a look at some of the ins and outs.
1. What is Formula E?
Formula E is the world's first fully-electric international single-seater street racing series.
It made its debut in 2014 and now consists of 11 teams and 22 drivers, with 13 races taking place in 12 cities across the world throughout an eight-month championship season.
We're now into the fifth season of Formula E. And host cities for the 2018-19 season range as far and wide as Mexico City and Marrakech.
2. How fast do Formula E cars go?
A Gen2 Formula E racing car has a top speed of 280kmh (174mph).
These cars are new to the 2018/19 season and have double the energy storage capacity of the previous Gen1 models.
With 250kW of power, the Gen2 will accelerate from 0-100kmh in only 2.8-seconds.
3. How many laps are in a Formula E race?
Races take place on street circuits across the world and track lengths differ, meaning the amount of laps done varies from race to race.
The Hong Kong E-Prix circuit featuring in the 2018/19 championship, for example, is 1.850km long, while the circuit in Santiago Chile is 2.4km.
One thing that all E-Prix races have in common is that they last for 45-minutes.
At the end of the 45-minutes, once the leader has crossed the finish line, there's one more lap to go until the race finishes.
Charging the car is forbidden during the race.