Classic car insurance
Compare quotes for your classic motor with Confused.com
Get a car quote
Free. Not freeish. Buy car or home insurance and choose a free gift with
Rewards
£20 fuel

£20 to spend

Up to

6 month Pass

£20 to spend
Single annual policy. Now TV 18+. Shell Go+ account required. Shell Go+ not redeemable in Northern Ireland. T&Cs apply.
Vintage and classic cars are more than just vehicles – they are a hobby, a passion, a treasure, which is why they often need specialised classic car insurance policies to protect them against damage and the increased risk of theft.
If your car is deemed a classic then you can often receive reductions in your policy price as:
The insurer generally presumes you will be doing less mileage in the car (though you will need to confirm this when you apply).
Most people who drive a classic car take care of it and maintain it to a higher standard. They may also store it in a secure location (again you will need to confirm this).
It's important to note that quotes you get from insurers through Confused.com will offer standard cover for the car at its current market value (which may be a lot less than its value as a classic), however some of the insurers we compare, do offer specialised classic car policies that cover the car for their true value as a classic (also known as agreed value cover).
If it is agreed value cover you're after, once you've got a quote, speak to your chosen insurer to see if you can add it to your policy. Adding agreed value cover to a policy could increase your premium and may incur additional charges, but can offer a level of cover tailored specifically for your car.
Depending on the insurer, you may also be offered the following additional cover options:
Breakdown cover
Legal protection
Laid up cover (for when your vehicle is off the road)
EU cover
Limited mileage discounts
If you're under any doubt, make sure to check the small print, including the cover value of your policy before you buy.
All pre-1960 cars are exempt from road tax, but many other factors are taken into account when determining if a car is a 'classic' – not just its age.
In the UK, there is no fixed age group that a classic car must fit into. For insurance purposes a classic car can be any car that is older than 15 years.
These are often known as modern classics, and can be considered as a classic car despite their age, e.g. a 1989 Volkswagen Golf GTI.
It's up to the insurer whether they class the car as a classic, which is why it's always good to compare a range of providers and prices.
There has been a long running debate on what qualifies a car as a classic, with many feeling that age alone is not enough. The Federation of British Historic Vehicle Clubs has outlined new guidance from the Department of Transport stating that a vehicle will be deemed historic with a 30 year threshold.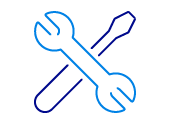 MOT, servicing & repairs
Find a cheap, reliable garage for your next service, repair or MOT. And save money!
You might also be interested in other insurance types