We're ready to pack our bags and get away in 2023. Unfortunately, going over your luggage allowance could lead to a hefty baggage charge. Every airline has a different baggage allowance too, which complicates things further.
Here's what you need to know about baggage allowances and some tips so you don't go over your baggage weight. We'll also look at what baggage is covered by your travel insurance.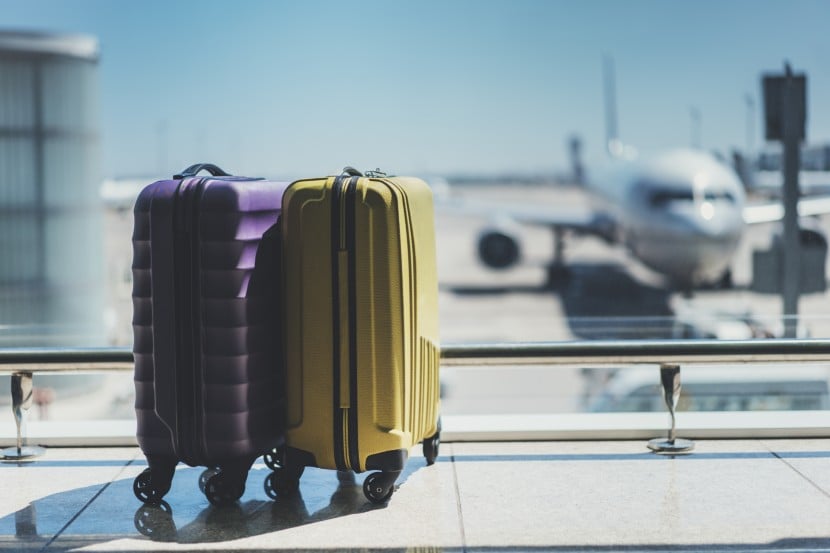 This article contains affiliate links. If you buy any products via these links, we may earn a small commission at no cost to you.
What is baggage allowance?
Baggage allowance is the amount of baggage you're allowed to take on the plane with you. Essentially, it's your baggage weight limit.
Your luggage is split into 2 types:
Hand luggage
Hold luggage
You keep hand luggage with you on the plane. It's also called 'carry-on' luggage or cabin baggage.
You're usually allowed 2 small bags as hand luggage. The first piece you stow away in the overhead compartment. Airlines usually specify dimensions for this and you must be able to lift it yourself.
The second piece of hand luggage must be small enough to fit under the seat in front - this could be a small handbag or rucksack.
Hold luggage is usually your biggest bag and goes in the plane's hold - it's also sometimes called 'checked' luggage.
You might get up to a certain weight free -this is usually around 23kg per passenger- but it varies between airlines. On some airlines, you can buy extra luggage weight if you think you're going to go over the limit.
Baggage allowance by airline
Airline

Hold luggage

Hand luggage

Can you pay for extra baggage?

10kg checked-in bag (55x40x20cm).

A personal bag (40x20x25cm)

A 10kg wheelie bag (55x40x20cm)

You can buy up to 20kg hold luggage.

23kg checked-in bag. Maximum total size must be under 275cm.

You must be able to lift it yourself. Dimensions must be 45 x 36 x 20cm (including any handles or wheels).

If you've booked extra legroom or more baggage, you can take on:

A large cabin bag with dimensions 56 x 45 x 25 cm including any handles or wheels. You must be able to lift this yourself.

You can buy up to a maximum of 32kg hold luggage.

23kg checked-in bag.

(90 x 75 x 43cm)

A small handbag up to 23kg (40 x 30 x 15cm)

A cabin bag up to 23kg (56 x 45 x 25)

You can pay £65 per overweight bag.

Bags over 32kg won't be accepted as checked baggage.

A small bag which you must be able to fit under your seat

A cabin bag up to 10 kg weight (56cm x 45cm x 25cm)

You can pay £12 per kg for baggage that exceeds your total weight allowance.

23kg checked-in bag.

(90 x 75 x 43cm)

A cabin bag up to 10kg weight.

Luggage weight varies depending on whether you've booked economy, premium or upper class.
What happens if my luggage is overweight?
For hold luggage, most airlines set a weight limit for single items of luggage. Usually, this is 23kg.
If your hold luggage is over and you haven't paid for extra, you might be charged. For example, Jet2.com charges £12 per extra kilogram.
But some airlines could refuse to carry oversized hand luggage. Ryanair refuses any luggage in the cabin that's over the allotted weight. In some cases, they charge a fee of £69.99 to store it in the hold.
Tips for not going over your luggage weight
Always read the small print of your booking information – this should give you exact information on weights and dimensions for luggage.

Choose lightweight luggage – older suitcases can sometimes be heavy due to the solid frames. Choose more modern luggage that uses tough but lightweight fabrics.

Book extra baggage allowance before you get to the airport – if you think you're going to go over your baggage allowance it's worth booking extra. It's likely to be cheaper than risking it and being charged.

Buy an extra seat – some airlines, like Ryanair, let you buy an extra seat for items that don't fit in with the luggage dimensions. For example, musical instruments.

Buy a luggage weight checker – weigh as you pack by getting a luggage weight checker. You can get these relatively cheap on Amazon
Check prices for luggage weight scales on Amazon
Are infants allowed luggage?
This varies depending on the airline and the type of ticket you get for your infant.
You could get them a discounted ticket, which means they sit on your lap throughout the flight. Or, if this doesn't sound appealing, you could pay full fare for them to have their own seat.
If your toddler is sharing your seat, they might have a smaller allowance, or in some cases no allowance at all. For example, Ryanair doesn't allow hand luggage for infants who travel in their parent's lap or in their own seat.
But the airline may allow a 5kg baby bag (dimensions: 45x35x20cm) that you can add to your cabin baggage allowance.
If you've bought your child their own seat, they should have the same allowance as adults. But it's always worth checking the T&Cs on your booking.
| Airline | Can infants have luggage? | Restrictions |
| --- | --- | --- |
| Ryanair | Yes | If you buy a separate seat for your baby, they're entitled to carry 1 small bag which must fit under the seat in front of you (40cm x 20cm x 25cm). There's no cabin baggage allowance for infants sitting on an adult's lap. |
| easyJet | Yes | Infants and children over 2 years old with booked seats have the same cabin bag and hold luggage allowance as adults. If your infant is seated on your lap, you can only take an additional baby changing bag (max. 45 x 36 x 20 cm). |
| British Airways | Yes | Infants under 2 years of age who have a plane seat booked are given the same baggage allowance as adults. If they don't have their own seat, an extra bag for in-flight essentials is allowed. |
| Jet2.com | No | Only children over the age of 2 have baggage allowance. |
| Virgin Atlantic | Yes | Children and seated infants get the same baggage allowance as adults. |
Some airlines might let you take a pushchair and 1 other item, like a booster seat or travel cot. Sometimes this is free of charge but it's always worth double-checking.
If you get a family travel insurance policy, your infant's baggage should be covered if their luggage gets lost, stolen or damaged.
What can you take in hand luggage?
You can usually pack liquids in your hold bag. If you need to take liquids in your hand luggage, they can't be more than 100ml. You also need to make sure they're in a clear plastic bag.
The bag must:
Not hold more than 1 litre of liquid
Seal, not tie – it must be able to fully seal with the liquids stored in it
Measure approximately 20 x 20 cm
Liquids include:
All drinks, including water

Soups, jams, honey and syrups

Creams, lotions, oils, perfumes, mascara and lip gloss

Shaving foam, hairspray and spray deodorants

Toothpaste

Hair and shower gel

Contact lens solution

Any other solutions and items with a similar consistency
You can find the full list on GOV.UK.
Remember that you're limited to 1 plastic bag per person and you must show the bag to security.
You should be able to take liquids with you on the plane if you've bought them at the airport. For example, in duty-free. You must keep a receipt for these and keep them sealed in the airport's security bag.
You're allowed to take some liquids in your hand luggage if they're:
For essential medical reasons

For special dietary requirements

Baby food or baby milk
Is my baggage covered under my travel insurance?
Travel insurance policies cover baggage as standard. So, if your baggage is lost, stolen or damaged by accident you should be able to claim for it on your travel insurance.
You could claim from the airline instead if your cabin baggage is damaged and it was their fault. The airline might cover basic costs, for example:
Bare essentials, like toiletries and underwear
Some of the cost of replacing your luggage
Although you can claim from the airline, you might not be able to claim for as much as you could on a travel insurance policy.
For example, if you claim from the airline, they might pay up to £1,000 to cover the costs of your baggage. With a travel insurance policy, you might be able to claim between £1,500 and £2,000.
Make sure you check the details on your travel insurance policy. Some insurers might impose single-item value limits - for example between £200 and £300 per item.
Others might charge an excess. This is an amount you pay when you claim on your travel insurance policy. This can be up to £80, sometimes more.
But the main benefit of travel insurance is that it's often easier to claim for your luggage compared to claiming through an airline.
Travel insurance also covers you if:
Your luggage is lost or stolen

Your airline goes bust
Confused.com is a participant in the Amazon EU Associates Program, an affiliate advertising program designed to provide a means for sites to earn commission incomes by advertising and linking to Amazon.co.uk.