Buy car insurance and choose a freebie with Confused.com Rewards
Free recipe box

12 free car washes

£20 to spend

£20 to spend
Single annual policy. HelloFresh 18+ subscription service, geographical exclusions apply. T&Cs apply.*Based on data provided by Consumer Intelligence Ltd, www.consumerintelligence.com (May '21). 51% of car insurance customers could save £254.30**Must be a like-for-like policy T&Cs apply
Take the confusion out of car insurance
As the UK's first and longest-running comparison site, we're dedicated to saving you money, and we've got lots of experience in helping out drivers like you. We work hard to find you our best car insurance quotes with no fuss or confusion. If you're a new or existing customer, getting a quote is easy and takes about 5 mins.
Looking for a little extra? Confused.com Rewards is our way of saying thanks. You'll get to choose a free gift when you buy your car insurance through us, and when we say free, we mean free!
Don't worry if you've already had your renewal offer. It doesn't take long to get a new quote and you could save up to £254*. We even guarantee to beat your renewal price**, and if we don't, we'll pay you the difference, plus £20!

Fill in your details
You'll need to tell us some details such as type of car, postcode and job

Compare quotes
We'll compare up to 120 car insurance companies to help find you the best price

Choose your insurer
We'll show you a list of quotes and offers from companies. Simply choose the best option for you
What details do I need to compare quotes?
Get a car insurance quote in minutes and if you've used us before, it's even quicker than that. Having the following details at hand can speed things up:
Most of the details you'll need will be in your recent car insurance documents. They'll also show any no-claims bonus (NCB) you have that could give you a discount on your insurance. Had a quote with us before? Log in and review your saved details to make things quicker.
What level of cover should I choose?
There are three main levels of car insurance to choose from but it's worth comparing prices as the lowest level isn't always the cheapest option.
We've explained the three main levels of cover in our guide.
What are the different types of car insurance available?
A standard policy will usually cover a single car for 12 months. But, depending on your needs, other types are available. These include:
Car insurance classes of use
When getting a quote, you'll also need to tell us how you use your car. There are 3 options:
Find out more in our guide to car insurance classes of use.
How can I get cheap car insurance?
The easiest way to get cheap car insurance is to compare prices. The average comprehensive policy now costs £538 a year***, so it's more important than ever to shop around.
There are a few things you can do that could help you pay less for your car insurance:
Car insurance policy features (add-ons)
Once you've got your quote, it's also possible to include a selection of add-ons or extras for added peace of mind:
Motor legal protection could help you recover certain uninsured losses that aren't covered by your own car insurance policy, if you're involved in a road accident that wasn't your fault. It's also sometimes known as legal cover.
Breakdown cover could help you get back on the road as quick as possible. There are a range of levels to choose from including local recovery, national recovery and European cover.
Courtesy car can keep you on the road while your car gets repaired after an accident.
Windscreen cover for repair or replacement of your windscreen following an accident.
Personal accident cover can provide extra cover against injury and/or death caused by an accident.
You may find some insurers include these add-ons as standard on their policies, so check the small print to see exactly what's covered. If there are any extras you're particularly interested in, it's easy to choose an add-on once you've got a quote. We'll then recalculate your prices to show policies that include it.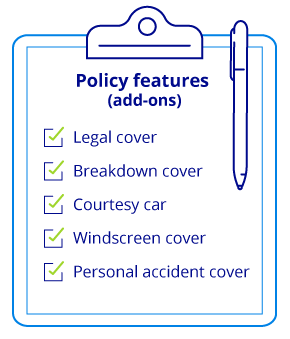 How much does car insurance cost?
The average price for an annual comprehensive car insurance policy is £538***. That's a £87 drop over the last 12 months.
That price is an average of lots of quotes. Your price will vary - it's based on many factors like your age, where you live and the car you drive. Find out more about how car insurance is calculated.
But, despite the drops, some drivers are still seeing an increase at renewal time. Now is the time to shop around and compare your best prices.
Interested in how prices for your region, age or gender have changed? Take a look at our price index calculator to get an estimated cost on your car insurance.
***Price based on the Q1 2021 Confused.com car insurance price index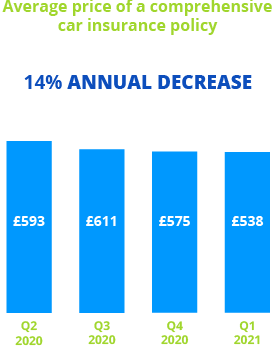 What our expert says:
"Don't settle for your insurer's renewal offer. Take just five minutes to compare prices with us and you could save £100s. If you're organised, you'll usually see your cheapest price about 3 weeks before your insurance is due."

What our car insurance customers think
"Amazing, always have been. So good with finding the best price. Don't use any other site."

"Easy to use. I always get the best price using Confused.com out of all the comparison sites."

"So quick and easy to use and always find amazingly cheap car insurance."

After buying
car insurance
,
96%

of Confused.com customers would recommend us (based on

73113

Reviews.co.uk respondents - as of 09/06/21). Read our reviews