From using a rebuild cost calculator, to working out the square metres of your property, here's what you need to know about calculating your rebuild costs.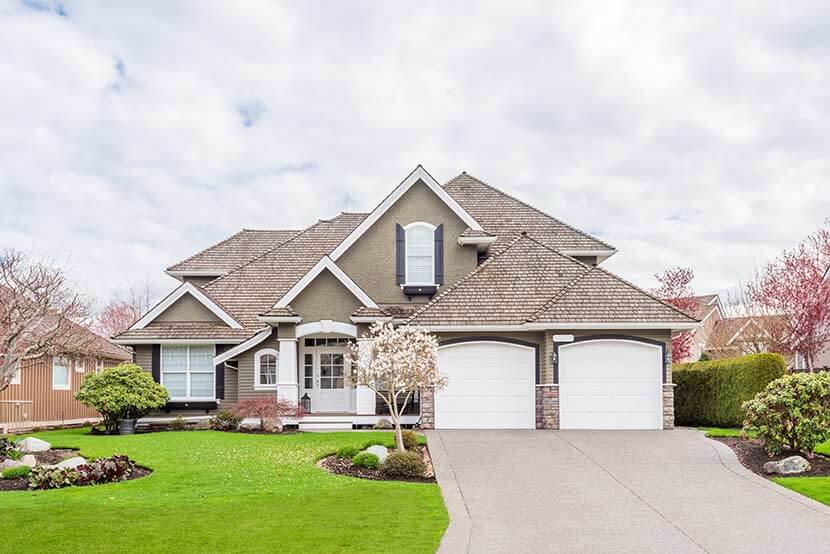 Why do I need to know the rebuild cost of my home?
It might seem unlikely but there's always a chance that your home succumbs to a serious fire, flood or storm.
The latest government figures reveal more than 60,000 dwellings were affected by a fire in 2020.
This could mean you'd lose all of your property either as a direct result of the fire, or through the efforts of the Fire Service to tackle the blaze.
Likewise, around five million people live in a flood-risk area. Many of those caught out by a flood see their property destroyed.
And the structure of their home is often too severely damaged to be repaired.
For this reason, it's essential to know the rebuild cost of your home when you come to buy home insurance.
Having an accurate figure can help make sure you've got the right amount of insurance cover.
This is important because, in the unfortunate event that your home requires a complete rebuild, you could be left to cover any difference in price.
Compare home insurance quotes
What is the rebuild cost of my house?
As the term suggests, the rebuild cost is the amount you'll need to build your house again from scratch following a calamity, such as fire or flood.
To achieve this, usually the price of labour and materials needed to build a like-for-like house on your land are considered.
Survey costs, service installations, such as plumbing and electrics, as well as demolition and debris removal are all factored in to the total cost.
Why will the house rebuild cost differ from the market value?
The final sum is usually below the market value of your home. In other words lower than the amount you'd expect to get if you were selling it.
This is because factors such as the land, location, school catchment area and supply and demand are takeninto account under normal conditions.
Clearly there won't be any one-size-fits-all answer to the question of how much it'll cost to rebuild your house from the foundations up, as this'll depend on the type of property.
For example, a terraced house might come in at a different price from a detached one. Home improvements, such as a roof extension, could also add to the cost.
Age plays a role in the cost too, with large ornate Victorian properties costing more to rebuild that a modern pad.
How much will it cost to rebuild my house?
You could get a rough idea about how much it would cost to rebuild your home from:
The deeds to your home

Your mortgage valuation report

Your buildings insurance renewal policy documents

The surveyor's report when you bought the place.
But these may not hold the most relevant or up-to-date information. For this reason, it's best to select one of the two following options:
Use the rebuild cost calculator
You could use the Royal Institute of Chartered Surveyors (RICs) Building Cost Information Service (BCIS).
This should provide a rough estimate of the rebuild costs based on information you type into the BCIS calculator.
You'll need to register to use the calculator, but it's free, and draws on years of expertise from RICs members.
Hire a surveyor
You could use a chartered surveyor specialising in rebuild costs. This could cost a few hundred pounds, but the surveyors assessment should be as accurate as you can get.
This is because the surveyor will visit your home in the process of drawing up the report and calculating the rebuild cost.
A surveyor is especially important if you have a non-standard property, such as one with a thatched roof.
Or if a large portion is made from timber or another less-common material. These, and listed or historical buildings aren't covered by the BCIS rebuild calculator.
How much does it cost to build a 3-bedroom house?
As we mentioned earlier, there's no way to establish the rebuild cost of a house unless you do some research or employ a specialist, chartered surveyor.
However, according to research from CheckaTrade a ballpark figure for the average cost to rebuild a three-bed house is £198,000.
How to measure your house in square metres
This three-bed house rebuild cost is just a rough estimate. There are so many factors that come into play when making the rebuild calculation, not least your property's footprint.
If you use the rebuild cost calculator, you'll need to know the size of your home.
This is because it establishes how many bricks and other materials might be required to rebuild it, and the length of drainage and pipe runs.
If you use a chartered surveyor they should undertake the measuring-up task.
A step-by-step guide to calculating the size of your house in square metres
To give yourself an idea of the floor area of your home, do the following:
Go outside and measure the length and width of each of the ground floor walls

Multiply each of your measurements together for the required ground floor total.

If the upstairs is identical to the downstairs, just double the ground-floor area.

If it isn't, do your best to calculate the upstairs separately.

Look at any plans or deeds for the property if they are to hand. Or measure the external walls from inside the property, adding the thickness of the external wall and any partition walls.

Add your first-floor measurement to that for the ground floor to get the total.
Armed with your calculation, you'll be ready to use the rebuild cost calculator.
This should give you a rough guide on the rebuilding cost per square metre, and the total cost for your property.
How to calculate the rebuild cost of a flat or maisonette
You usually don't need buildings insurance if you live in a flat or maisonette.
But, as most flats are leasehold, a management company or building owner might already have buildings insurance in place.
This doesn't mean it's free, as you'll pay for it via service charges.
It goes without saying to get buildings insurance if someone else hasn't already bought it and if your mortgage lender requires it.
While the freeholder should probably have paid for buildings insurance, it's increasingly common for leaseholders to club together and buy their own.
If you're asked about this option, consider it as it'll better ensure you get the right cover for the right price.
If you need to work out the rebuild cost, bear in mind that construction methods and materials are different for flats.
So, if you own a flat or maisonette, it could be best to let the surveyor do the work instead of using a calculator.
Will my rebuild cost change if I renovate my house?
If you make any structural changes to your house, such as a new extension or a loft conversion, these are likely to affect the rebuild cost.
If the rebuild cost increases without your buildings insurance premium rising to match, you could end up underinsured and left to cover the difference if anything happened.
Therefore, it's important to contact your buildings insurer as soon as possible to let them know what work you're having done to the structure of the property.
They'll probably adjust your premium, as structural renovations might bump up the rebuild costs.
If you don't let them know, you risk not being covered for the improvements you paid for to add extra value to your home.