When you get a home insurance quote, we can estimate the rebuild cost of your home. But how do you work it out yourself?
From using a rebuild cost calculator, to working out the area of your house, here's what you need to know about calculating your rebuild costs.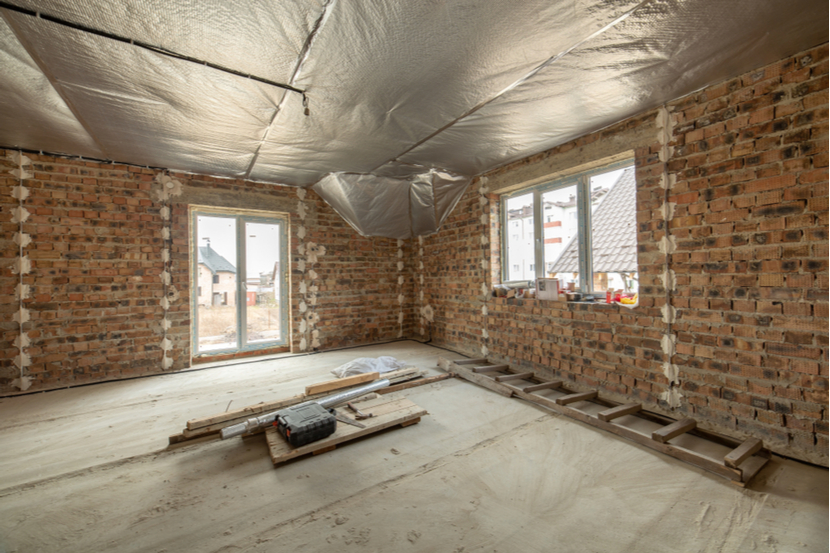 What is the rebuild cost of my house?
The rebuild cost of your house is the amount of money you need to rebuild it from scratch if it was destroyed by a calamity such as a fire or flood. It isn't the amount you paid for it, or even its current market value.
This means your rebuild cost needs to consider the price of labour where you live, as well as the cost of materials. It should also include:
Survey costs
Plumbing
Electrics
Costs associated with the demolition and clearing of your old property
Why do I need to know the rebuild cost of my house ?
If your home was damaged beyond repair in a flood or fire, your home insurance should cover the cost of building your home. This is why your insurance company asks you for a rebuild figure when you get a home insurance policy.
It's important this figure is accurate to ensure there's enough cover for your home to be rebuilt.
Your home's rebuild cost is just one factor that goes into how much cover you have. Find out how to make sure you've got the right amount of insurance cover.
In 2021-22, there were 26,959 dwelling fires across Great Britain, according to government figures. And around 5 million people in England live in flood-risk areas, according to the Environment Agency. When houses are seriously flooded, the damage might be beyond repair.
Compare home insurance quotes
Why does the house rebuild cost differ from the market value?
The actual cost to rebuild a house is usually less than its market value - the amount you might get if you sold it. This is because there are other factors are likely to have a significant bearing on the amount somebody is prepared to pay for your house. These include:
The land it sits on
Its location
Nearby school catchment areas
Different types of property cost different amounts to rebuild. For example, a terraced house might come in at a different price from a detached property. Home improvements, such as a loft conversion, could also add to the cost.
Age also plays a role in the cost, with ornate Victorian properties costing more to rebuild than modern homes.
And if you live in a listed building, there are extra costs to ensure any rebuilding work is done with period-appropriate tools and techniques.
How much will it cost to rebuild my house?
You can get a rough idea about how much it would cost to rebuild your home from:
The deeds to your home

Your mortgage valuation report

Your buildings insurance renewal policy documents
But these might be out of date, so if you're being cautious it's worth considering a new rebuild figure.
How to work out the rebuild cost for insurance
There are 2 methods you can use to calculate your home's rebuild cost. They vary in price and complexity, depending on your circumstances:
Using a rebuild cost calculator
Hiring a surveyor to work it out for you
If you want to use a rebuild cost calculator, you need to work out the size of your property in square metres.
If you decide to use a surveyor, you need to pay to get an assessment of your home's rebuild cost. The costs vary depending on your location.
Is there a rebuild cost calculator?
You could use the Royal Institute of Chartered Surveyors (RICS) Building Cost Information Service (BCIS).
This should provide a rough estimate of the rebuild costs based on information you type into the BCIS calculator.
You need to register to use the rebuild cost calculator, but it's free, and draws on years of expertise from RICS members.
The calculator asks you for details about your house such as:
Your property type
The approximate age of your home
The number of rooms
The type of roof and walls
The external floor area (you can put this in as square feet or square metres)
Can I hire a surveyor to calculate the rebuild cost?
You could use a chartered surveyor specialising in rebuild costs. This comes at a price, but the surveyor's assessment should be as accurate as you can get.
This is because the surveyor visits your home in the process of drawing up the report and calculating the rebuild cost.
A surveyor is especially important if you've got a non-standard property, such as one with a thatched roof. Or if a large portion is made from timber or another less-common material.
These, and historical or listed buildings aren't covered by the RICS rebuild calculator. The RICS has a useful tool to find a surveyor near you.
What's the average rebuild cost of a house?
A key factor in your rebuild cost is the size of your house.
According to NimbleFins, the average cost of rebuilding a 3-bed semi-detached home in the UK is now around £296,000. This is an increase of 21% compared to 2021.
Bigger houses naturally cost more to rebuild than smaller ones. But it doesn't necessarily mean that the cost to rebuild a house that's 2,000 square feet is double than a house 1,000 square feet. This is particularly true in houses with multiple stories as there's still only a single roof and one foundation.
Take the example of St Austell in Cornwall. A home that measures 1,000 square feet would have a rebuild cost of £237,000, according to Nimblefins. A 1,400 square feet house would cost £295,000 to rebuild, rising to £395,000 for a 2,000 square feet property.
However size isn't the only factor to consider. There's significant variation in regions across the UK, in particular as a result of differences in the costs of labour.
What's the average rebuild cost of a house by region?
| Location | Region | Average rebuild cost |
| --- | --- | --- |
| Durham | North East | £269,000 |
| Leeds | Yorkshire and Humber | £269,000 |
| Birmingham | West Midlands | £280,000 |
| Peterborough | East of England | £280,000 |
| Derby | East Midlands | £280,000 |
| Manchester | North West | £284,000 |
| St Austell | South West | £295,000 |
| Guildford | South East | £332,000 |
| Wandsworth | London | £373,000 |
*Based on a 1,400-square foot house, NimbleFins. Figures correct as of 2 January 2023.
How to measure your house in square metres
If you use the rebuild cost calculator, you need to know the size of your house.
This is because it needs to work out how many materials would be needed to rebuild your home, including:
Bricks
Length of drainage
Pipe runs
If you use a chartered surveyor they should undertake the measuring-up task for you.
To give yourself an idea of the floor area of your home, do the following:
Go outside and measure the length and width of each of the ground floor walls.

Multiply each of your measurements together for the required ground floor total.

If the upstairs is identical to the downstairs, just double the ground-floor area. If it isn't, look at any plans or deeds for the property if they're to hand. Or measure the external walls from inside the property, adding the thickness of the external wall and any partition walls.

Add your first-floor measurement to that for the ground floor to get the total.
With this calculation, you're ready to use the rebuild cost calculator.
This should give you a rough guide on the rebuilding cost per square metre, and the total cost for your property.
How to calculate the rebuild cost of a flat or maisonette
You usually don't need to buy buildings insurance if you live in a flat or maisonette - that's normally the responsibility of your landlord.
But, as most flats are leasehold, a management company or building owner might already have buildings insurance in place.
While the freeholder should probably have paid for buildings insurance, some leaseholders get together and buy their own.
If you need to work out the rebuild cost, remember that construction methods and materials are different for flats. For this reason, it's usually best to let the surveyor do the work instead of using a rebuild cost calculator.
Will my rebuild cost change if I renovate my house?
If you make any structural changes to your house, such as a new extension or a loft conversion, the rebuild cost of your house is likely to go up.
This means you should tell your buildings insurance provider about any extensions or structural changes you make to your house. If you don't, you might end up under-insured with a rebuild cost that's too low.
It's likely that the cost of your buildings insurance could go up if you make major changes. But at least if your home is ever damaged beyond repair, your policy should cover the full cost of rebuilding it.
What happens if I underestimate or overestimate the rebuild value of my home?
If you mis-calculate and your rebuild value is lower than it should be, or you forget to tell your insurer of a recent extension, you risk not having enough cover.
That means if your house ever does get completely destroyed, your insurer isn't able to cover the full costs of the rebuild. You might have to pay the rest of the bill yourself, which could end up being expensive.
Or, if you overestimate the rebuild value, you're paying too much for your cover needlessly.
This is why it's important to get an accurate figure so you can buy a policy that suits your needs and your budget.