Driving in Romania
Enjoy the scenery and history of this Eastern European country.
It's more than just the crossroads of Europe. With medieval architecture, stunning views and warm summers, there's plenty to explore.
Impact of Brexit on driving abroad
The UK is no longer part of the EU.
We're now in a transition period until the end of 2020 while the UK and EU carry out negotiations.
Until then, the current rules for driving abroad won't change.
For more information on travelling in 2021 and beyond, visit GOV.UK.
Hit the road
Of the 200,000 km of roads in Romania, little more than 30% are paved and there's less than 500 km of motorway.
As a result, there are fewer than four million cars in a country slightly smaller than the UK. Just keep an eye out for the horsepower - horse-drawn carts are commonplace.
Star drive
Think of Romania and Transylvania and Dracula are likely to come to mind. But one of the most popular and enjoyable areas to visit is the 'Romania Riviera'.
Over 250 km of coastline along the Black Sea offers fine beaches, spectacular drives and soaring temperatures in the summer.
Follow the E87 from Mangalia in the south to Tulcea in the north and you'll have a serious suntan to show for it.
Best of the rest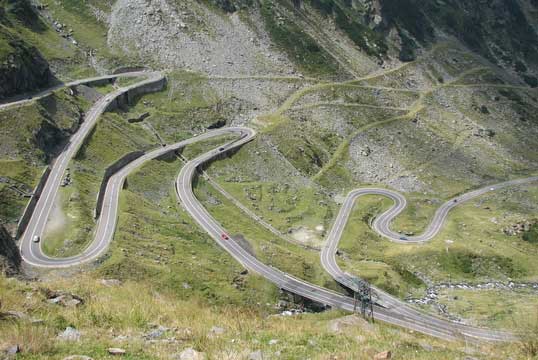 Romania shares the largest mountain range in Europe with some of its neighbours - Hungary, Serbia and Ukraine.
The Carpathians stretch in an arc of almost 1,000 miles, with peaks of over 8,000 feet in the Romanian areas. The city of Braşov is at the heart of them.
Swap one car for another and take the cable car to the top of Tâmpa Mountain for a beautiful view over Braşov. From there, head to Bran Castle to check out Dracula's home.
If you're feeling active, Prahova Valley – just 100 km from the capital city of Bucharest - offers excellent skiing.
Laws of the land
The minimum age for drivers is 18.

All occupants must wear seatbelts if fitted.

Children under 12 may not travel in the front of a car unless the car is a two seater.

Use dipped headlights outside built-up areas in daytime, and use them at all times if you're on a motorbike.
Be wary of the zero drink drive limit if you're driving through Romania. You can have your licence taken away for 90 days, or even end up in prison - not exactly an ideal holiday!
It's against the law to drive a dirty car in Romania. So, if you've decided to drive rather than fly, give it a quick once-over before crossing the border.
Local knowledge
When driving in Romania you'll need the following:
Full driving licence

Proof of ownership (V5C Certificate)

Proof of insurance or green card

First-aid kit

Fire extinguisher

Red warning triangle

Fluorescent jacket
You'll also need a 'Rovinieta' – a road tax disc – compulsory for both residents and visitors. They can be picked up at the border and most petrol stations.
If you can't show evidence you bought one when you leave, you could land a fine of up to €4,000.
Find more information about travelling to Romania by visiting GOV.UK's foreign travel advice.
Romanian speed limits
Road type
Speed limit
Residential areas
50 km/h
Built-up areas
50 km/h
Outside built-up areas
90 km/h
Dual carriageways
100 km/h
Motorways
130 km/h
Limits are reduced by 10 km/h if towing and by 20 km/h if you've held your licence for less than a year.