Hiring a tradesperson: 5 simple steps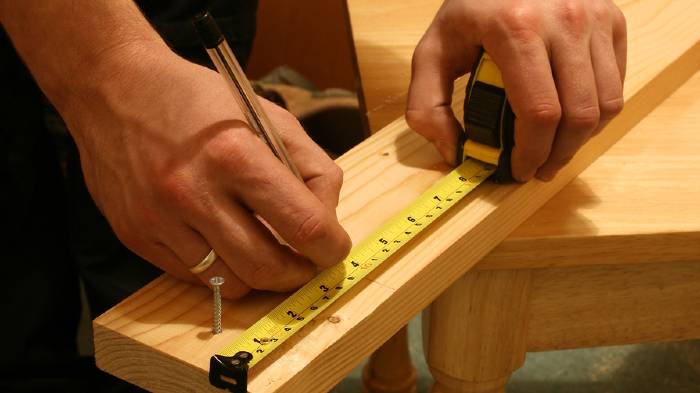 Are you getting work done on your property? Take a look at our top tips to help things run smoothly.
Finding a tradesperson is a tricky task.
You want someone who will get the job done to a high standard at a fair price. And that's difficult to work out from a short advert.
The current global situation adds another element of uncertainty too. Are you even allowed to hire a tradesperson right now?
It's a lot to work out, so where do you start? Follow our tips and you'll find a reliable tradesperson in no time.
What are your tips for finding a good tradesperson? let us know in the comments box below.
READ MORE: DIY - what to tell your insurer about
Tradespeople and coronavirus
You can still get a tradesperson to carry out work on your home during the pandemic.
But before you do, ask yourself if the job is essential. Is it stopping you from getting on with important daily tasks? Will you be in danger if it's not completed? If the answer to these questions is yes, look into getting a tradesperson.
But before they start, check what measures they're putting in place for social distancing.
The company should always maintain a two-metre distance and wear PPE (personal protective equipment). They should also outline what they're doing to monitor the health of their staff.
For bigger companies you should be able to find their response to coronavirus on their website. But for smaller companies you may have to ring and ask.
If you're shielding, you should avoid any non-essential work on your house. But if it's an urgent repair - like a problem with plumbing, gas or electricity, or anything dangerous - talk to your chosen tradesperson about your options.
If you have coronavirus symptoms you shouldn't let a tradesperson into your home.
1. Finding a tradesperson
Getting recommendations from family and friends is usually a good place to start.
Or you could try looking on sites like Trustatrader, Checkatrade and Ratedpeople. But, it's still important to trust your instincts and do your own checks.
It's also worth looking for tradespeople who belong to trade associations approved by the government-endorsed TrustMark scheme.
And if you're still struggling, speak to your local authority about assured trader schemes managed by Trading Standards Services.
READ MORE: Monthly maintenance checks for your home
2. Check references and get quotes
When you speak to your tradesperson, get at least three different quotes to compare. You'll be able to draw up a shortlist and decide.
Always ask for references too. If you can, ask to see examples of their work or try talking to previous customers.
Don't accept an estimate when discussing the cost, always insist on a written quote. This should include an on-site assessment of the job, as well as the cost of labour and materials.
Once you've accepted a quote, you need to ask for a written contract covering the work itself, the price, and the start and finish dates.
For your own peace of mind, you could always draw up your own contract. Most insurers will help you draw up a small-scale building contract, which will state costs, timescales and any penalties for not delivering the work.
READ MORE: What is buildings insurance
3. Find out if you're covered
Even with the most experienced and skilled contractor, things can go wrong.
Make sure you check that they have their own liability insurance, in case they cause any damage.
You'll also need to check your own home insurance policy to make sure everything is covered.
There's more risk of a break-in if the work has left the property open. The same applies if it's uninhabited while the work is being done.
If you have to take action against a rogue trader, legal cover will take care of any associated costs. So it's worth considering if it's not already on your policy.
It could also cover costs if a tradesperson takes action against you for an incident involving your property.
If you're having any building work carried out, you may have to let your insurer know so you don't accidentally invalidate your policy.
This is especially the case if you're not at home while the work is happening.
READ MORE: How to calculate the rebuild cost of your home
4. Agree a payment plan
A tradesperson may ask you to pay a deposit upfront. Don't ever pay the whole amount of money at the outset.
Less reliable tradespeople are known to ask for upfront cash payments, so be careful.
Work out a suitable stage payment plan which both you and the builder are happy with.
It's always best to pay for segments of work once they're completed. That way, you can check the standard before parting with your money.
You should've already agreed an overall price. But sometimes things can crop up that will mean paying out a little more than you first agreed.
To make sure you're not getting overcharged, make sure that all labour and material costs are well-documented.
Ask for VAT invoices, get a signed receipt for every payment you make, and keep all the paperwork for your records.
If possible, pay by credit card as it can provide extra protection if someone breaches a contract or if a firm goes bust.
Look out for tradespeople who try to set a daily rate rather than a fixed rate for the whole job. This can sometimes be an incentive for the job to overrun.
READ MORE: Saving money with a burglar alarm
5. Check the quality
Before you make any final payment, make sure you're satisfied the work has been carried out properly and that it meets the terms of the contract.
It's unlikely that your home insurance will cover you for any damage caused to your home as a result of shoddy work or faulty materials. So make sure that any work is done to a high standard.
READ MORE: How to deal with shoddy workmanship