So you've saved for your deposit, you've compared your mortgage options, and you've exchanged contracts.
It's now time to move home. As exciting as it is, it can also be stressful as there seems to be an endless list of things you need to get prepared.
That's why we're here to help take the stress away, with your very own checklist, to make the move a lot smoother.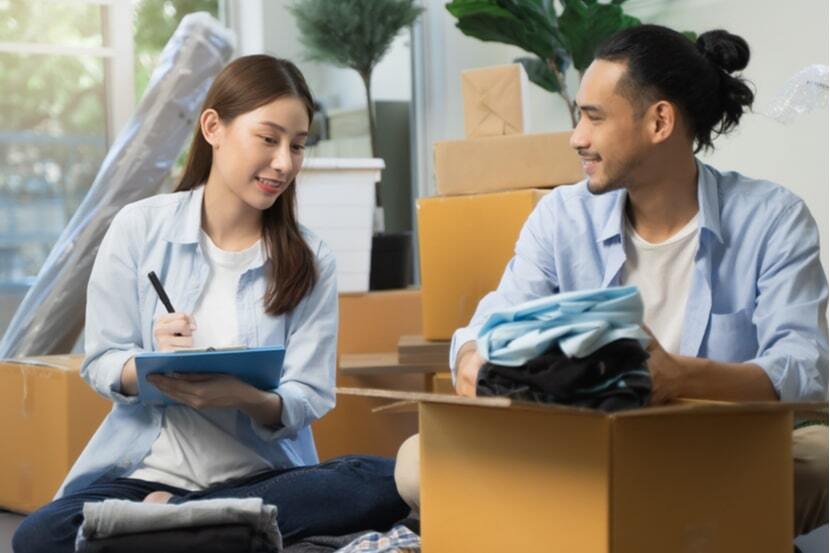 Things to do when moving house
1. Notify work and schools
When you're in the early stages of planning your home move, say 2 months ahead, book sufficient time off work on both sides of moving day.
If you have children and you're moving to a new area, you also need to apply for a new school. Make sure you check that all the paperwork is in order for this.
You should let the old school know that your child is leaving too.
If your children attend a private school and they're moving somewhere else, you usually need to give a term's notice. If you don't, you may have to pay for the following term as well, even if they're no longer attending.
2. Declutter what you don't need
It's a good idea to start decluttering in the early planning stages of your move. The more you can get rid of now, the less you have to sort out when you get to your new home.
You can take old clothes, toys and general items to the charity shop.
Certain charity shops even take bigger items, such as furniture or electrical goods. What they're not interested in can go to your local recycling centre.
You can also sell your second-hand items through online marketplaces such as Facebook Marketplace, Gumtree or Vinted.
3. Book a removals company
Ideally you want book the removal company and order some packing boxes between 6 and 8 weeks prior to your move.
Removal companies can usually be relatively flexible if you need to change the exact moving date later.
If you need to look into self storage, it's also worth doing this about 2 months before the move.
4. Confirm your moving dates
The earlier you can confirm your moving dates, the better.
If you're buying or selling a house you may need to start off with an approximate date and plan around that.
If you're buying a property, then completion day is typically between 7 and 28 days after your solicitor exchanges contracts. This is when you get your hands on the keys to your new home.
5. If you're renting, give appropriate notice to your landlord
If you're renting, you should ideally have your moving date confirmed before you give the usual 4 weeks' notice to your landlord or letting agent. This depends on the wording of your rental agreement.
If your move-in date is delayed and you need to stay a little longer, you can explain this to the landlord in writing. Give your landlord the new date of when you expect to leave.
6. Make sure you have the right level of home insurance before you move house
Contents insurance is designed to cover the contents of your home against loss, damage and theft.
If you're buying a property, you also need buildings insurance so the property itself is covered against damages from a fire, flood or subsidence.
You can also choose home insurance policies that combine both contents and buildings cover.
You should make sure your new house is covered by your home insurance policy from the day you move in.
If you're buying a property and want to be extra cautious, you can set the policy to start from the day you exchange contracts.
It's worth comparing home insurance quotes for your new home so you get a good deal. Once you've moved out of your old house, don't forget to cancel the home insurance policy on that property.
Compare home insurance quotes
7. Pack everything and label the boxes
Most people choose to do their packing themselves, but you can ask removal firms to do it for you. In any case, removal firms should normally supply as many flat cardboard boxes as you need along with the packing tape to make the boxes up.
Once you've sealed the boxes, label them with the room you want them to be in and a brief description of the contents.
Doing this makes it much easier for you if the removal team can take each box to the right room in your new home on removal day.
Make note of any boxes that are heavy, fragile or contain any high value items.
You may also want to get quick access to certain items once you've arrived at the new house – you don't want to have to open 8 different boxes before you find the TV controller.
8. Keep important documents safe
You should think about keeping documents safe as your move approaches. This includes:
Birth certificates
Contracts
Pension records
Passports
The last thing you want is for critical paperwork to get lost or perhaps mistakenly thrown away in the move.
It's worth considering a safe box to keep all your important documents and ID safe.
Who to notify when moving house
1. Royal Mail
Forgetting to use the Royal Mail redirection service could mean you miss important mail.
You should try to change as many addresses as possible quickly, but if you forget any then the Royal Mail redirection is your backup.
It's a temporary service, so you still need to make all the address changes in the end.
You can choose between a 6 and 12 month redirection service and even redirect mail overseas.
2. Banks and insurers
It's important to change your address details with banks, building societies, insurers and pension providers.
You need to get a list together of all the accounts, credit cards, loans, pensions and insurance policies linked to your household.
You also have to change the address on the policies of your:
Changing the address on your car insurance policy is a top priority as the terms of the policy itself are partly determined by your address.
Where you live and where you keep your car at night are among the factors that are used to calculate your car insurance costs.
3. Driving licence and car ownership
Updating the address on your driving licence and car registration certificate (V5c) held by the DVLA can be done online.
If you don't tell the DVLA when you change address, you could face a fine of up to £1,000.
4. TV licence
Change the address on your TV licence through the TV licensing website.
Remember, you only need 1 licence per household. If you're moving in with someone who already has a TV licence, you can cancel yours.
5. GP and health
Don't wait to register with a new GP - you can find out where to go through the NHS portal.
Once you've registered, the new GP can get your records transferred over from your old GP practice.
If you've moved into a different area, you should also register with a new dentist and if applicable, an optician. Don't forget the local vet either.
6. Council tax and electoral roll
You need to register for council tax at the new house and deregister with the local authority that covered the old address.
Your previous council should generate a bill and send it to your new address should there be anything left to pay.
If you're moving into a newly built house, try to notify the new council a good few weeks in advance.
The council should deliver the various bins that you need for recycling and rubbish collection at the new address.
You must also make sure that you and all members of your household over 18 are entered onto the electoral roll under the new address.
7. Employers, accountants and solicitors
You're usually meant to inform your employer of an address change, or you might not get your payslips.
Also inform your accountant or solicitor about your new address or important/confidential information could land at the old address instead.
8.Subscriptions
Make a list of all your subscriptions. It's worth spending some time on this as it can be easily overlooked.
There are a variety of subscriptions to remember, including local clubs and gyms. You may need to cancel some subscriptions outright if you're moving out of the local area and won't be using them any more.
For others, such as magazine subscriptions, you can update with your new address.
You may also have online subscriptions where the address needs to change.
Moving house checklist for utilities
1. Gas, electricity and water
Make sure to notify your gas and electricity supplier of your move– you don't want to end up paying for someone else's energy or water usage.
You must carry out meter readings for water, electricity and gas for both your old and new addresses – it's worth taking photos to record the meter readings.
Due to the current market, there aren't many options if you want to switch energy providers. But you can read more about this on our guide on how to switch suppliers when moving house.
2. Broadband, phone and TV
There's also your mobile phone, broadband and TV services to consider.
You need to get those address details updated, but it's also a good time to consider switching providers.
Most broadband providers should allow you to move your connection to another property. Some might require you to sign up to a new 12, 18, or 24 month contract.
You could save money by comparing broadband prices – it may also work out cheaper to get a bundle that includes broadband, mobile phone and TV under a single contract.
Moving house checklist for the first night
Before you say goodbye to your old home, think about your first night at the new property.
Make sure any essentials are easy to get to and taken with you in your car instead of a removals van, such as:
Anything valuable or fragile
Toiletries like toothbrushes
Some small kitchen items like a kettle and mugs
You probably also won't want to cook the first night in your new house, so look up local takeaway options.
Moving into your new home
Before you set off, have a final walk around your old house and check everything is packed.

Make sure you've arranged to collect the keys for the new house if you don't already have them.

Once you arrive at the new house, take a look around and check if everything is in order.

If it's a rental property, you should check everything against the inventory, take photos of any defects you notice and notify the landlord or the letting agent. You don't want to be held liable for any existing defects when you eventually move out.

If you've bought the property, you should still have a good look around. If the previous owner has left anything in the property that they shouldn't have, like an old washing machine, you should be able to get them to remove it.

If the new house doesn't have new

door locks

, it's a good idea to change them.
You can now breathe, put the kettle on – or pour the champagne – and congratulate yourself.
It might be a good idea to introduce yourself to your new neighbours too!
Things to buy for a new house
You can start to add things the coming weeks. But here's a (non-exhaustive) list of some of the items you might like to buy for the first few days in your new house:
Lightbulbs
Bin bags
Duvet, mattress and other bedding
Toiletries including: toilet roll, soap, shower gel, toothbrush and towels
Toaster, microwave and kettle
Plates, bowls, cutlery, glasses, mugs, can openers, pots and pans
Smoke and carbon-monoxide detectors
Vacuum cleaner, dustpan and brush