Improving your home should be an exciting time. Building an extension or converting a loft can completely transform a living space.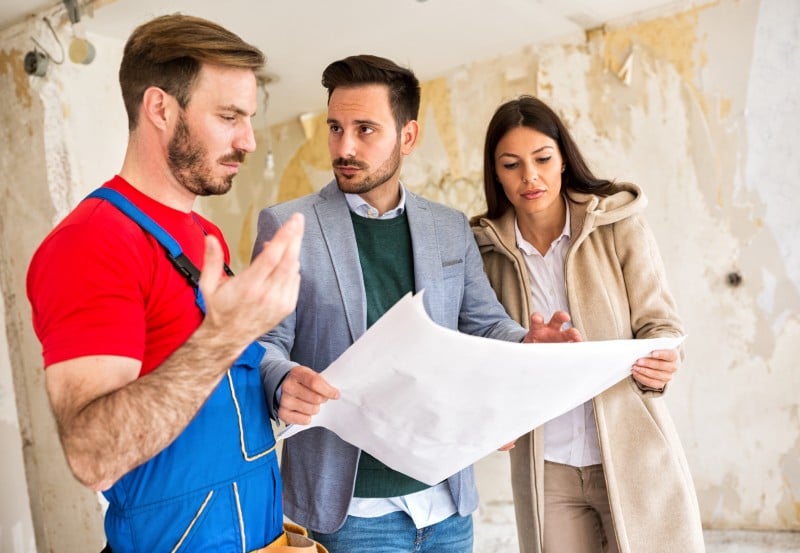 But what happens if the dream turns into a nightmare?
Poor workmanship can leave you emotionally fraught – and seriously out of pocket.
You may be able to claim for any damage caused on your home insurance, but that's a last resort.
Here is our guide to avoiding problems – and what you can do to help remedy the situation in a worst case scenario.
What are my rights for poor workmanship?
The good news is you can do something if the quality of work isn't up to scratch.
The course of action depends on when you gave the go-ahead for the work.
If it was before 1 October 2015 it comes under the Supply of Goods and Services Act 1982.
The act says that reasonable care and skill must be used while working.
If it was on - or after - that date, then the Consumer Rights Act 2015 comes into play.
While it also states that services must be provided with reasonable care and skill, it goes further by laying down some minimum standards.
These include the fact information that is spoken – or written – is binding where the customer relies on it.
If the fee isn't agreed before work starts, it must be provided for a reasonable price.
Finally, the service must be carried out in a reasonable time – unless a particular timescale had been set out and agreed.
If the service doesn't satisfy these criteria, you can request a remedy.
Basically, the trader should re-do the element of the service that's not up to scratch.
Or start again at no extra cost to you – and within a reasonable time.
When this is impossible, you can request a price reduction.
How much will depend on the severity of the failings in the original work.
The refund should be made within 14 days of any agreement.
Gather your evidence
In any dispute, evidence is crucial.
You need to keep copies of contracts signed and details of conversations that have taken place.
Remember to include as much detail as possible.
This means dates, times and the names of the people present.
You should also collect together any related receipts, and paperwork, such as plans.
Then take plenty of photographs and videos that clearly identify the problem. Make sure the filming and pictures are clear.
Speak to your trader
You must always speak to the trader first. However, before the conversation takes place, be clear in your own mind what the problem is - and how you'd like it resolved.
It's vital to remain calm. Losing your temper and swearing at the tradesmen won't get you anywhere.
In fact, this makes it less likely you'll reach an agreement.
If they're reasonable, then hopefully they'll discuss the issue. The best case scenario is you agree a course of action between you.
Remember, if the conversation happens over the phone – or even in person – make a note afterwards covering what was said and agreed.
You should also send a letter, email or text message to confirm in writing what has been agreed and when subsequent work will take place.
This helps confirm everyone is on the same page.
What if the trader has done a poor job?
The Acts governing this work declare that "reasonable care and skill" must be used by the tradesmen while working.
Obviously, this is slightly open to interpretation.
However, effectively it means they must do a good job that's worth the amount being charged.
If they don't then you can ask them to fix it – or get a refund.
If you're unhappy, you need to tell them what you feel needs doing to rectify the situation.
It's worth letting them know that you also know you have rights.
The trader needs to fix the problem. If they can't – or refuse – then you can ask for a partial or full refund.
This is akin to bartering. You'll suggest a figure and discussions can get underway.
What if the trader hasn't finished the work on time?
You really need to give them a chance to finish the work – unless you'd already made it clear that the work needed to be finished by a certain date.
If you agree to an extension, put it in writing.
If they've missed the deadline and you don't want them to continue, put it in writing.
You should also pay them for the work completed so far.
Depending on the situation, you may want to ask for a discount to cover the inconvenience caused.
If you've already given them a large deposit, negotiate to see if they will refund some money.
What if the trader charges more than expected?
It largely comes down to whether they gave you a quote or an estimate.
They can't charge you more than has been quoted unless there's a good reason.
For example, if they warned you that they'd need to do extra work.
If it was an estimate and the final bill was a lot higher than expected, this can be queried.
The final price should be reasonable – although what constitutes that isn't clear.
Getting a second opinion from another tradesman is an idea.
They may reassure you that the price is reasonable for the work carried out or tell you if it's been inflated.
Either way if you're unhappy with the price then discuss it with the trader.
Let them know what you think is reasonable – preferably in writing.
Chances are you'll have to negotiate with them to reach an agreement.
And remember, it's always good practice to get a number of different quotes before hiring a tradesperson.
What if the trader hasn't done what you agreed?
If they haven't done what was agreed – either verbally or in written form – they'll have broken the contract.
You can ask them to rectify it.
On this point, you don't need to have contracts written down.
However, in reality it makes sense. It's hard to argue when everything is there in black and white.
If you rely on memories of conversations then it'll be your word against theirs.
What if the trader has done something dangerous or unsafe?
Your priority is to stop using anything that's unsafe immediately.
Obviously, the steps to take will depend on the work carried out.
If it's an electrical appliance, then switch it off and unplug it immediately.
If the trader has burst a pipe, turn your water supply off immediately.
If it's a gas appliance – particularly if you can smell gas – ring the National Gas Emergency Service on 0800 111 999.
Dangerous or unsafe buildings/structures should be reported to your local council.
If it's outside working hours, you can do this online if you live in England and Wales.
Finally, report them to Trading Standards.
You'll need to have details of who did the work, what it involved, when you gave the go-ahead, the cost, and if you've raised the complaint with them.
What happens if you're still having problems?
There are other courses of action you can take.
For example, there is Alternative Dispute Resolution (ADR) which is a way to settle disputes between consumers and traders without going to court.
Common forms of ADR include mediation, where an independent third party helps bring the two sides together.
If you have legal expenses cover on your home insurance policy, you should also be able to get legal advice.
There's also arbitration where this third party considers the facts and makes a decision. Both such schemes are likely to be more commonplace.
If all else fails you can take the tradesman to court – but it's usually best to try and get the problem resolved well before it gets this far.
Get more help!
You can contact the Citizens Advice consumer helpline on 0808 223 1133. T
rained advisers can give you support over the phone – or you can use an online form.