Although not a legal requirement, bicycle insurance is a type of cover that protects your bicycle if it gets stolen or damaged. It's worth considering as it could offer some level of cover if you have an accident and injure yourself or damage property.
We help you understand everything you need to know about bicycle insurance. From what it covers, to what you should do if your bicycle gets stolen.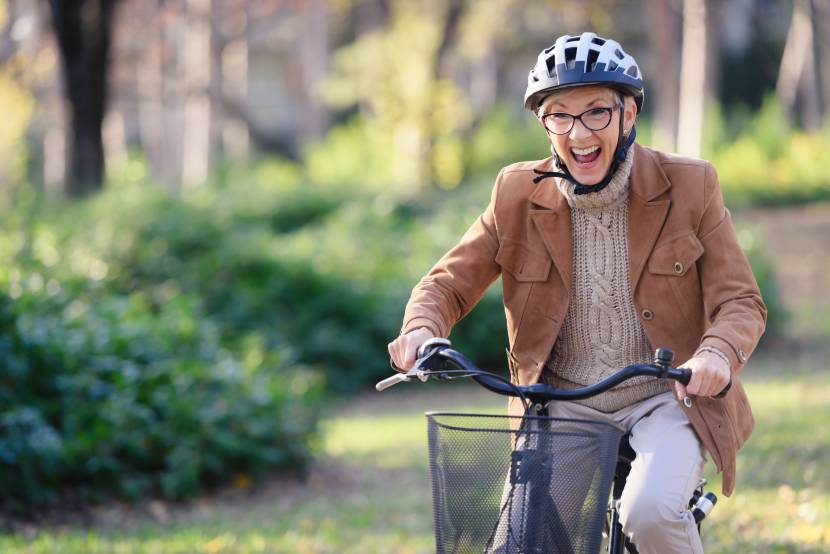 Do I need bicycle insurance?
It's not mandatory to have b­­­icycle insurance. But if your bicycle is your regular form of transport or you have an expensive bicycle it could be worth considering.
Your home insurance might already include your bicycle, or you could look for a specialist, more bespoke (pun intended) policy.
Whether you choose to take out a specialist insurance policy or not, it's a good idea to have some kind of bicycle cover.
Bicycles can be expensive, with many costing over £1,000, so if they're stolen or damaged, they could be costly to replace.
And if your bicycle is your only method of transport, being without it could be a pain in the padded cycling shorts.
Having a good cycle insurance policy in place could help you with the cost of replacing or repairing your bicycle. This means you should be back in the saddle in no time.
Compare home insurance quotes
What information do I need to insure my bicycle?
To get a quote for your bicycle insurance, your insurer may ask you for details of the following:
Your age
Your address
The value of your bicycle
The make and model of your bicycle
Whether your bicycle has any modifications
What does bicycle insurance cover?
Every policy varies, but all policies usually cover you for:
Theft - If your bicycle is stolen, your insurance could cover the cost of replacement, usually on a 'new for old' basis.

Accidental damage - If you damage your bicycle, your policy could help to cover the cost of repairing it.

Malicious damage - If someone vandalises your bicycle, your policy could cover the cost of repairing it or help to fund a new bicycle.
What isn't covered by bicycle insurance?
Your insurance likely won't pay out if your bicycle is stolen and wasn't secured properly or if you can't prove you own the bicycle.
You also might not be covered if you're using your bicycle for business purposes except for commuting to and from work.
You're not covered if you ride your bicycle in a competitive event unless you've paid to add this to your policy.
And you won't be covered outside the UK unless you've paid for European or worldwide cover or this is included as standard.
You should check your policy wording to find out exactly what's excluded as this might vary between insurers.
Are there any add-ons available with bicycle cover?
Again, every bicycle insurance policy varies. But you might be able to add the following extras. Some of them could be included as standard, so check before you upgrade:
Personal accident cover - if you were to fall off your bicycle, injure yourself or die, this could provide a cash pay-out.
Public liability cover - this could cover you if you injured someone else while you were on your bicycle or caused damage to their property.
Accessories cover - for items such as your GPS system, helmet or lights. This offers cover for theft and damage, or if someone vandalised them.
European or worldwide cover - fancy the next Tour de France? This covers you when you're cycling abroad.
Event insurance - some policies give you the option to cover yourself while you're taking part in event. For example non-competitive cycling events or competitive triathlons and time trials.
Legal expenses cover - this could pay for any legal costs you incur if you're involved in legal action following a cycling accident.
Replacement bicycle hire - this covers the cost of hiring a bicycle to use while yours is being repaired or replaced.
Roadside recovery - if you're out on your bicycle and break down more than a certain distance from home, this add-on lets you be picked up and taken to a safe place.
How much is bicycle cover?
The cost of cycle insurance depends on a range of factors. These include how many bicycles you want to insure, the value and make of your bicycle and where you live.
The extras you include and the excess (the amount of any claim you have to pay yourself) you're willing to pay could also affect the price.
The excess might be a percentage of the claim, such as 5% or 10%, or depend on its' value rather than being a fixed amount.
According to Nimblefins, a basic policy for a £1,000 road bicycle could start from around £55 a year up to more than £95 for a full policy including public liability, personal accident and legal expenses cover.
You should check the cover limits for each aspect of a policy when comparing prices to make sure they meet your needs.
Does my home contents insurance cover my bicycle?
Your bicycle might already be covered under your standard contents insurance policy, but this depends on 2 things:
The value of your bicycle
The type of policy you've got
Your contents insurance covers items in your home, usually up to a certain amount per item.
But if your bicycle is worth more than this amount you might have to declare it as a high-value item. This could affect the price of your insurance costs.
You might also have to specify if you want cover away from home. That's because many contents insurance policies cover items when they're in your home, not while they're away from it.
For example, if you took your bicycle to work, left it chained up outside and it got stolen, your contents insurance policy won't cover you.
Another consideration is your home insurance excess. Some policies could have excess as high as £500, which could be more than your bicycle is worth.
Home insurance expert Jessica Willock, says:
"Adding bicycle insurance to your home insurance is pretty straightforward.
"If your bicycle is worth over £150 you'll have to declare it separately on your contents insurance – you can add this during the quote process. Or it might already be covered on some home insurance policies.
"Once you've got your quote make sure you check your policy wording, so you know exactly what you're covered for."
Do I need a specialist bicycle insurance policy?
As we mentioned, you might already have cover on your policy if your bicycle is worth less than a certain amount, and you only want to cover it while it's at home.
But if your bicycle is more expensive, and you use it for work and keep it away from home sometimes, you might want something a bit more comprehensive.
Specialist insurance could offer additional extras cover such as public liability, personal accident cover and bicycle roadside recovery.
Some policies might not charge an excess, and you could be covered away from home.
It might be pricier than a home insurance policy add-on, but at least you know you're covered for most eventualities.
The best thing to do is always shop around. You might find you have enough cover through your home insurance policy or if you include it as an add-on.
Make sure you check your policy documents, so you know exactly what you're covered for.
How can I keep my bicycle secure?
Always lock your bicycle, even if you're only leaving it for a couple of minutes.
Use a couple of different security methods, for example a U-lock and a bicycle locking cable or chain.
When you're securing your bicycle, use as much street furniture – that's bicycle racks and lampposts – as possible.
And make sure there's hardly any daylight between the lock and your bicycle. This should make the lock harder for thieves to cut through.
If you're using a U-lock, try to secure it near to the ground. Put it over the seat stay and around the street furniture, securing it underneath the wheel arch.
If you're using a flexible locking cable, try to secure it so there's little to no slack. Aim to loop it through the front wheel, around the street furniture and over the downpipe.
If you're locking your bicycle in a public place, try and choose somewhere that's well-lit and covered by CCTV if possible.
Try to invest in gold-standard locks. These are much harder for thieves to break into.
It's also worth registering your bicycle for free with the bicycle register. It won't stop your bicycle being stolen, but it improves your chances of finding your trusty steed if it is.
What should I do if my bicycle gets stolen?
If you can see your bicycle being stolen, call 999.
If you don't see it being stolen, but you know a thief has taken it, call the police non-emergency number, which is 101.
When you've called, make sure you get a crime reference number.
Chances are thieves might try to sell your bicycle on sites like Gumtree, eBay, and Facebook Marketplace.
Check these websites regularly, remembering to widen your search beyond your local area.
Speak to your local bicycle repair shops or store. They should be able to keep an eye out for your bicycle in case anyone tries to sell or repair it.
Make sure you post about your bicycle on Facebook too, encouraging people to share the post.
For more advice on securing your bicycle at home, read our guide on insuring your garden, sheds and outbuildings.