The boiler is at the heart of home heating, helping to keep houses warm and water hot. But what do you do if it stops working? And are you covered by your home insurance? You may also need to consider boiler cover if you're a landlord, too.
It's often taken for granted, but when a boiler stops working and breaks down you'll notice the loss.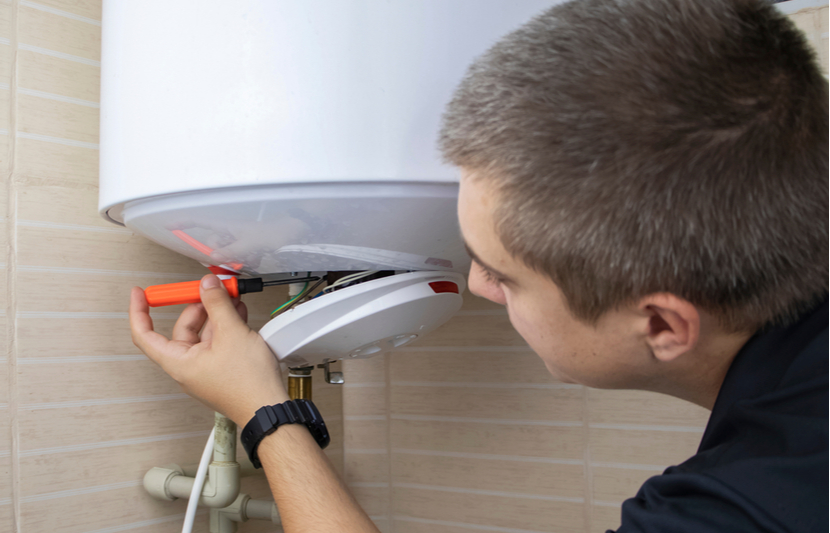 By being prepared, an unexpected boiler breakdown won't throw you into a state of panic and you'll know how best to handle it.
We look at how to handle a boiler breakdown, and whether it's covered under your home insurance policy.
What is boiler cover?
As its name suggests, it's a standalone policy designed to cover your boiler and, sometimes, your central heating.
Depending on the exact terms of the policy, it can provide cover for callout charges, emergency repairs, labour and spare parts.
Annual service checks are sometimes included under boiler cover.
Some policies also cover things other than boilers and heating systems. For example, electrical wiring, drainage issues and pest control.
It can be a useful extra to have, especially for boilers not covered by warranties, and could help save you considerable costs.
It also gives you peace of mind of knowing that if a problem does occur, an engineer should come out to you quickly.
Is my boiler covered by my home insurance policy?
Sometimes boiler repairs are included in your home insurance policy.
This is one reason why it's useful to keep your policy documents in an easy-to-access place. You'll be able to check your documents in the event of an unexpected boiler breakdown.
If you can claim on your home insurance policy, call your insurance provider and see if they'll arrange for an engineer to come and look at your boiler.
If you want to take out a new boiler cover policy, don't automatically sign up to a deal with your boiler supplier or an energy company. Speak to your home insurer or shop around for other home insurance quotes to see if you can save money that way.
If you do take out cover with your energy supplier, bear in mind that your cover might be cancelled if you later switch to a different supplier.
Compare home insurance quotes
Do landlords need boiler cover?
Boiler cover for landlords is not a legal requirement. It's an add-on that gives you peace of mind and takes some of the stress out of being a landlord if something goes wrong.

However, you could always organise and pay for any emergency repairs yourself.

For more information on what you're required to do as a landlord, see our guide to safety requirements for landlords.
Does landlord insurance cover the boiler?
It's unlikely that a standard landlord insurance policy would cover your boiler.

You might find that boiler cover is an add-on to your existing policy, though. Get in touch with your insurer to see if they offer it.

When you compare landlord insurance with us, you get the option to add home emergency cover. This offers some protection for your boiler as well as 24-hour assistance for emergency situations.
How much is landlord boiler cover?
The cost of your cover depends on the policy and the insurer but you can usually pay a flat monthly or annual fee for the insurance. It's always worth doing a boiler cover comparison to make sure you find the best policy for you, at the right price.

Always check before you buy a new policy that you're not already covered. Boiler cover might be included in your standard home insurance as part of a home emergency policy.
What to do when a boiler breaks down
If your boiler suddenly stops working and you're left without heating or hot water, there might be a simple solution.
For example, has the power supply or thermostat accidentally been turned off?
Try turning the boiler on and off again to see if it starts.
If it doesn't, and you can't see an obvious solution, it's time to call in an expert, in the form of a Gas Safe registered engineer.
Warning signs that a boiler might break down
On average, modern boilers tend to last for between 10 and 15 years.
As wear and tear occurs with use, there are some signs you can beware of that might indicate a potential issue is brewing.
These include:
A boiler suddenly getting noisy or making unusual noises.
Not getting hot water as reliably as usual.
A boiler not turning on when it should.
A boiler suddenly going on and off of its own accord.
Not getting the usual level of heat from your boiler.
Having a regular look at your boiler as part of a system of monthly maintenance checks for your home can help you spot issues in advance.
But although it's fine to look out for potential warning signs, don't ever try to fix your boiler yourself – always hire a tradesperson.
It can be dangerous if you're not a trained Gas Safe engineer, plus it could result in invalidating any insurance policy you have.
If you have a carbon monoxide detector in your home – you should do – and it starts going off, act immediately and get your boiler looked at.
Carbon monoxide leaks are extremely dangerous and potentially life-threatening.
How often should I have my boiler serviced?
Boiler repairs can be expensive, especially if you need new parts or an entire new boiler.
In order to keep your boiler in good condition and reduce the risk of it breaking down, you should have it serviced annually.
As well as ensuring it's working properly, regular boiler services can help maximise the efficiency of the boiler. This could save you money in the long run.
Whenever you have your boiler serviced, it's best that you use the services of a Gas Safe-registered engineer.
Boiler warranties explained
If you've not had your boiler that long, it may still be covered by its original warranty.
The length of a warranty varies depending on the manufacturer and the specific product. As well as whether you took out an extended warranty.
Standard warranties cover one or two years but extended warranties can last for between five and 10 years.
If you think you could still be covered by your warranty, get in touch with the manufacturer. They may be able to help with any boiler issues you encounter.
Remember that warranties come with strict terms and conditions. If these aren't met, your warranty may be invalid.
Most importantly, when your boiler is first installed, you need to ensure that either you or the installer register it with the manufacturer within 30 days of installation.
It's also important that the installer fully completes the Benchmark checklist documentation when installing or servicing a boiler.
This helps guarantee that the boiler has been fitted and serviced to the manufacturer's instructions and helps maintain your warranty.
Finally, an annual service needs to be carried out by a Gas Safe-registered engineer.
If you're unsure what the terms and conditions of your warranty entail, get in touch with the manufacturer of your boiler.
How is boiler cover different from a home emergency insurance policy?
Boiler breakdowns are often covered in home emergency insurance policies.
But home emergency policies don't cover ongoing maintenance, annual servicing or repairs in the way that boiler breakdown cover can.
Things to remember about boiler cover
If you have boiler cover or you're thinking of taking out a new policy, make sure you're aware of any restrictions.
There might be a limit on the number of claims you can make in a year and a limit on the time that is spent trying to fix a problem.
It's also likely that you'll have to wait before you make a claim. For example, you might not be covered if your boiler breaks down within 30 days of taking out a policy.
Older boilers might not be covered, so check with your provider before signing up for a policy.
And if your boiler is already broken when you take out a policy, that won't be covered.
How to get boiler cover
You can speak to your home insurance provider to see if they offer boiler cover as an extra.
Alternatively, there are several specialist providers who could offer you boiler cover in return for a monthly payment.
You'll need to make sure, though, that you know what cover you are receiving. Don't forget to check that your make and model of boiler is covered, too.