The lockdowns introduced during the Covid-19 pandemic resulted in a surge in the number of people working from home.
And it seems employers are continuing to allow this change even though the government is no longer encouraging it.
But there are home insurance implications of working from home that you need to be aware of. This is true whether you're employed by a company or you run your own and need small business insurance.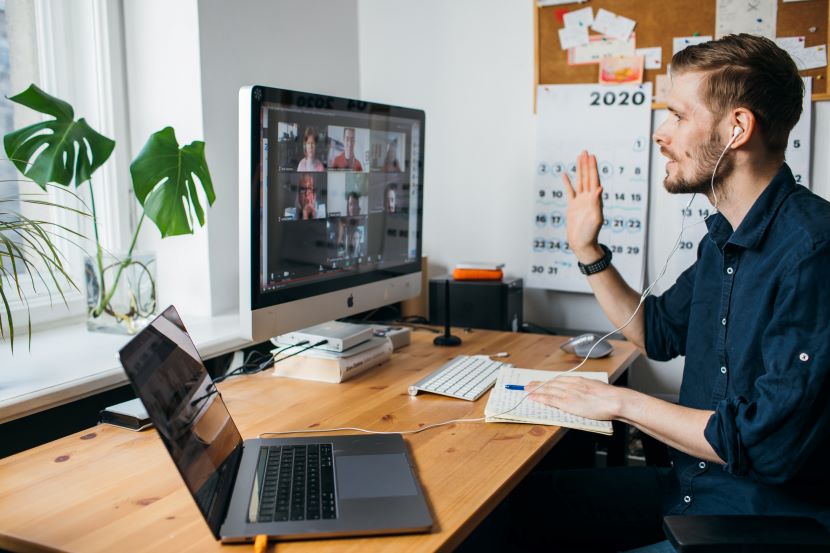 Is working from home covered by home insurance?
You might not need specific home insurance if you're working from home with just a laptop. The equipment provided to you should be covered by your employer. If you're self-employed, the equipment might be covered by your home contents policy. If in doubt, it's best to check with your home insurance provider.
A typical home contents insurance policy should cover many of the items and furniture you have at home against theft, loss and damage. Some insurers automatically cover home-office equipment up to a certain value as well.
The items covered include:
Electrical goods - for example, computer equipment, TVs and domestic appliances

Furniture

Carpets

Clothes

Ornaments

Paintings
Whether or not you work from home, it's vital that you make sure your policy is sufficient for your needs.
Calculate the cost of your contents to find out how much it would cost to replace everything if your home were damaged by a fire.
Compare home insurance quotes
What insurance do I need to work from home?
If you've started working from home since the pandemic, either full-time or just a few days a week, you might not need extra home insurance cover.
Before COVID-19 hit the UK in 2020, home insurance providers often made it compulsory for customers to tell them if they regularly worked from home.
But this requirement has been relaxed and in most circumstances, you no longer need to tell your insurer. That's as long as you meet the following criteria:
You're normally an office-based worker who's been asked by their employer to work from home
You don't have work-related visitors to your home - for example for face-to-face meetings
You don't make or store goods at your home
You're not offering services at your home - such as beauty treatments or exercise classes
You haven't adapted your property to accommodate your home-working - for example, by building a home office in the garden
(This is the current advice provided by the Association of British Insurers (ABI), correct as of November 2022.)
You should tell your insurer if you've set up your own business or have clients at your home. You might need to update your policy to reflect any new risks.
You might also need to consider add-ons to your home insurance or new policies altogether. For example, business equipment insurance and public liability cover.
If you sometimes work away from home, whether for meetings or a change of scenery, you may also want to consider personal possessions insurance. This boosts your cover for items like your phone or laptop.
If you use a van for your work, you also need van insurance.
Do I need business insurance if I'm working from home?
In some cases, it's worth considering home insurance policies with business use if you're working from home. Especially if you're working for yourself.
But bear in mind you also need to have standard home insurance, covering both buildings insurance and contents insurance. This is in addition to any business insurance policy.
If you hold stock for your business at home – for example, if you make jewellery or if you're a florist – it's worth considering business cover.
This type of insurance should cover you against theft or damage of your materials or finished products.
Do I need insurance for employees working from home?
If your business has employees who come to your home, you should also look at employer's liability insurance.
This is a legal requirement and covers you if anything happens to a member of staff that you're responsible for.
It's also worth considering professional indemnity insurance. This covers the cost of any claims made against you by clients for losses that are your fault.
Do I need public liability insurance to work from home?
If you're inviting clients or other members of the public into your house or flat, you should consider a public liability insurance policy.
This should protect you if, for example, a visitor has an accident while they're on your property and decides to take legal action against you.
Does home insurance cover my office contents and business equipment?
If you're using computer equipment provided by your company at home, your employer should cover it under their insurance policy.
You should check to make sure you don't need any separate office contents insurance.
But a standard contents insurance policy might not be enough to cover valuable specialist items that belong to you. For example, expensive audio-visual equipment or a photocopier that you use for work.
This is especially likely if these items exceed the value limit for individual items. This is usually £1,000 but could be up to £2,000 depending on the policy.
To insure high-value items such as these, you need to specifically tell your insurer about them. Your insurance costs could go up as a result.
If you have equipment or other items that you take away from your home, you might also need to insure them when you're working away.
Do I need extra home insurance cover to work from home?
If you have expensive equipment that exceeds the single-item limit, you need to talk to your insurance company about covering them individually.
You might also want to add 'personal possessions away from home' and 'accidental damage' to ensure you're covered for a greater range of risks.
You might only need specialist business insurance if your business requires you to have people coming in and out of the house.
If you have any questions or concerns, it's always a good idea to tell your insurance company you're working from home. They should let you know if there could be any issues with your current arrangements.