There's never a good time for your pipes to freeze or your boiler to break. Not only does it cause chaos, but it could also give you the headache of making a home insurance claim.
But preparing for winter is key to minimising the impact of the cold weather on your home. This includes knowing where your stop cock is, how to clear blocked drains, keeping your car safe, and knowing how to report a power cut.
Here we look at 10 simple tips to prepare for winter that you can do at any time of the year.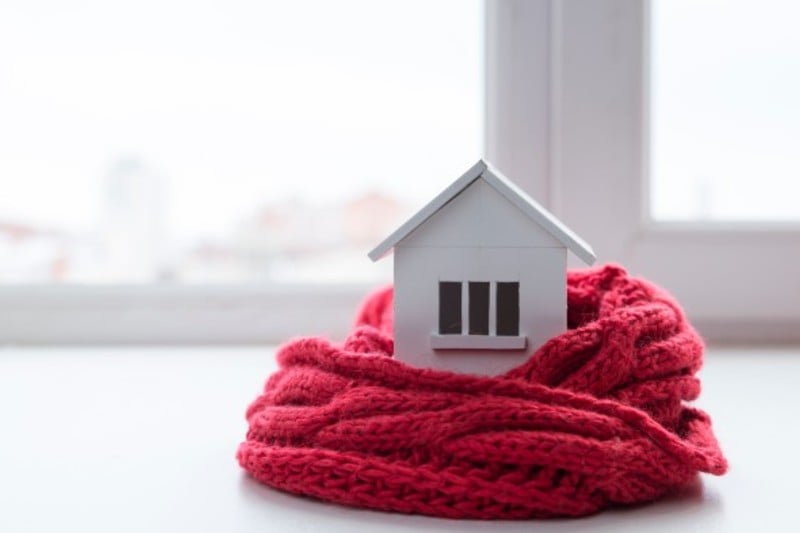 Find out where your stop cock is
Your water stop cock is the valve that turns the cold water system in your home on and off.
It's not the kind of thing you want to be searching for if water is spilling out of the bathtub or you have a burst pipe.
In winter cold weather could cause your pipes to freeze. The pressure then builds up and causes the pipes to crack and bust.
When the temperature rises and the water melts you then have a water leak that could turn into a flooded home.
As soon as you realise the problem, you should turn the water supply off at the mains - which is where the stop cock is. It's also called the stop valve. This should minimise the amount of water escaping from the pipe and reduce the impact of the leak.
There's usually a 'W' or 'Water' sign on the stop cock. It looks a bit like a lever or a tap without a spout. You should be able to turn it to shut the water supply off or turn it on.
If for some reason you're unable to turn the valve, contact a plumber for advice.
Your stop cock is probably somewhere in your kitchen such as under your sink. However, it might also be near the boiler, under the stairs, or in some properties it's located outside of the house.
The exact location of your stopcock might vary. It depends in part on the type of property you have and when it was built. There are some obvious places to look though. These include:
In a downstairs cloakroom or WC

Under the kitchen sink

In a utility room or garage

In the bathroom

In a kitchen cupboard

Under the stairs

In a cellar

Near a meter, if you have one fitted inside
If you're still unsure where your yours is, ask a neighbour. The chances are that your neighbour's is located in a similar place.
Compare home insurance quotes
Make sure you know what to do in a power cut
Power cuts are relatively uncommon these days. But they can happen, and you don't want to be caught rummaging in the garage for candles in the dark.
In winter, power cuts could have a greater impact because it's dark for longer. Extreme weather such as heavy rainfall could make them more likely to happen.
If the power does go, first check that all electrical appliances are turned off. This includes things like hair dryers or irons that might come back on when the electricity returns.
You can call the National Grid to report a power cut on 105. It should also be able to give you advice on what to do, and give you a rough idea of when the power will be turned on again. If there's a serious immediate risk, you should call the emergency services too.
After reporting the power cut, if you can, check on any neighbours - especially those who are old or vulnerable.
It's sensible to have an emergency pack somewhere handy in case there's a power cut, including:
A battery-powered radio

A wind-up torch

A power pack to charge phones or other devices

An extra pack of batteries

Long-lasting snacks

A few sealed bottles of water

A warm blanket
Bleed your radiators
You should aim to bleed your radiators once a year.
You might not want to bleed radiators on a hot summer's day but it's something to do before the weather gets cold.
Radiators could have air trapped in them, which stops warm water circulating in them. This could mean your heating system isn't working as it should.
Not only might it take longer to heat your home, this could also cost you more money as you need to have the heating on for longer.
If your radiator isn't heating properly and it's cold at the top and hot at the bottom you might need to bleed it.
Before bleeding the radiator, have an old cloth and the bleed key ready, and make sure the heating is off. There should be a valve on the radiator, usually at the top, and you need to turn this until you hear a hissing sound.
Use the cloth to catch any liquid that comes out of the radiator and as soon as only water starts coming out turn the valve key again.
If at any time you smell gas in your home, our guide explains what to do if there is a gas leak and how to safely report it.
Clear your drains and gutters
Leaves, stones, moss and other debris might easily end up clogging your drains and gutters. This could lead to blockages and if you don't have clear drains water might not be able to drain away the way it should.
To avoid flooding and to get ready for winter, check your gutters and drains. Clear away anything that's stuck and replace any cracked or damagers gutters.
How to prepare the garden for winter
Secure your garden shed
If you have a shed or garden outbuilding, make sure it's properly secured. In winter, sheds tend to take a real beating from the cold, wet weather. And you don't want to be fixing a broken shed roof during a snowstorm in the depths of winter.
You want a secure shed throughout the year, to lower the risk of items being stolen. But you might also want to check it's in a good condition and has a secure lock. This is especially true if there are valuable items inside such as bikes or garden furniture.
If you have anything in your garden, such as chairs or tables, that you aren't using, store these in a secure garden shed. This is especially important if you live in an area at risk of flooding, as garden furniture could float away if it's not secure.
Also, bring in any plants that are vulnerable to cold weather, or hanging baskets that could pose a safety risk if the wind causes them to fall.
Get your boiler serviced ahead of time
Arranging to have your boiler serviced might not be high on your to do list, especially in the summer. But it's an important task and having it done could save you a lot of money down the line.
Some home insurance policies, especially those that include home emergency cover, might state that you have your boiler serviced once a year. If you're a landlord this is a legal requirement as well, and must be done by an accredited gas service engineer.
If your boiler is regularly serviced, this should reduce the risk of your boiler breaking down.
When it's serviced, this is also a good opportunity for an engineer to spot any potential problems.
There might be a small fix that can prevent it breaking down and the cost of you replacing the whole thing later in the year. The summer is also a good time to get your boiler serviced as there shouldn't be as much demand.
You might find it easier to arrange for an engineer or a plumber to carry out the service.
Ensuring your boiler pressure is correct, which should fall under a monthly maintenance check, is also a good way to see if it's running smoothly.
If you're getting certain benefits including Universal Credit or pension credit you could also qualify for the Cold Weather Payment.
It pays out £25 a day for each 7-day period when the weather is 0C or lower for more than 7days.
Keep your heating on a timer
If you're planning to be away and the weather is set to fall, set your heating to come on with a timer setting.
This could prevent the water in your pipes freezing if it gets really cold, which could lead to burst pipes, flooding and even subsidence.
You don't need your heating to be on all the time, but if it's coming on for a couple of hours a day that should be enough to prevent freezing.
Installing lagging around your pipes could also help prevent the water in them from freezing.
What do I do when my pipes burst?
If your pipes burst, one of the most important steps to take is to ensure that the water supply into your home is turned off. You need to find the stopcock inside your home and turn it off. This should stop any more water from entering the pipes.
Next up, turn off your central heating system and boiler, including the immersion heater if you have one.
If the burst pipe is located close to an electrical supply, such as switches, sockets or fuse boxes, it's advisable to turn off the power at the mains, too. Water and electrics are never a good combination.
Even though you've turned your water supply off, any water that was already in the pipes will remain there. This could cause further flooding, so you need to get as much of the water out of the system in a safe and controlled manner.
The best way to do this is to turn on the taps in your home and drain the water from your system. Flushing the toilets can help, too.
If you've got water dripping through a ceiling, put buckets underneath to catch it. Water from a burst pipe can quickly cause a lot of damage, so the more you can do to collect it, the better.
Check your home insurance cover
Home insurance is designed to cover you if something happens such as a fire, flood, or burglary. It could provide cover for a wide-range of scenarios.
Buildings insurance covers the physical building and anything attached to it, such as taps or carpets. The amount you're covered for is the total cost of rebuilding your home.
Contents insurance covers everything you own, such as electrical equipment and clothes. The amount you are covered for should be the cost for replacing your contents.
If you don't have enough cover, you could be caught out if you do need to make a home insurance claim.
Similarly, if you have too much cover, you could be paying too much for home insurance. For help calculating your insurance, see our guide to how much home insurance cover you need.
Most policies should cover damage from extreme weather conditions such as storms or flooding. This means an insurer pay for repairs or a rebuild if needed, as well as the cost of alternative accommodation if you have to.
However, every policy is different, so it's worth checking yours in advance of bad weather.
Keep in mind that if you do make a home insurance claim, you might also have to pay any home insurance excess associated with the policy.
Storm damage and home insurance – what's covered?
There are some instances where insurers might refuse to pay a claim for storm damage.
General wear and tear of a property is usually not included. For example, if an insurer thinks roof tiles were already damaged before a storm, or that damp existed before heavy rainfall.
If you do need to make a claim on your insurance policy, it's important to do this as soon as possible.
Make sure you take lots of photos of the affected area and keep a record of all of the communication between you, your insurer, and any other third parties.
It might be the case that your insurer wants you to use one of their approved traders, so always check before you hire a tradesperson to carry out work.
Keep your car safe and secure
If a weather warning has been issued, make sure your car is kept in a secure spot.
If you have a garage, keep your car there. But if not, try and park it in an area clear of debris and one where it won't be at risk of falling branches or trees.