Do you have a long list of outstanding home DIY projects you're about to tackle? If so, what jobs does your home insurer need to know about?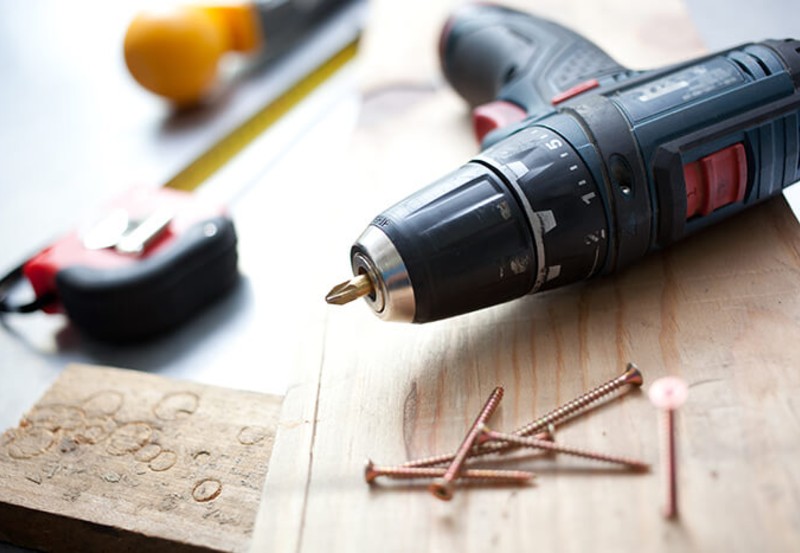 What better way is there to spend your weekend than tackling some long-overdue DIY projects? We can think of a few things but a lick of paint could certainly give a room a new sense of purpose and brighten up your living space.
Renovating a room could also boost the value of your home.
If you've successfully put up a couple of shelves or hung some pictures, you might fancy yourself as the next Handy Andy.
But before you start knocking down walls and attempting a complete Changing-Rooms style renovation, it's worth knowing which jobs you should tell your home insurance provider about. It's also helpful to ask your insurer what DIY disasters it might cover you for, just in case.
Is DIY covered on standard home insurance?
A standard home insurance policy, whether that's for buildings, contents, or a combination of the two, usually won't cover you if something goes wrong with a DIY project.
Unless you have accidental damage included in your policy, you may be left having to cover the costs of a botched DIY job yourself. This is often an extra you need to pay for,
However, as with everything to do with insurance the devil is in the detail. All policies vary so it might be the case that your insurer will pay out in some circumstances - such as if you drill through a water pipe.
You could also be covered under home emergency cover, if you have this.
If you're looking to buy a new insurance policy, always check the cover levels, especially if you're about to undergo a new DIY project.
If you have a policy you're happy with, contact your insurer to check what you're covered for. If you don't have accidental damage you might be able to pay a little extra to have this added to the policy. This could be a lot cheaper than forking out yourself for repairs if something goes wrong.
Do I need to tell my home insurance about building work?
Your insurer needs to know if you're doing building work that affects the value of your home.
For example, anything structural such as loft conversions, knocking a wall through, replacing a roof, or installing double-glazing.
Any builders coming into your home may have their own cover, but it's important to consider your home insurance during building work.
It might be the case you need extra cover because you have builders coming in and out of your home for an extended period of time. A call to your insurer should give you all the details you need.
When it comes to kitchen or bathroom refits, it depends on the size of the job.
If it's going to involve a fair amount of building work, it's best to give your insurer the heads-up, but standard refits should be fine.
Insurers will especially want to know about any work that could damage valuables or compromise your home security.
If in doubt, speak to your home insurance provider. Policies vary so it's always worth checking.
Compare home insurance quotes
Why do I need to tell my insurer?
Ultimately, altering the structure of your home could affect your insurance because the property won't be the same as the one you initially insured.
Your insurer might re-evaluate your insurance needs and it could result in higher premiums.
But that's arguably less painful than finding out later on that you've invalidated your cover. If the DIY work is making your home more secure, installing a security system or better locks for example, this may also result in a cheaper premium.
Your insurer may also charge you an admin fee for changing a policy. This fee is to reflect any extra work it has to do, such as re-evaluating your risk and creating a new policy.
What jobs don't I need to let my insurer know about?
You don't need to let your insurer know about any basic home DIY jobs.
This includes jobs such as replacing your carpets, putting up shelves, or doing wallpapering or painting.
So dust off your steamer, unleash your drill bits and get stuck in!
Will my insurance cover me for a botched home DIY job?
In some instances, yes.
Genuine mishaps such as putting your foot through the ceiling or bursting a water pipe while putting up a picture could be covered under accidental damage. But this cover isn't always automatically included, you may need to pay extra for it.
There's a grey area, though. Always stick to jobs you're qualified to do. Unfortunately, watching 10 YouTube tutorials on unblocking a drain doesn't make you a plumber.
So if you have a go and something goes drastically wrong, your insurer might not pay out. As always, check your policy wording.
If in doubt, hire a tradesperson with liability insurance to help you with the job.
Are there any gardening jobs that I need to let my insurer know about?
Again, if it's anything cosmetic, you can crack on with it. This includes paving, general gardening and even putting up a shed.
These won't really have an impact on what your home is worth so there's no need to let your insurer know.
But you may need to disclose new extensions, porches, pools or summerhouses because these might require some building work and could change the value of your property.