Cover for high value items explained
Make sure your most valuable possessions are properly covered.
Have you been gifted a precious family heirloom, or had an influx of gadgets for your birthday? Your standard home insurance policy may not provide enough cover for these items, should something happen to them.
There can be some confusion about how you go about making sure they're covered, what the rules are, and what counts as a valuable item. We're here to help.
What is a high value item?
Typically, a high value item is any single item that's worth over £1,000. You'd expect this to include things like bicycles and laptops, but it also covers a wide range of items such as jewellery, antiques and sports equipment.
Note: When you get a contents insurance quote with Confused.com, bikes and laptops over £150 are listed separately.
Most contents insurance policies have a 'single item limit'. This means that, under the normal policy terms, you're not covered for the full amount of anything over that limit.
Most insurers will ask you to list any single items you have that are over this amount. This is likely to increase your premium – high value items mean higher value claims and are a more tempting target for thieves.
But at least you'll have peace of mind knowing that you have the right level of cover in place.
READ MORE: Personal possessions insurance
What are my high value items covered for?
If you add a high value item as part of your content insurance policy, you'll have the same level of cover that you have for the rest of your contents. This will be for things like:
You can cover these items for accidental damage as well as if they're damaged or stolen outside the home. Naturally, this tends to come at an additional cost.
Can I insure a collection?
Note: If you have a coin, medal or stamp collection worth over £1,000, you can list it as a high value item when you get a quote with Confused.com.
Unless there are individual items within your collection that are worth over £1,000, you can't usually insure a collection on a standard contents insurance policy.
Instead, you can just increase the total value of your contents by the right amount.
Some specialist insurers may offer cover for collections, but you'd need to check with them directly.
Depreciation and high value items
Let's say you bought something for more than £1,000 a few years ago. You'd likely get less than £1,000 if you sold it today, so, should you still put it down as a high value item?
In cases like these, go with the item for what it's worth now. Since its worth is below the 'single item limit', it should still be covered as part of your overall contents cover.
If you're unsure or have concerns about it, have a chat with your insurer.
How do I claim for a high value item?
If you need to make a claim on one of your high value items, you can do so by speaking directly with your insurer's claims department.
They may ask for:
Proof or purchase eg a receipt or online invoice

Any valuation documents
Otherwise, it's the same as making a claim on the regular part of your policy. For more info, read our guide on how to claim on your home insurance.
Where do people hide their most prized possessions?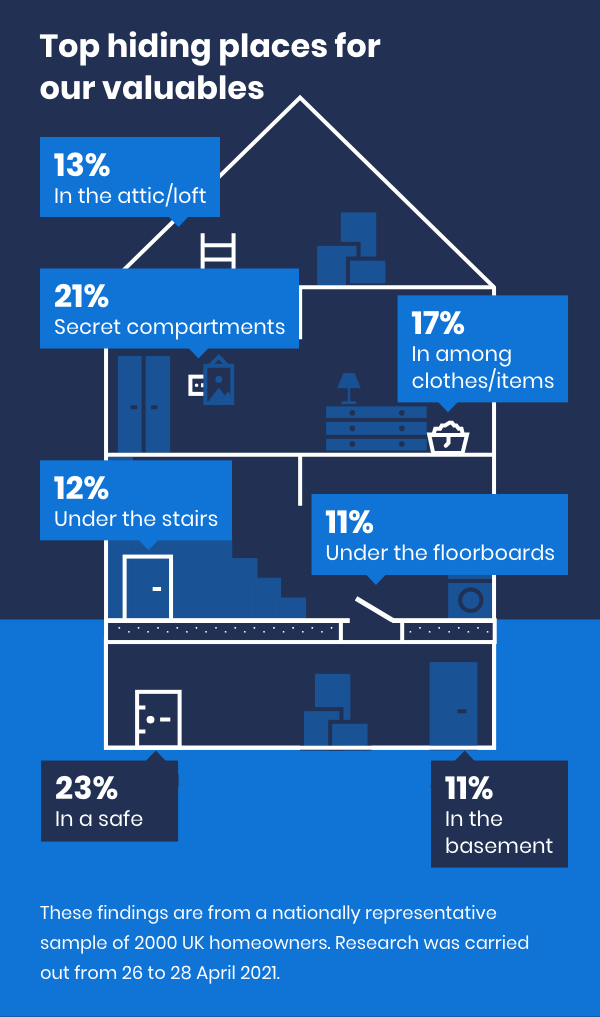 What can I do to protect my high value items?
Add high value items to your policy as soon as you get them. If you're given an expensive family heirloom as a Christmas gift, don't wait until your next renewal to add it to the policy.

Take photos of any of the items you've listed. This should help the police recover it if it's stolen, or help to get it restored if it's broken.

Register and mark your bicycles and gadgets with Immobilise to help police track down your item if it's stolen.

Keep your original receipts – you may need these when you come to make a claim.

If it's an older item without a receipt, you can have it valued instead. Keep your valuation certificate safe as you may need it when you make a claim.

Make sure that your home security is top notch.
READ MORE: Home security: Know your lock types